Data Backup Services & Solutions
It is a fact: your data, not backed up, will disappear and be lost forever when your computer gets damaged in a disaster. Not just from cyberattacks. There are malware infections; your building catches on fire, destructive storms, water damage from an overhead sprinkler system, to an accidentally spilled soda can. The upside, your data can escape those and any future risks when your team uses Intelice Solutions Data Back Solutions.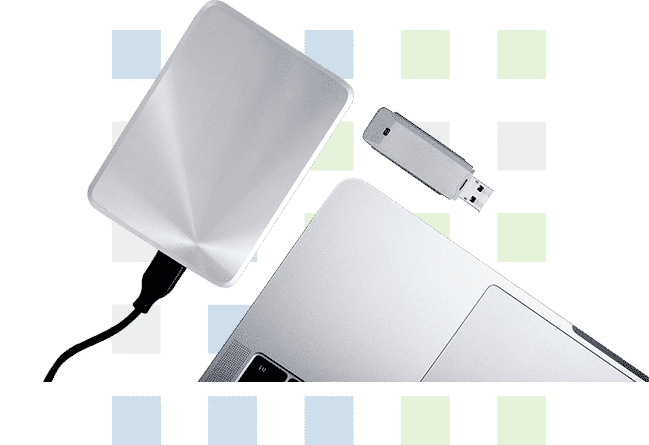 What is
Data Backup?
When you create a copy of your data from your system, that might get used later, that is a data backup. But the process is not designed merely to copy your information. That recent data version is now a vital recovery tool used in the event your original data gets corrupted or is lost forever.
Is it Important to Have a
Backup Administrator?
When your information or documentation is out of date, or lost, that could affect how customers interact with your staff. If they lose trust with your company, it will cause a tremendous financial loss to your business if they went elsewhere. To avoid this, you would designate Intelice Solutions as your Backup Administrator to handle your entire backup strategy.
What Does
Intelice Solutions Back Up?
As your Backup Administrator, we begin to understand, define, and manage what data you have that needs backed up, disregarded, and protected. Then we move over to backing up files and databases. Next, it is applications, configurations, and operating systems.
Depending on your setup, you may use virtualization, so your hosts and management consoles need backing up. If your company uses cloud infrastructure-as-a-service, that gets included. And finally, with remote workplaces, all company tablets, laptops, or desktops will get their data backed up.
What are
Data Backup Solutions?
For data backup solutions, there are three options, Hardware Appliances, Software Solutions, and Cloud Services.
Hardware Appliances

– These data backup appliances may come with data storage capabilities. Once the device is mounted, it's connected to your network. We would install it on your system to perform data backups. The downside to most hardware data backup appliances they can fail, and the data backup solution is lost.

Software Solutions

– Software solutions offer greater flexibility, especially if your infrastructure environment is continuously changing. With software solutions, it allows you to use your existing systems. However, provisioning your dedicated servers for backups is commonly required.

Cloud Services

– Cloud-based data backup solutions, lets you provision, and run your data backups, from a service provider or vendor's cloud infrastructure. The popularity and simplicity of using this service have grown tremendously with the surge in remote workplace workforces.
Your Data Can Escape Future Risks
With Our Data Backup Solutions
You never want to discover all of your company's data is lost or missing due to an intentional or natural disaster. When having Intelice Solutions step in and assume the role as your Backup Administrator, that won't happen. Your data backups are always safe and secure with us.