It may be obvious to some – why strategic IT business intelligence is so critical. But, for others who may not understand exactly why they need it to do business wisely and productively, we've put together some of the finer points about the great need for enterprise-friendly business intelligence in Washington DC below.
Because you and your office need to have timely access to accurately stored and transmitted data. Without it, you're behind the eight ball, and truly "not on top of things". With Intelice Solutions optimizing your data access and connectivity, no longer will you sweat over the data details, you will instead have the confidence that comes with utilizing strategic business intelligence for your IT networking needs, and reap the rewards accordingly.
Aligning your IT network system with your own inherent business intelligence levels the playing field. When your IT network "knows" what you know, regarding the data requirements that should be readily available for either in-house or inter-office use – you get another great benefit of strategic IT business intelligence in Washington DC.
A well-programmed operational intelligence system is like a second brain that only thinks about your business goals and requirements. That's what we do – program, design, and configure your business computing network like a second brain that promotes optimum connectivity, dialed-in with the specific parameters of your business objectives, partners, and other factors in your equation.
Strategic IT business intelligence in Washington DC increases your prestige and profile in the business community. Your clients, partners, associates, and competitors will take note of the readiness with which you can respond to inquiries; produce media, product, or communications; or, remain in compliance. In an intra-office sense, your staff will be far more enamored and proud of working in an office that exhibits smart-technology means of sharing data.
A more strategic IT business intelligence framework will make your projects more collaborative, dimensional, and multi-faceted. Our brand of business intelligence Washington DC organizations benefit from includes cloud computing solutions, virtualization, and connectivity optimization that's far more conducive to collaborative projects, data storage and management, and expediting of projects that cover the widest range of composition, style, and format.
Those are just 5 of the many reasons for having strategic business intelligence maximizing your productivity, responsiveness, and connectivity. You'll see that the various benefits continue to unfold with each new business day!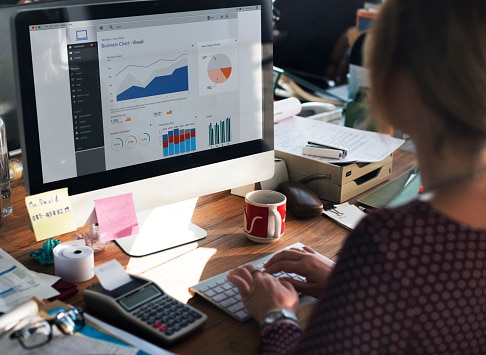 Get Optimum Business Intelligence in Washington DC Now
Is it time for a comprehensive IT consultation? Don't settle for substandard IT business intelligence solutions in Washington DC. Contact us for a no-obligation IT services consultation today, either by calling (301) 664-6800, or emailing Info@Intelice.com for more information.