Using InteliSecure
for Situational

Awareness of your

Networks Security
What is InteliSecure?
InteliSecure is a Security-as-a-Service platform that enables customers to have a cost-effective 24×7 security service monitoring their networks for vulnerabilities and exploits. Many goverment and industry complience requirements, and security best practices, outline the need for continuous monitoring, intrusion detection, active scanning, log monitoring, net-flow analysis, event management and endpoint integration. InteliSecure enables customers to immediately deploy these services and take advantage of a fully-staffed Security Operations Center (SOC). This means superior security that is easy to use, accurate and affordable.
Download Our eBook To Know About InteliSecure And How You Can Keep Your Network Secure.
Fill Out The Form Below To Get Your Copy.
Your Information Is Safe With Us. Intelice Solutions will never sell, rent, share or distribute your personal details with anyone. In addition, we will never spam you.
Your Network Security Health Score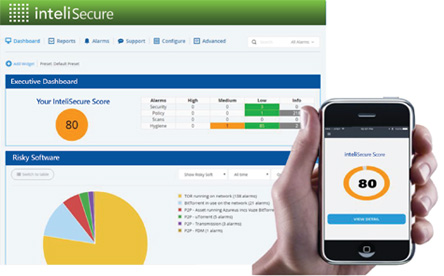 One of InteliSecure's powerful features is its ability to devise a numerical score that gives a quick sense of how many issues you need to deal with today!
InteliSecure will immediately warn you of an exploit via email, text message or via reports (depending on how you configure alerting). The service will explain the issue to you in easy to understand language, tell you what asset has been exploited, how serious the issue is and what to do about the issue.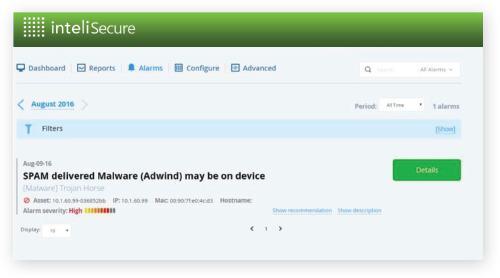 Monitoring your Security Hygiene
What is security hygene?
It is essentially how well you are managing your network security and the activities your emplvoyees are doing on a day to day basis that may compromise the security of your network, opening your company/agency up to exploit.
With InteliSecure each week by default (configurable) all users get an email with the security posture of the network. The email has the widget, seen in figure 1, that provides you a score (out of 100, normalized over the number of assets on the network). and how many violations have resulted in open alarms, of various priorities, over the last 2 weeks. Executives like this email because it can tell them very quickly if their score is going up or down and what is driving the score in one direction or the other. They can also click on each item in the grid to see the exact issue and what user/asset on the network is causing the potential risk.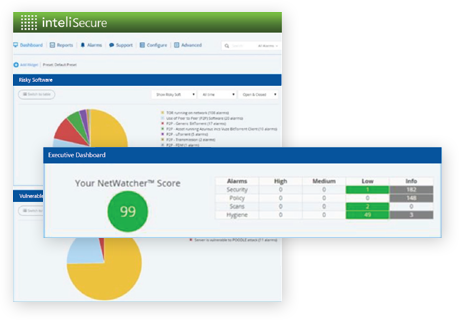 If you navigate over to the InteliSecure dashboard you can also install many widgets like the two you see in figure 2 related to the number of users running risky software or vulnerable software.
You also want to keep an eye on what's getting through your firewall, especially from countries like Iran, China and Russia. With InteliSecure, one of the widgets we provide is to show you all the countries that have triggered anomalous events once they made it through the firewall. If you click on any country in the widget in figure 3 you will be taken to the corresponding events and can review all the detail including downloading the 'pcap' or look at related events by the hour or day that occurred on the same asset allowing you to see if the bad actor may be migrating.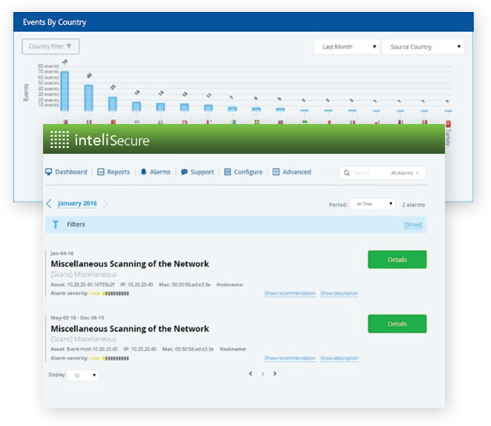 Your Network Cyber Promiscuity Score™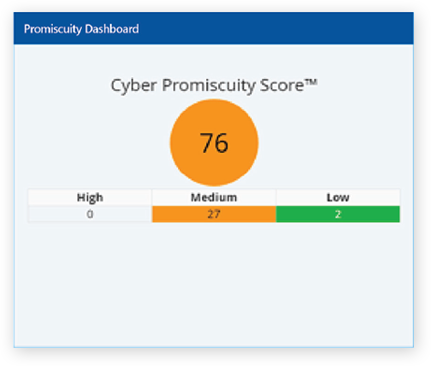 The Cyber Promiscuity Score (CPS) helps customers understand how much the activity going on in the organization exposes them to future compromise.
The InteliSecure Cloud Endpoint

Managers in the organization can also see where the risk is coming from in their organization because this
new Cyber Promiscuity Score and Cyber Health Score is also applied to each asset in the organization that is running the InteliSecure Cloud Endpoint service.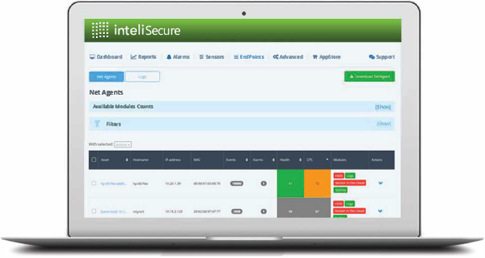 Security Information and Event Management (SIEM)
InteliSecure also operates as a SIEM where it gathers both logs from endpoints as well as SYSLOGs that are pointed to it. The sensor uses these logs for anomaly purposes and report them to the cloud service for advanced correlation over time.
Users can do report on anomalous behavior pre (events) or post (alarms) correlation and set tripwires that can be valuable for noticing unique behavior as soon as it occurs.