Succeed with Microsoft Dynamics 365 Consulting
Microsoft Dynamics 365 consulting enables your company to:
Choose On-premise or Cloud Solutions for your Business
Grow beyond Your Outdated Accounting System
Improve Productivity
You've got choices
operate erp in the cloud 
or On-Premise
With Dynamics 365 Business Central/NAV ERP in the Cloud or on-premise, you have options. Our consulting experience with implementations informs us that every business is unique. Moreover, the Intelice team will guide you on the best fit solution for your company and propel your business to success.
Primarily, cloud services give you subscription-based small, predictable payments with out-of-the-box pricing and bundles. Therefore, your software is always up to date in the Cloud. There is no need for costly upgrades or annual maintenance fees.
A single, comprehensive solution from Microsoft Dynamics 365 consulting to meet the needs of growing businesses
Automatically pull systems and processes together to manage financials, sales, service and operations.
Connect with 3rd party applications like payroll, banking, CRM, or industry-specific systems.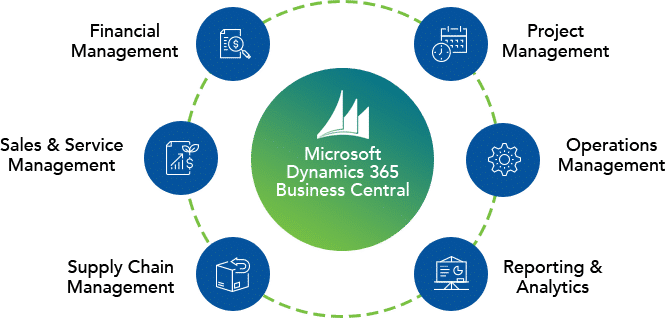 While many apps are currently in development to extend Dynamics 365 Business Central, on-premise has been around longer and has hundreds of mature add-ons. In case your operations would benefit from on-premise deployment, our team will first run a discovery engagement. We will scope your project accurately and make thoughtful recommendations. After discovery, we can offer a fixed-price engagement so you can budget accordingly.
"Definitely, I would recommend Intelice Solutions to other businesses in the DC Metro Area. The service Intelice provides is great, and works for us – we're sticking with it!"
Grow beyond your outdated
accounting system

with Microsoft Dynamics 365 Consulting

Intelice chose Microsoft Dynamics 365 Business Central consulting for our customers. It is a business management system that includes it all – from finance to operations and everything in between. Business Central is ERP that's easy to use and adapt. We help you connect your business and make smarter decisions.

Business Central allows you to:
Close financials quickly and report with accuracy while ensuring strict compliance. Accountants love the added visibility and know they can trust and easily verify the numbers with Dynamics 365 Business Central.
Gain greater control over your purchasing process and take advantage of complete visibility across your supply chain.
Deliver Customer Service with built-in recommendations that lead to more revenue opportunities.
Reduce costs while streamlining your manufacturing and warehousing operations. Deliver products on time and keep your promises to your customers.
Business Central scales as you grow your business and offers analytical capabilities. Consequently, it is ideal for organizations that are ready to move on from QuickBooks and other entry-level accounting solutions.
Customer Service & Support
Procurement & Supply Chain
1. Why Should My Company Outsource IT Support Services?
Outsourcing
IT support
services has numerous advantages for your company. These benefits include boosting project implementation speed, minimizing IT costs, ensuring system reliability, and reducing cyberattack risk.
As technology becomes increasingly complex, you need access to highly skilled experts trained in specific technologies. IT support companies employ techs with hands-on experience with a wide selection of technologies. At the same time, these teams provide professional services at affordable prices, thanks to the tiered pricing approach.
Another essential advantage of working with an established vendor like Intelice is gaining access to cutting-edge technologies. As a result, you no longer worry about investing in costly technologies to keep systems running efficiently. On the other hand, you bolster your company's capacity to guarantee compliance and the security of critical information technology infrastructure.
2. What to Watch Out for When Hiring an IT Support Company?
The ideal IT firm has offices closer to your premises, ensuring faster response time to emergencies. As such, you leverage quicker intervention in the event of a system malfunction. Another critical consideration is hiring a vendor with substantial experience in your industry. The service provider should understand the intricacies of your core business processes and help you enhance efficiency and innovation.
A good IT support company can scale services to meet your organization's expanding tech requirements. This capability eliminates the need to switch from one vendor to another when your business operations outgrow the IT firm's capabilities. You need to verify the number of tech experts the company employs in various departments. The number of IT experts operating the help desk is a critical aspect that needs attention.
Many reliable IT firms offer service level agreements, which act as a benchmark for service expectations.
3. How Do I Know if the IT Support Company I'm Hiring Is Good?
The combined experience and skillsets of the service provider's technicians are vital determinants. Certified IT experts are a must-have for a vendor; otherwise, the outsourced technicians may experiment with your IT infrastructure resulting in disastrous consequences.
Data backup and recovery
capabilities also play a crucial role in keeping your business running.
A good firm partners with leading hardware and software manufacturers, such as Google, Hewlett Packard (HP), Microsoft, and Xerox. Recognition by these tech giants is a clear sign of competence. IT firms that partner with the likes of Microsoft and Google earn designations like Microsoft Gold Certified Partner. Some firms win Partner of the Year awards in recognition of their tech wizardry.
4. What Certifications Should My IT Support Company Have?
The right choice of a managed service provider (MSP) holds a wide selection of certifications. Some examples include NAV, Serenic, Certified Information Systems Auditor (CISA), Azure, Jet Global, and CISSP (Certified Information Systems Security Professional).
CISSP is a certification for IT security experts issued by the ISC (International Information Systems Security Certification Consortium). On the other hand, IT professionals with the CISA certification specialize in systems auditing.
5. Should My IT Company Use a Professional Ticketing System?
Information technology firms using professional ticketing systems enhance the customer experience. A tech expert helps you troubleshoot issues and keeps track of the interaction. The system also enables IT professionals to prioritize tasks based on various aspects, such as the query's complexity.
In addition, these systems eliminate the need to use spreadsheets and email, which can easily create confusion. Ticketing ensures that IT experts focus on resolving issues than trying to track tasks in the system. They take advantage of automated alerts and notifications, ticket prioritization, status management, routing, and categorization.
In the end, IT support service providers like Intelice ensure staff accountability by allowing managers to track staff productivity. Additionally, the vendors glean insights from the system to optimize support processes and drive resource decisions, which helps increase customer satisfaction
6. Does My IT Support Company Ensure the Security of My Data?
IT support companies like Intelice have the expertise your organization needs to safeguard data and network protection. They offer holistic,
proactive IT security solutions
to protect against wide-ranging threats. You can expect information security experts to conduct detailed systems audits to identify gaps and vulnerabilities in your infrastructure.
The implementation of robust security measures helps guarantee regulatory compliance. Some measures employed by cybersecurity experts include setting up firewalls, user awareness training, multi-factor authentication, web gateway security, device protection, 24/7 network monitoring, and advanced encryption.
With these measures, you can feel confident that your entire workforce, including remote teams, can securely access your organization's systems.
7. How Do I Switch My IT Company if I'm Not Happy?
If you are unhappy about your current vendor's services, you can switch to another service provider. However, switching to a new IT support services company can be fraught with risks and challenges. Before making the final decision, evaluate your organization's reasons for the change.
You should conduct thorough research to identify suitable replacements. Once you cancel the contract with the current vendor, the two service providers need to collaborate to ensure the switch proceeds as smoothly as possible.
make the leap to
productivity with the
microsoft stack
Benefit from the Microsoft Stack to modernize your technology and automate your processes. Generally, familiar applications like Word and Excel, as well as powerful platforms and tools like Azure, Power BI, Power Automate (Flow), Power Apps, and Virtual Power Agents, work seamlessly with Dynamics 365 Business Central.


The Power
Platform

Power BI

Power Automate (Flow)

Power Apps

Power Virtual Agents

proactively act on
information you can trust
Firstly, fully leverage all the data you painstakingly entered into your ERP with business intelligence and analytics. A key strength for Dynamics 365 Business Central/NAV is a full 360-degree view of your operations. Furthermore, you can easily use tools to mine that data. That's why you have enough information to make informed decisions and proactively address bottlenecks.

seamless integrations and certifications for the
most popular 
applications
Do you have a best of breed software application that you want to work seamlessly with your ERP? The Intelice team is experienced delivering integrations with SalesForce, Concur, ADP, Union Track, Bank of America, Wells Fargo, and Capital One, and more.
Our commitment to advancing our technical knowledge to serve our customers better is why we are certified for Azure, NAV, CISA (Certified Information Systems Auditor), Jet Global, and Serenic.
"Our previous IT provider was in-house on some levels. Unfortunately, this wasn't working for us. We needed to change gears and asked Intelice Solutions to take over our IT service and support. Intelice Solutions provides everything we need and more. No doubts, they make it easier to focus on our projects by providing IT services that are above the rest."
meet your specific needs
take advantage of
microsoft dynamics 365

consulting

Use prebuilt solutions that extend the capabilities of Dynamics 365 Business Central when you have unique business processes or industry needs. The Intelice team focuses on the not-for-profit market and accommodates the unique accounting requirements for that industry.
We also serve the following industries:
Professional Services
Construction
Union
Manufacturing/Distribution
Hospitality
And more!
upgrade your dynamics NAV, GP and SL to
better
compete
We are ready to upgrade or migrate all editions of Microsoft Dynamics, including NAV, SL, and GP deployments to Dynamics 365 Business Central. Our team has the know-how to bring your legacy systems into the Cloud. There you can benefit from low TCO (total cost of ownership) and low up-front costs.
Microsoft Dynamics 365 Software Subscription Pricing
Essential User
From $70Per User User Month
Premium User
From $100Per User User Month
Team Member User
$8Per User User Month
The above are base prices for subscription plans and subject to change.
Contact us for more information on implementation and support for Dynamics 365 Business Central.
Try Before You Buy – And Do It For Free.