Until now, Incident Response services had to be contracted On-Demand after an incident has occurred, which has been very costly, slow, and risking quick recovery for our clients.
Today we are excited to announce that we have partnered with ConnectWise Incident Response Services to provide immediate, 24/7, real-time management and guidance to effectively assess, investigate, contain, and remediate severe security incidents.
Together, we'll fast track actions and techniques that speed incident response. Recovery procedures examine forensics to determine the extent of compromise and analysis of tactics used.
When IT systems are breached, you'll get the fastest response with the confidence of knowing you're backed by a world-class team of 160+ analysts armed with advanced tools, analytics, and proven experience.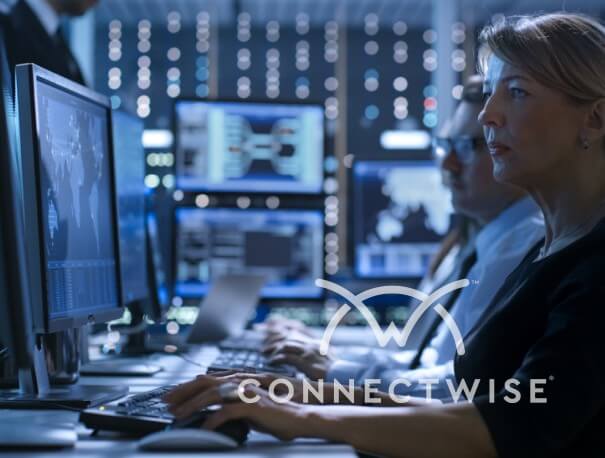 24/7/365 ACCESS TO CYBER EXPERTS

Real-time incident management coordinated within established processes and playbooks.

Formal analysis reports detailing observed and recommended tactical and strategic improvements.
Pre-paid for a defined block of hours purchased at a discounted rate
Guarantees the fastest response times under an SLA
A contractual agreement guaranteeing a specified hourly rate prior to work occurring on an incident that falls outside of existing SOC incident support
Allows incident response activities to begin unhindered; charges are applied after engaging the Incident Response Service team during an incident
Summary of Incident Response Features
Key Elements

SOC/SIEM Services: Paid Separately

Incident Response:Retainer

Incident Response:"On Demand"

Service Level Agreements (SLA)
Initial response
Service queue
Dependent on SOC SLAs
Initial triage
Priority 1-hour
Initial triage
Priority 4-hour
Service model
SOC Service
Subscription
12 month retainer
12 month retainer
Minimum block of hours
*(Min expected usage per
incident: 15 hours)
NA
10 hours
25 hours
Price per hour
NA
$300/hr
(Paid Monthly)
$500/hr
(Paid at time of incident)
24/7/365
Access to Incident Responders
SOC case escalation
Prioritize access
(On-call availability)
Prioritize access
(On-call availability)
Dedicated Incident
Coordination Manager
--
YES
YES
Work w/Insurance Provider
--
YES
YES
Incident Response Services
Onboarding &
Preparedness Guide
--
YES
YES
Enhanced incident
response tools
--
YES
YES
Incident analysis, reporting and review meeting
--
YES
YES