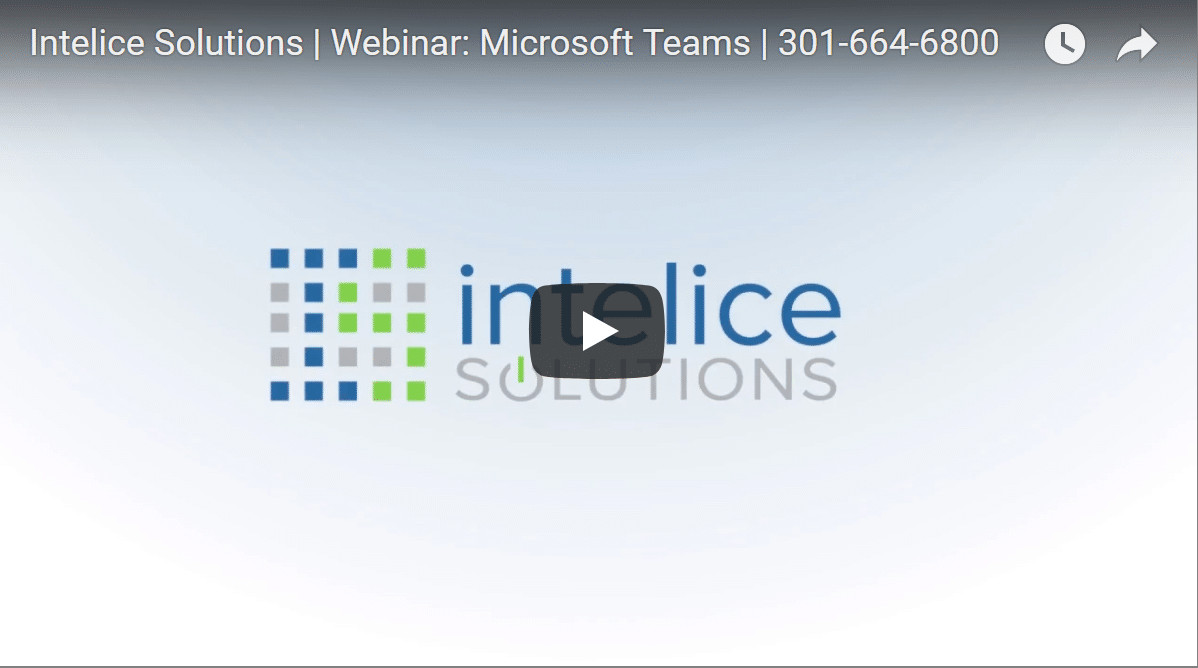 Have You Considered Using Microsoft Teams?
Whenever I talk about Microsoft Teams, people usually ask me some basic questions.  I thought I'd share my answers with you here.
"What is Teams and why should I use it?"
What I tell people is that Microsoft Teams is a chat-based workspace for people to come together, collaborate, have conversations and share content. Microsoft noticed that people aren't working like they used to.  They're not coming into the office from 9 am to 5 pm any longer, they're working remotely and on mobile devices. So, Microsoft developed an environment so today's workers can work as a team, and put all their documents and files together to be more productive. They built a flexible environment that makes everything visible, integrated and accessible to teams. It's a messaging application where all conversations, meetings, and notes can be accessed by everyone in one place. It's like a hub where you can work together with the security and real-time communication you need for collaboration.
"What are Team Sites?"
There's a basic template with three standard tabs: Conversations, Files, and Wikis.  These are the primary building blocks for any team to get started. A wiki is a site that's designed for groups of people to quickly capture and share ideas by creating simple pages and linking them together. On a large scale, you can share large volumes of information in an Enterprise wiki. Or on a smaller scale, you can use a team site as a wiki to gather and share ideas quickly about a project.
"How about Channels. What are they?"
Beyond your basic teams are channels you can use. There's a general channel for everyone, but specific teams can set their own channels (like marketing or purchasing). Anyone on a team can create a channel.  They help you keep team conversations organized.  You can add dedicated channels to specific projects, topics and more—Whatever you need to stay organized. You'll see a star next to the channels that you're involved in, and you can delete the star if you're not interested in a specific channel.
"What about Chat?  How does it work?" 
Microsoft Teams provides a chat space for the team to talk back and forth about what's happening and important.  Say, you're looking for a particular document.  Simply go to Chat and ask your team if anyone has it.  If someone does, they'll write back can send it to you write in the chat space.  This is a great time saver.  Team chats are visible to the entire team, but there is a way to have a one-to-one conversation.  You can also add some personality to your chats with emoji's and gifs to make it a friendlier, nicer environment.
"What are Hubs used for?"
Hubs contain all the applications and documents that your team might need to access.  Microsoft Teams uses the full breadth of Office 365 to provide a true hub for teamwork. Word, Excel, PowerPoint, SharePoint, OneNote, Planner, Power BI and Delve are all built into Microsoft Teams so you'll have all the information and tools you need at your fingertips. Your team can move naturally from one collaboration tool to another, preserve their sense of context, and share with others.
"Is Teams customizable?"
Yes.  Because teams are unique, every team will have its own needs, look and feel. Microsoft allows you to customize each tab for your team to work within. You can add and remove tabs as needed. Teams can also integrate and interact with other applications, (including third-party applications such as Twitter).  Planner is a good example.  It's a way you can store files, track what others are doing, assign tasks, and update the status of each project easily.  Planner helps you visualize your workflow, work in progress, and what may be behind schedule, so you can get a feel for how the team is working together.
"How do I use Meetings?"
Teams makes it easy to schedule a meeting in the future, or from a chat if you need an immediate meeting. You don't have to go outside the Teams environment to do this (However, you do need to download the desktop application of Teams).  A "Start Your Meeting" icon shows up and you can have an impromptu meeting and address a problem right away.  It integrates Skype for video calls.  Or schedule a meeting for the future and send invitations to your team with your time, meeting title, channel, and more. You can even add files, agendas or schedule repeat meetings.
"What about uploading or creating files within Teams?"
You can definitely do this. Just drag and drop your files into Teams.  If you don't have a file created, you don't have to go outside Teams to do this.  Just click Word or Excel (etc.) and create your file right there.
"How about security?"
Teams have the advanced security and compliance capabilities that Microsoft Office 365 provides, with encryption of data in transit and at rest.
"Will I be able to work on the go with Teams?"
Of course, and in real time.  Teams Mobile App lets you do this on any device, in Windows, Apple or Android devices.  Just download the app (desktop or web version) to your device, and you can work in a mobile environment.
"What if I need help?"
Teams come complete with Helpful Resources like T-Bot. T-Bot gives you a quick way to get started by providing useful information.  You'll receive notifications as you go along.  Once you get used to Teams, you can turn off T-Bot if you wish.  Try the T-Bot Videos tab for helpful "How Tos" in video format.  They are basically one or two-minute introductions to a topic to get you headed in the right direction.
"Hey, what if I need even more help for my business in the DC Metro Area?"  
Easy!  Contact me directly (Michael Auger at Intelice) at 301.664.6125, or Michael.Auger@Intelice.com   I'm always happy to help.
Thanks!
Mike