Who Is The Top IT Company In Maryland?
Need to select a new IT company in Maryland? Intelice offers swift systems support for businesses throughout Maryland. Chat with our online operator first.
From having the right software to provide the customer service and reports that your clients have come to expect from your company to be able to track your inventory quickly and efficiently to make sure that your files and sensitive customer information are protected from cybercriminals, quality IT services are essential to companies of all sizes and industries. The right IT partner can not only free up time for you and your staff to concentrate on your core business but can save you money.
What Are The Advantages Of Choosing Intelice As Your IT Company In Maryland?
More time and energy to spend with your customers. You are experts at what you do; you don't have to be IT experts also. That's where having an IT company in Maryland like Intelice can be invaluable. We not only provide you with the best and most up-to-date IT services, but we free up your time to allow you to concentrate on building your business and interacting with your customers.

Customized IT services. A "one size fits all" approach to IT services is inefficient and leaves you paying for services that you don't need while missing out on services that could transform your business and your bottom line. At Intelice, we sit down with you and learn about you and your business before we ever suggest an IT plan. We understand that each company and each owner's dreams are unique, so we'll never try to pigeonhole you into a pre-planned IT services package. That's not how we roll.

Cost savings. By outsourcing your IT services to a top Maryland IT firm like Intelice, you save the cost of housing and staffing your own IT department. That means you don't have to continue to pay for an IT team when you aren't using them or pay rent for their space 24/7.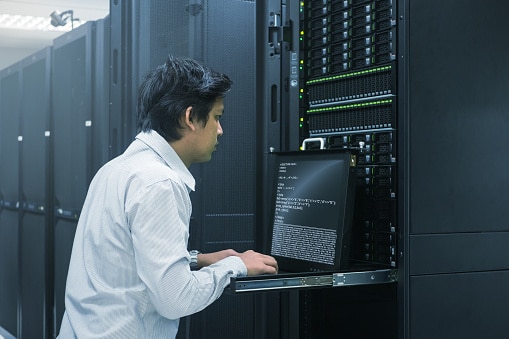 Why Intelice As Your Trusted IT Company in Maryland?
Intelice wants you to create an IT managed service plan designed specifically for your business. Just a few of the many IT services we provide include…
Strategic IT Planning. One of the most beneficial services we can provide your company is to act as your chief information officer. In this role, we'll develop an IT services plan that's tailor-made for your business, your budget and your employees. Whether you're just starting or are a large, well-established company, we will put systems in place to facilitate your growth and your continued success.

Cloud services. With the wide variety of cloud services available today, you no longer need to pay for space to house your servers. Cloud storage provides a safe and service place for all of your files and allows them to be accessible by authorized users from any Internet-enabled device. That means you can share data with your team when you are on the road. Cloud services also make it possible for you to save money on essential office services by using products like Office 365 and VoIP communications.

Wireless networking. Most companies have cut the computer cables and run a wireless office network. However, this type of configuration can leave your sensitive data vulnerable to cyber crooks if you aren't careful. We understand that your client's trust you with the financial and personal information, so we'll set up, maintain and regularly update your wireless network so the people that need to can access your files, but they are securely closed to unauthorized persons.

Hardware and software recommendation and sales. Technology changes so quickly, that unless you work with it daily, it's difficult to know about new products and upgrades that will save your company time and money or provide additional value to your customers. That's where we come in. We'll let you know about new products that we think will benefit your company. We can even order and install them for you, saving you additional time and effort.

Computer support. Computer glitches and downtime are costly to your business and aggravating to your customers. We'll help you stay online with a dedicated team that's on call for you and your staff whenever you have a computer issue. Unlike computer call centers and help desks, we are familiar with the computer products you use and how you use them, allowing us to solve your problems more quickly and efficiently.

Cybersecurity. Your customers' sensitive personal information is as important to us as it is to you and your company. We'll set up your defenses, including firewalls, encryption and other tools, so that your business and client information will be resistant to hackers and cybercriminals. We'll also keep your anti-virus software upgraded and monitor your system for any potential threats. We want you to have that peace of mind.
Ready To Work With Intelice As Your IT Company In Maryland?
To learn more about how an IT professional can transform your business and your bottom line, contact Intelice at intelice.com or by call (insert contact info). We've been providing managed IT services and outsourced IT department services to organizations throughout DC, Maryland, and Virginia since 1996.
The cost of IT services varies widely, even within Maryland. Cost depends on the level of professional expertise you need, the types of services you need, and the special skills or certifications you'd like. On the low end, you could pay around $99 per employee per month for basic services from a company with mid-range qualifications. Costs could reach higher than $250 per employee per month for higher quality resources providing a wider range of services.
There are lots of items to consider when choosing the best IT company. You'll want to settle on service level agreements that match your expectations for communication, availability, and experience while fitting within your budget. Decide ahead of time whether you prefer a long-term contract, which will likely lead to lower month-to-month rates, or a short-term contract that lets you move on to a new company if desired.
Once your expectations are aligned and you've settled on pricing, make sure the company can meet your security requirements. You should also consider whether the company requires its staff to complete a satisfactory amount of training and certification work.
In general, an IT consultant is an expert in a particular field who can offer advice on the best solution in a particular field. An IT company offering its services has the skillset to perform the tasks your company needs and can glean any necessary industry knowledge to allow them to support your company.
A company providing high quality IT services brings the skills needed to support your company's IT functions and a breadth of knowledge that allows their staff to quickly get up to speed on your company's unique industry and product. High-quality professional IT companies like Intelice can quickly jump in and support all necessary IT functions for your business.
Managed IT services typically charge a monthly fee based on the number of devices or the number of people they're supporting. When the price is broken down by device, servers are by far the most expensive, with lower fees for desktop computers, mobile devices, and other items. For employee-based pricing, the cost may vary by employee function.
The per-month fees for IT services depend on the breadth of services requested. Intelice can work with clients to find a pricing structure that works best for them.
Choosing an IT company with Microsoft certifications ensures that the professionals you're hiring have a deep knowledge base and enough experience to have mastered Microsoft products. Hiring a company with Microsoft-certified professionals can be more expensive, but if you can fit it into your budget, you'll be guaranteed high-quality work from experienced professionals.
When you hire an IT company, you're trusting them with your company's sensitive data. Their employees function as an extension of your own company, so it's crucial that the IT professionals understand cybersecurity and take it seriously. An IT company like Intelice takes cybersecurity seriously and has the expertise to ensure your company's valuable data, as well as that of your customers, is protected from a crippling cyberattack.
The decision of whether to hire in-house IT staff or to bring on the services of an IT company can be a complex one, and the best option for your company depends on individual circumstances. However, in general, managed IT services offer some advantages over a dedicated staff.
Outsourced IT professionals can bring in an outside perspective, including varied prior experience from working on other contracts in the industry. Hiring a contract staff also allows you to avoid the long-term expense of permanent employees, and will increase costs for only the amount of time that your company needs the additional resources.