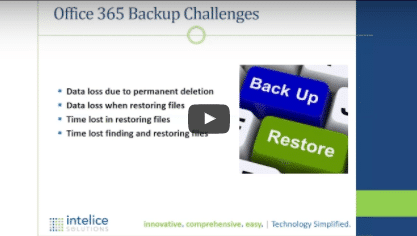 Why You Must Backup Data from The Cloud to the Cloud.
As companies are increasingly moving their data to cloud applications, traditional backups are no longer enough. Storing data in cloud applications can be safer than storing it in your on-premise storage system.
Download our free guide to backing up your cloud applications.  Click Here.
However, the Cloud isn't infallible:
1 in 3 companies using SAAS lose data.
47% of data loss is caused by end-user deletions.
13% of data loss is caused by hackers and viruses.
Only 7% of data loss is caused by malicious deletions (most are accidental).
A lot of data loss is caused by departing employees.
This will always be an "Achilles heel" of the cloud until software can discern between an intentional and unintentional command.
This risk is impossible to ignore.  Data backups are just as important in the cloud as they were with on-premise IT systems.
There are Vulnerabilities In Cloud-Based Systems.
Viral damage or ransomware
Accidental end-user deletion.
Malicious end-user activity.
Operational errors such as accidental data overwrite.
Lost data due to canceled account subscriptions.
Misbehaving application workflows.
Plus, there are Backup Challenges when using Microsoft Office 365 (such as with data storage, Exchange Online, OneDrive, and SharePoint).
Data loss due to permanent deletion
Data loss when restoring files
Time lost in restoring files
Time lost finding and restoring files
These are all potential incidents you must address to protect your data.
Intelice Solutions Has a Solution for You.
We've worked with a number of backup solutions for SAAS, but the one we like best is Backupify (a Datto Solution). 
More than two million business customers rely on Backupify to protect SaaS data in Office 365.
Like Office 365, it's licensed on a user-by-user basis.  It backups all your documents and emails in Exchange, OneDrive and SharePoint, plus your Calendar and Contacts to another cloud location.
The Backupify Office 365 Backup includes:
3 times a day backups
On-demand backup
Backup notifications
Infinite Retention
Backupify goes above and beyond industry standards to make sure your enterprise Office 365 data is secure and protected, and you remain compliant with industry regulations.
Microsoft Exchange, OneDrive, SharePoint, Calendar and Contacts automatically backed up 3x/day SOC 2 Type II audited
SOC 2 Type II audited
HIPAA, Safe Harbor compliance
Built-in data encryption
Data controls and monitoring, including audit logs, uptime and availability SLAs, and export capabilities
Searching Is Must Easier with Backupify.
Backupify saves you time and stress with robust search filters that make it easy to quickly locate backed up files and folders.
Manage backups, view restores, and see an activity feed from an easy-to-use dashboard.
Zero in on emails, contacts, files and entire folders with robust search parameters.
Restore files directly to a user's account or download them directly to your desktop.
Ensure your data is always there when you need it, with Backupify from Intelice Solutions. 
For more information about Backupify for your business in the Metro DC area, contact the Brian Loughlin, PMP, Partner at Intelice Solutions at Brian.Loughlin@intelice.com or (301) 664-6800.