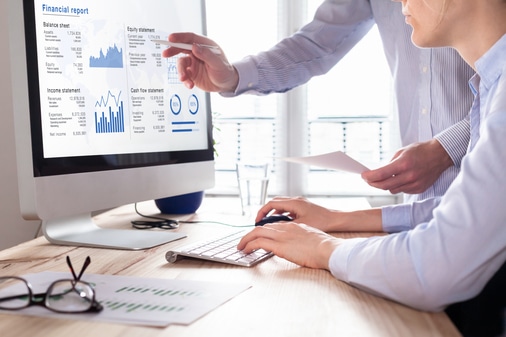 Who Offers Microsoft Dynamics NAV Consulting & Services In Washington DC?
Asking yourself…Who provides Microsoft Dynamics NAV consulting and services in the Washington, DC Metro Area?
Why do you need an experienced IT expert to help with implementing a Microsoft Dynamics NAV enterprise resource planning (ERP) solution? If your company is like other Washington DC companies looking to get the most out of an ERP system, you need a partner that can help you leverage this powerful tool's many capabilities.
Microsoft Dynamics NAV can transform your business, allowing for streamlining of information, more transparency about data and operations, and reduced expenses Harnessing all the Microsoft Dynamics NAV can offer helps your company improve the way it operates, gain employee efficiencies, and discover new insights that lead to better business models and revenue streams.
How Can Microsoft Dynamics NAV Integrate Financial Systems and Functions?
Like other ERP solutions, Microsoft Dynamics NAV provides your company with the tools to integrate functions from across the enterprise. It allows for those in back-office areas such as finance, accounts payable and accounts receivable, to better share data and information with your sales and marketing functions and customer relationship management systems. All of those systems can also be integrated with warehouse and inventory management tools, asset scheduling, human resources, procurement and production scheduling.
In short, an ERP like Microsoft Dynamics NAV enables all systems to be integrated in one place.
Many companies suffer, for example, from accounting and finance systems that are siloed from one another and other enterprise-based solutions, Reporting across these systems requires complex and expensive work-arounds or add-ons, or, even worse, manual manipulation. Tracking information for auditing is complicated and manual, when automated solutions would generate needed information faster and more accurately.
Microsoft Dynamics NAV contains all the capabilities to solve those accounting issues for your company. Knowing how to maximize the impact of the solution and how to integrate and phase out legacy systems is best done with an experienced managed services partner that can help you navigate the important requirements necessary for smooth operations.
What Can I Do About Accounting Functions That are Offline?
With many siloed and antiquated systems and procedures, many corporate accountants end up relying on Excel spreadsheets or other third-party tools to manage budgets, cash, asset tracking and banking. Microsoft Dynamics NAV eliminates the need for relying on offline processes.
At Intelice Solutions, we help companies by understanding their processes and procedures and working to recommend solutions that harness the Microsoft Dynamics NAV capabilities. With the ERP solution in place, all of your reporting, analysis and other financial information will be integrated. Even you're away from the office, you'll be able to access data and systems using smartphones, laptops or tablets.
Can I Automate Budget and Supply Chain Functions?
Managing your supply chain is a crucial element of most business operations. Yet lack of access to information, incompatibility among systems, and communications lags can frustrate suppliers, partners, employees and customers.
With Microsoft Dynamics NAV in place, you'll gain control of your supply chain. Use it to track and manage inventory, orders, production, and vendors. Business intelligence features give you deeper insights into markets and patterns, allowing you to better predict and respond to emerging trends. Work seamlessly across international currencies and identify new vendors to integrate into your operations easily.
You want a partner who understands the complexity of your supply chain. With consultants, developers and engineers at hand to assess your Microsoft Dynamics NAV solution and guide its usage, you can rely on Intelice Solutions to help you maximize your technology investment. When system upgrades, integration projects and cloud migration needs emerge, Intelice Solutions can develop plans and implementation schedules to get work done quickly and efficiently.
How Can A Cloud ERP Solution Improve Operations?
With your technology stack on premises, you face major maintenance and monitoring requirements. Data centers need to be built, staffed and maintained. Utility costs — notably cooling and power — drain operating budgets. Keeping your data physically and virtually secure requires vigilant oversight, installation of patches and service packs, and analysis of network activity to detect and address unusual patterns or access to system devices and endpoints.
Because it is a total integration product, using Microsoft Dynamics NAV benefits all areas of your operation. Understanding how to best use modules for sales and marketing, warehouse management, manufacturing, jobs planning, resource planning, human resources, and administrative components requires experienced professionals who have worked with other Washington DC small- and mid-sized companies.
Intelice Solutions has years of experience helping companies with Microsoft Dynamics NAV consulting services. It's one of many managed IT products and services we offer to help maximize your company's efficiency and outcomes. Contact us to learn more about how we help companies with Microsoft Dynamics NAV and other managed IT solutions.