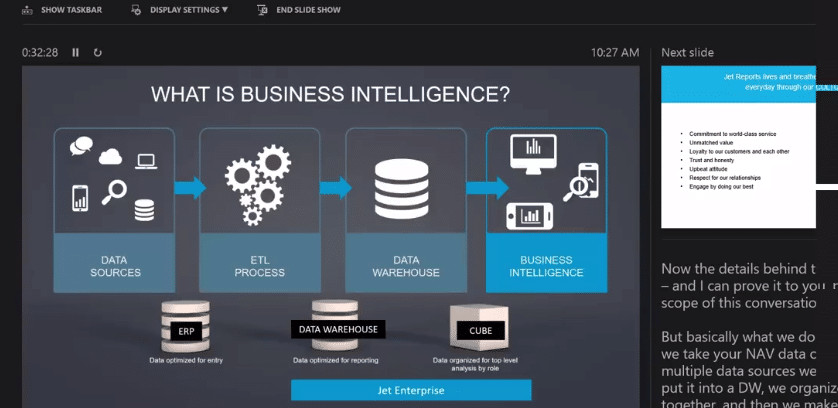 With Jet Reports, Your Organization Will Benefit from Fast, Flexible Business Intelligence Reporting Solutions.
Jet Reports was founded in 2002. It's headquartered in Portland, Oregon with distribution offices in 14 countries around the world. It delivers unparalleled access to data through flexible reporting and business analytics solutions that are cost effective, provide rapid time-to-value, and are built specifically for the needs of Microsoft ERP users.
Over 10,000 Companies in 94 countries use Jet Reports every day for their financial reporting—From small "mom and pop" businesses to the largest of enterprises.
So, What is Business Intelligence (BI)?
It's where your:
ERP data is optimized for entry.
Data warehouse is optimized for reporting, and
Data cube is organized for top-level analysis by role.
Your Data Sources go through an ETL Process to your Data Warehouse which gives you your Business Intelligence.
Simple, right?  Not really.
However, Jet Reports does the "heavy lifting" for you with: Jet Express for Excel, Jet Professional, and Jet Enterprise. 
Jet Express for Excel is an extension included with Microsoft Dynamics NAV that you can use to create basic reports inside Excel. It was created in collaboration with Microsoft, and provides a flexible, real-time reporting foundation for NAV, right out of the box.  You can build simple financial statements, conduct basic business queries in Excel on your desktop.
Jet Professional is a fast flexible financial and business-reporting solution inside of Excel. It allows Microsoft Dynamics ERP users to get all the operational data they need, and eliminates errors by accessing and pulling all of your data directly in Excel.
No more copying, pasting or manually exporting. With Jet Professional, you can:
Drill down on the numbers directly from Excel.
Access reports from anywhere on the web.
Use it as a complete report management collaboration and publishing platform.
Never have to second guess if you're looking at the right data or workbook.
Jet Enterprise is Jet Express' Flagship Product.
It's for when you need fast access to the right data, without technical expertise. It can connect to 99% of the data that's out there on the market.
With it, you can turn data into valuable insights with visually stunning dashboards and reports that you easily design yourself inside Excel or Microsoft Power BI. Quickly identify trends, spot anomalies, and fix problems—And access dashboards on the web or from a mobile device.
Jet Enterprise solves the issue of data integrity and allows decision making at the corporate level.  It lets you look at your data from the top down and combine the data you gather in a way that makes the most sense for your business.
It's a complete data warehouse automation and BI customization platform that's 5x faster than manual coding, and it:
Eliminates any need to understand the underlying data structure when viewing data inside Excel or Microsoft Power BI.
Provides accurate, governed data for one version of the truth.
Offers rapid time-to-value through turnkey installation in hours, not weeks or months.
Has pre-built cubes, a data warehouse and dashboards (Cubes are made up of measures and dimensions).
Provides a low cost of ownership, including unlimited users and a drag-and-drop customization platform.
It's very user-friendly.  You simply point and click the data you want to enter.  You don't have to be an expert in NAV, SQL or concerned about BI.  Jet Enterprise is so easy to use that we find businesses going from 12 Jet Professional users to over 20 Jet Enterprise users.
For more information, or a demo on Jet Enterprise, or other Jet Reports products, contact Intelice Solutions at: (301) 664-6800 or Info@Intelice.com