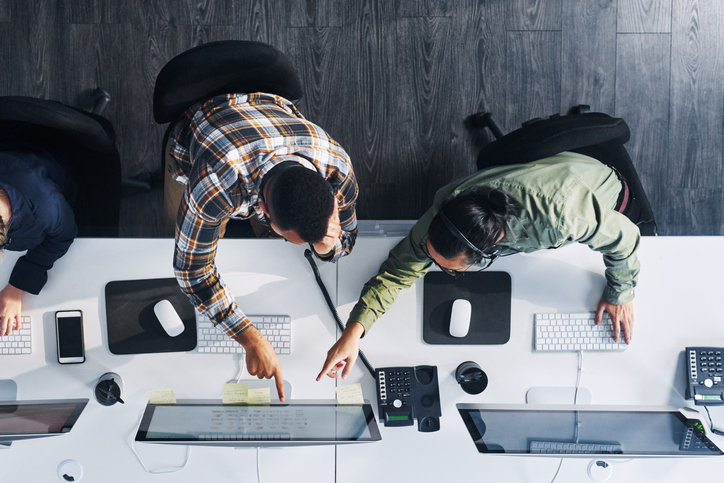 macOS Monterey
Top 10 Features For DC Businesses
Top 10 New Features in macOS Monterey
Back in June, Apple introduced its new versions of macOS Monterey, and although it has been close to six months, not all features have made it to the final version of the operating system yet.
Now that the new OS is available to the public, many features are already available on the current update of macOS Monterey. Here are the top 10 latest features that you should check out as soon as you upgrade your Mac.
1. FaceTime
Apple has invested a lot in revamping and improving the FaceTime app. The video calling app now features Spatial Audio that supposedly 'creates a virtual sound field' that helps conversations flow easily, just as they do in face-to-face conversations. The FaceTime app now lets the user blur their background and put the focus on themselves when making FaceTime calls in portrait mode, just as it does on the iPhone.
With voice location mode, FaceTime now isolates and amplifies the caller's voice. In addition, when Wide Spectrum mode is enabled, the caller can hear what is happening in the other person's surroundings with better clarity.
FaceTime has also received the Grid view feature and a FaceTime link that makes it easier to invite friends to join a call on the web from Android devices or Windows computers.
2. SharePlay
Apple has rewritten the SharePlay app to make it more robust and fully featured. The new SharePlay app now enables users to bring movies and TV shows to FaceTime, listen to and share music with friends, share playlists and device screens, and even sync playback for an improved entertainment experience.
SharePlay also has a new Smart volume feature – a responsive and dynamic volume control tool that automatically adjusts playback audio that makes it easier to hear friends even during loud scenes. In addition, the app now supports multiple devices, including the iPhone, AppleTV, and HomePod, and necessitates connections through text, audio, and video right from FaceTime.
3. Redesigned Safari
Apple's Safari browser has received a major redesign with macOS Monterey. The new browser now has a streamlined tab bar that uses up smaller space on the screen and matches the site's color theme, extending the webpage experience to the edge of the window.
The integrated Smart Search field enables the user to search from the active tab by typing right into the name field. New tab groups on the browser feature Intelligent Tracking Prevention that improves user's privacy by preventing trackers from profiling them using the IP address.
4. Quick Note
If you use the iPhone or the iPad, you probably use the Quick Note app to jot down and keep your notes all the time. Well, you can now use it on macOS as well.
The Quick Note app on macOS Monterey is more robust, enabling you to add links from web pages, paste text or contacts, and sync them across all your Apple devices. It also features useful Tags that make it easy to group, organize, and search notes.
5. Focus Mode
Focus Mode is another cross-platform feature initially released on the iPhone and iPad. As the name hints, it allows you to focus on a task by filtering out notifications, messages, calls, and even the home screen. This feature allows you to stay in the zone and avoid distractions.
With macOS Monterey, you can now automatically customize and set different Focus Modes for as many different situations as you want. Perhaps the best part is that when you set Focus Mode on, contacts, friends, and family are notified, so they know when not to bother you.
6. AirPlay to Mac
AirPlay is one of the most useful tools on macOS Monterey that lets you cast your device screen to a nearby TV screen and enjoy multimedia playback on a larger screen with a single click. The new Airplay on macOS Monterey lets you cast almost any content on your iPhone or iPad to your computer by simply mirroring your screen on the Mac.
The new AirPlay to Mac feature also makes it possible to cast playing media to the computer without necessarily mirroring the screen. Simply go to the app that supports AirPlay on your iPhone or iPad, cast whatever it is playing to your Mac or MacBook, and voilà!
7. Universal Control
Universal Control is possibly one of the most exciting features announced by Apple during the WWDC back in June. This feature allows Mac and iOS users to use and control their devices from any linked device seamlessly. For instance, you can use the trackpad and the keyboard of the Mac or MacBook to control the iPad, drag and drop files, and change settings or cast screens.
8. Shortcuts
Shortcuts on the iPadOS and iOS have become a new way to automate devices and simplify tasks. The new Shortcuts on macOS Monterey does the same thing – on Macs and MacBooks. Any shortcuts that you set on one device will not be automatically synced to linked devices, bringing powerful functionality to all your devices.
It is also easy to share shortcuts on macOS Monterey. If they are compatible, you can share shortcuts on multiple devices, including iPhones and iPads. It is also possible to run shortcuts on Intel-based Mac systems and M1 Macs with Catalyst apps.
9. Live Text and Look Up
Live Text is a useful feature that lets you interact with text in any image on your computer. This can be a time-saving tool when you need to extract text from an image, such as a date on a captured image. Live Text makes it easier to extract text to the clipboard to paste it into a document or use the Look Up context menu to display information about it, search it in maps, or do a web search on Siri-suggested websites.
10. Memoji
Finally, Apple has brought a ton of customization options for your Memoji on macOS Monterey. Memojis on this new version of the Mac operating system comes with more colors and outfits, new glasses and multicolored headwear, a ton of accessibility features, and even different eye colors. Memojis even have reaction animations such as a head shake when you enter a wrong password or a greeting when you log into your computer.
macOS Monterey Support In DC
The new update of macOS is a significant update with many features, tools, and redesigns that make your computer more fun and useful to use. If you want to know more about the new features or need help updating your Mac to Monterey, visit Intelice.com or call  (301) 664-6800 to talk to a macOS expert today.
As special thanks to a fellow Ulistic client 4BIS.COM, a great IT services company in Cincinnati for helping us research this information.