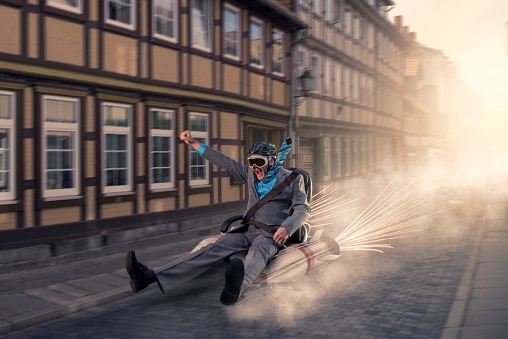 Turbo-Charge Your Productivity with Managed IT Service in Maryland
The turbocharger on your vehicle allows you to get more power and efficiency out of your engine. A turbocharger uses recycled exhaust gases to spin an air compressor that forces more oxygen into the cylinders – allowing them to burn more fuel each second and to give you more horsepower.
This is precisely the type of boost that managed IT services will bring to your Maryland business.
You've got the right tools – now you need an injection of efficiency to propel you forward. With the right IT services backing up your extraordinary employees, the sky's the limit for your busy company.
Most companies like yours are looking for ways to improve their level of efficiency. When a business is bogged down by overcomplicated processes or employee overtasking, the entire team suffers. Productivity is reduced, and your company growth goals shift to the back burner.
You've got the right tools in place to help your business succeed, yet you're still not reaching your goals.
What is standing in your way?
You need to partner with a Maryland technology team that specializes in harnessing the power of IT services to give you high-impact efficiency.
Technology Support to Boost Your Productivity
Sometimes a company's productivity is not a matter of newer or better tools. Everything improves under the guidance of a master, and it is the same with your internal business technology.
By partnering with a managed IT service team in Maryland like Intelice, you gain access to a team of professionals with the power to unlock the potential that lies hidden within your IT infrastructure.
What Are the IT Services Your Business Needs to Get More Horsepower Out of Your Internal Business Technolgy?
A leading firm offering managed IT service in Maryland will have consultants who can scale with your technology needs to help you reach the next level in your business.  You are the expert in your field, but your technology could use assessment from a leader in IT efficiency and productivity. The viewpoint of these technical support specialists will significantly improve your office efficiency and functionality – enabling you to reach and exceed your goals more easily.
You have heard the saying, "Everything rises and falls on leadership." Nowhere is this more important than when it comes to your technology needs. You need an IT services company in Maryland that will take over the management of your IT infrastructure to ensure complete and industry-appropriate functionality. A dedicated IT manager can pinpoint areas of wasted resources and redundant processes that can be eliminated in favor of more efficient technologies.
To best operate your business, you need the hard facts about how it is performing. Business intelligence solutions from a managed IT service company in Maryland will provide an assessment of your systems and detailed reports to help you source areas for improvement. You need facts to make the best decisions to increase the power of your business.
Enterprise resource planning is a critical component of every business' operating strategy.  A roadmap charting past financial expenses and future expenditures is vital to ensuring continued company success, fiscal responsibility, and growth. The right consulting team can assist your business by setting up the right data gathering, analyzation, and presentation options. It is one offering that your managed IT services team in Maryland must deliver on to provide the maximum benefit to you.
Are you getting the most out of your extranet and intranet capabilities? Most businesses aren't.  With a few simple tweaks and some expert advice, you could see significant advances in your collaborative efforts and overall communication.
Most businesses are equipped with more technology than they need. If your company has tools that are doing little more than costing you money and collecting dust, it's time for some streamlining. A top-tier managed IT services provider in Maryland will be able to offer expert advice on how to simplify your IT infrastructure – enabling you to do more for far less.
In today's business climate, you must be connected to stay in the game. Communication is dependent upon internet-enabled mobile devices and personal computers. Losing access to your connectivity translates to losing hours of productive working time. Look for a managed IT service team that offers you quality advice for all of your connectivity needs including Fibre Optics, Cable, DSL, T-1 Lines, Cellular, Wifi, and MPLS.
Efficiencies Increase with Additional Support
A little bit of expert advice can prove to be a tremendous advantage when it comes to reaching the efficiency potential of your current IT infrastructure. You likely have all of the tools already, but are you really getting everything out of them that you could be?
Get that little bit more horsepower out of your existing systems by turbocharging them with managed IT service in Maryland.
Your business processes will run faster with someone on your side that understands how to leverage these IT services and solutions for your growth.
Windows 10
Cloud Solutions
Mobile Device Management
Disaster Recovery
Dynamics NAV
Dynamics CRM
Efficiency doesn't have to be elusive. Your Maryland business can make the most of your current IT structure with some help from an IT professional. The Intelice team has been helping businesses just like yours get more out of their business technology since 1996. We are a Microsoft Gold partner and know how to help you squeeze every bit of potential from your IT systems.
Are you looking for a higher level of collaboration?
Do you want the confidence of professionally maintained cybersecurity?
Is your team equipped with the latest options for doing work on mobile devices?
Have your internal processes been streamlined by removing manual tasks, integrating systems, and automating repetitive data input?
Ready to turbocharge your business to reach greater heights of efficiency and productivity?  We have more articles and more information for you HERE.