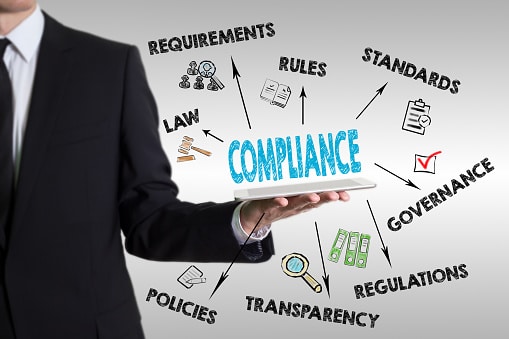 Data Protection and Regulatory Requirements? Meet Microsoft Compliance Manager
If your IT company has not introduced you to Microsoft Office 365 Compliance Manager and their Service Trust Portal or even brought up the topic of General Data Protection Regulation, maybe they have not heard the latest updates.
But according to the Washington, D.C. based, Intelice Solutions LLC, a recognized seamless technology solutions innovative leader: "Data Protection and Regulatory Requirements are in full swing, it's on the news, and these hot topics are being discussed daily with political world leaders and CEOs from around the globe."
And yes, cybersecurity and hackers will always overshadow the conversation. But not to minimize any threat, there is more to your business, health organization, law firm or any company staying compliant then just Ransomware or Malware protection, there is: Data Protection and Regulatory Requirement Compliance.
What is Microsoft Compliance Manager?
It is now part of Microsoft 365 and is a new tool being offered and labeled as – Compliance Manager. Microsoft Compliance Manager is your dashboard. It provides a summary of your data protection and compliance stature. With the CM tool, you will be able to manage and assess your compliance risk.
It also makes recommendations:
How to improve data protection and compliance
What actions to take
What step-by-step guidance is needed
But Microsoft Does Have Two Disclaimers:
Important: "Compliance Manager is a dashboard that provides a summary of your data protection and compliance stature and recommendations to improve data protection and compliance. This is a recommendation; it is up to you to evaluate its effectiveness in your regulatory environment before Recommendations from Compliance Manager should not be interpreted as a guarantee of compliance."
Compliance Manager Is Also Not Available In Office 365 operated by 21Vianet, Office 365 Germany, Office 365 U.S. Government Community High (GCC High) or Office 365 Department of Defense.
Successfully bringing about your organization's full compliance, will always be a challenge. But comprehending the complete scope of your compliance risk must be your main priority.
Microsoft Compliance Manager Gets A Little Help From Its Friends
If you haven't noticed lately, your email inbox should be getting flooded with, "Improvements to our Privacy Policy and Privacy Controls," emails. You will see them from all the online giants: Google, Facebook, LinkedIn, Amazon, eBay, Instagram, PayPal, and Microsoft too.
But not to be left out, the local bank you do business with is sending these emails out, as well as, your mobile and landline phone providers, and the utility companies providing you with electricity, water, sewer, garbage, and recycling pickup.
Don't be surprised if you receive one of these emails from the hospital you once were treated at or dentist you had dental work performed. You may even get one of these emails from, the old alma mater you graduated from many years ago.
Why suddenly, are these organizations, businesses, and government regulated entities emailing similar correspondences in droves to the masses?
Google sums it up in this single paragraph from their Improvements to our Privacy Policy and Privacy Controls emails: "We're making these updates as new data protection regulations come into effect in the European Union, and we're taking the opportunity to make improvements for Google users around the world."
So, if the large corporations, on every continent, are stepping up their efforts to notify their customers, both past, and present, then the word is finally sinking in. Protect and guard all data and proactively remain compliant with all regulated mandates.
Let's Take A Brief Microsoft Compliance Manager Tour
Four sections below are a summary listing and their subsections with or without core information. For a more in-depth look and more significant details are found here.
Conceptual Topics
Assessments in Compliance Manager – a) In-Scope Services b) Microsoft Managed Controls and c) Customer Managed Controls
Permissions and Role-based Access Control – a) reader b) Contributor c) Assessor d) Administrator e) Portal Admin f) Guest Access
Understanding the Compliance Score – In-depth explanation about scoring and Implementation Status
Grouping Assessments – In-depth description of creating groups for logical organization
Administrative Functions
Assigning Compliance Manager Roles to Users – a) Adding and Removing Users
Using Compliance Manager
Accessing Compliance Manager
Viewing Action Items
Adding an Assessment
Copying Information From Existing Assessments
Viewing Assessments
Managing the Assessment Process
Managing Action Items
Exporting Information from an Assessment
Archiving Assessment
Customer Managed Control Change Log   
Change Log – a) Major Change to a Customer Action b) Minor Change to a Customer Action c) Table providing detailed changes made to Customer Managed Controls
As Microsoft Office 365 Compliance Manager continues rolling out and becoming the new standard tool to track, assign, and verify your organization's regulatory compliance activities related to Microsoft cloud service, your team at the Washington, D.C. based, Intelice Solutions LLC, can help you decide and implement your dashboard.