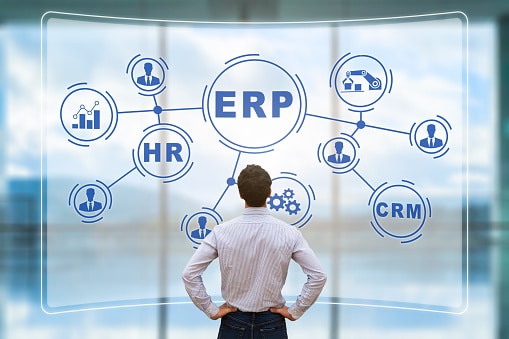 Microsoft Dynamics NAV vs. Sage ERP (Comparison/Reviews)
Thinking Of Implementing Microsoft Dynamics NAV Or Sage ERP?
Enterprise resource planning (ERP) platforms provide powerful flexibility to companies of all kinds. By integrating data and systems from across company units, the right ERP can drive more efficient operations, innovation, better collaboration and increased revenue.
For metro Washington, D.C., companies, the potential gains are significant when investments are made in the right ERP. But with so many models on the market, many companies grapple with how to differentiate between major products and vendors.
Two of the top products are Microsoft Dynamics NAV and Sage ERP. Both offer a comprehensive set of features designed to integrate major areas, including finance, operations, warehousing, distribution, asset scheduling, production, and regulatory compliance. They are consistently among the top-ranked ERP products, especially when it comes to integrating financial components of your business.
How Do We Differentiate Between Microsoft Dynamics NAV and Sage ERP?
There is one feature that consistently sets Microsoft Dynamics NAV apart from the competition. The platform has the power and capabilities to reduce the time spent on basic business functions. Why? Because all of its core capabilities are stored within the platform's framework. There's no need to be swapping and converting data or switching between systems.
That's in stark contrast to how Sage ERP works. Many Sage users still find themselves having to use spreadsheet programs and other data outside of the platform in order to get work done.
With Microsoft Dynamics NAV, everything is integrated within the platform. From the NAV desktop, users can access emails, import spreadsheets and documents, and manage work.
Can Microsoft Dynamics NAV Improve Financial Workflows?
Microsoft Dynamics NAV is built on a foundation of better financial management. Users rave about its ability to integrate and execute key functions, including payroll management, general ledger, subledgers and financial processes, order management, inventory management and project financial management. Other functions include risk management, grants management, procurement management and project execution management.
For example, Microsoft Dynamics NAV provides budget management functions that allow for customizable reporting to see exactly where money is being spent and break down the categories across budgets for comprehensive, enterprise-wide insights into cash flow and cost centers.
How Do These Tools Help With International Finance Issues?
Many companies in the metro DC area operate globally. Your financial systems need to be able to track multiple currencies, languages and exchange rates. These functions are automated within Microsoft Dynamics NAV. Work without barriers by easily adding new currencies and using multiple currencies on accounts payable and accounts receivable, general ledger reports, banking, and inventory reports. Everything from invoicing to payments is done in the currency your customers, partners and vendors prefer.
In addition, the software allows for easy compliance with international accounting standards that automatically translate information into foreign currency statements. These features make for simple compliance with the Financial Accounting Standards Board (FASB) and International Accounting Standards (IAS) guidelines for such transactions.
How Do I Leverage Business Intelligence with an ERP?
Your business needs insights on markets, trends, and performance in order to be competitive today. You and your employees need information in real time that's presented in such a way that it is clear to understand and actionable in the moment.
Microsoft Dynamics NAV provides the tools you need to be competitive. Reporting capabilities help monitor current activity and compare it to historical patterns and expected results. Formatted and grouped data can be customized for an employee's task or role, providing the right information when it's most needed.
Interactive charts allow executives to drill down to see more specific insights and to respond to identified trends. Progress towards key performance indicators and other business drivers is readily available and updated in real time.
Companies can also use ad-hoc reporting and analytics using familiar tools like Microsoft Excel to compare actuals to projected results, analyze information and make adjustments as needed.
How Can I Help Improve My Supply Chain with ERP Solutions?
Businesses today are reliant on transparent and dynamic relationships with supply chain partners. Microsoft Dynamics NAV offers intuitive procurement management tools, predictive modeling, and advanced forecasting tools that allow for better insights faster. Distribution and supply chain management tools give your company deep insights into supply chain efficiency, and deeper evaluation and monitoring of suppliers and the quality of goods provided.
How Do I Manage My Microsoft Dynamics NAV Solution?
Microsoft Dynamics NAV consulting services is a prudent investment for companies that choose this ERP solution. At Intelice Solutions, we help companies gain the most out of their chosen solution. Our experience and insights can help you determine the right sequence of adoption, when to shift applications to Microsoft Dynamics, and how to maximize the impact. To learn more about how Intelice can provide Microsoft Dynamics NAV services to your company, contact us today.