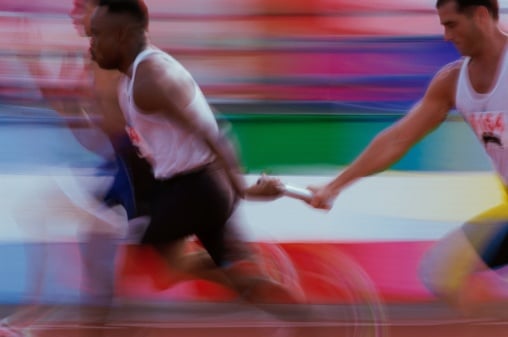 You Will Be Too Once You Give Microsoft Teams a Try.
The IT professionals at Intelice Solutions are hooked on Microsoft Teams. Why? Because it's a revolutionary way to meet, communicate and collaborate with others. And we're not the only ones who are hooked – so are 120 million users worldwide.
Microsoft Teams has proven its value in just one year. Today, over 200,000 organizations in 181 markets, which speak 39 different languages use Teams. In comparison Slack, Team's competitor, only has 50,000 paying companies. 
Teams has a broad appeal from the smallest to the largest of businesses, including big names like A.P. Moller–Maersk, ConocoPhillips, Macy's, NASCAR, Navistar, RLH Corporation, and Technicolor.
As part of Microsoft Office 365, Teams provides for chat-based collaboration, meetings, calling, and soon, full-enterprise voice features. It offers all of this with innovative Artificial Intelligence (AI) capabilities, and can be used with a full spectrum of calling and meeting-room devices including:
Microsoft collaboration devices like Microsoft Surface Hub, an all-in-one large-screen team collaboration device.
Meeting room systems like Lenovo, HP, Crestron, Skype Room Systems and Polycom with rich audio, HD video, center-of-room control, and one-touch join.
Desk and conference phones—Deck phones like AudioCodes and Yealink—and new conference room phones like Crestron, Polycom, and Yealink can run the Team's application.
Mobile phone stations—With Teams, mobile phone stations from Plantronics provide desk phone capabilities when you're on the go.
With Microsoft Teams you can host online meetings with up to 10,000 attendees both internal and external to your organization.
And now you can find apps for Teams in the new Microsoft Store where you can search for apps by name, category (such as Project Management, Analytics, and Business Intelligence), or integration type (such as Bots, Tabs, or Connectors). You can choose for them to appear in your personal app view or a specific channel in Teams.
Check out the Command Apps from the Command Box—Query a command right from the Command Box to search for information in an application such as an image, or news article, and insert it into your chat or channel conversion. All you need to do is type @ in the Command Box to show a listing of the applications you can query.
Need a shortcut? Use Slash commands to type in a command quickly, perform certain functions or navigate around Teams.  You can use a Slash command to add a user to your team, make a call, or set your status to "away."
Include information from an application—Easily share content from another application in your chat the same way you would add an emoji or GIF. For example, you can search for a specific task in Trello, or a work item in Wrike, and include an interactive card with the information.
Go to your new personal app space to easily access the apps you use most like your OneNote notebooks, videos from Microsoft Stream, Planner, issues in Jira Cloud, or filters or in Bitbucket Cloud.
Teams delivers chat-based collaboration, meetings, calling, and soon–full enterprise voice features. All of this is supported by the Microsoft Graph, allowing for its productive AI capabilities.
Plus, there's more to come—Look for some great new features this year:
Teams can act as your full voice service by using Direct Routing or a Microsoft Calling Plan with your existing telephone infrastructure. And it will integrate with Cortana (Microsoft's Voice Assistant). You'll be able to make a call, join a meeting, or add other people to a meeting by just speaking. Cortana and Teams' Functionality will extend to IP phones and conference room devices as well.
Also coming this year is cloud recording so you can easily record your meetings and create an automatic transcript of everything that occurred. Plus, with time coding and search capabilities you can play back all or part of a meeting.
In the future, Teams will include facial recognition, so content can be attributed to specific meeting participants.
Do you ever wish you could make a video call from your messy office without others seeing what a "slob" you are?  Also coming this year is Background Blur on Video, where you can hide everything around you, so attendees will only focus on you.
And here are two additional features coming this year:
Proximity Detection for Teams Meetings—This will make it easy for you to discover and add a nearby, available Skype Room System to your meetings.
Mobile sharing in meetings—Your team will be able to share a live video stream, photos, or the screen from their mobile devices.
Want to know a secret?  Microsoft just started testing a new Microsoft Teams app for Windows 10! They're testing an app called a Hosted Web App (HWA) with a small group of users.  It will work like a PWA (Progressive Web App) by using web code to provide a native app-like user experience. This should arrive soon because Microsoft is allowing PWAs to join their store.
These are just a few of the major brands that are already PWA-enabled: Alibaba, Medium, Flipboard, Snapdeal, Trivago, The Weather Channel, The Financial Times, Pokedex.org, GitHub Explorer, Flipkart, Offline Wikipedia, Forbes, Starbucks, Tinder, Google Maps, Uber, Lyft, Instagram, Pinterest and Twitter Lite.
When they are combined with Microsoft's Universal Windows Platform (UWP), PWAs become even more native-like with many additional capabilities. Microsoft has cleverly added these PWAs to their Store rather than depending on users to find them.
Microsoft Teams has evolved to become the go-to hub for teamwork. Part of its success is because it's built on the strength and scale of Office 365 which has over 120 million users. As part of Office 365, Teams uniquely delivers these capabilities at scale, with enterprise-grade security and compliance standards to meet the needs of a global business.
You'll see these and other new features in Teams very soon. Give them a try.  Once you do, you'll be hooked on Teams too!
Want to learn more about Teams?  Watch this webcast from the Microsoft Corporate VP of Office 365, or contact the Microsoft experts at Intelice Solutions.