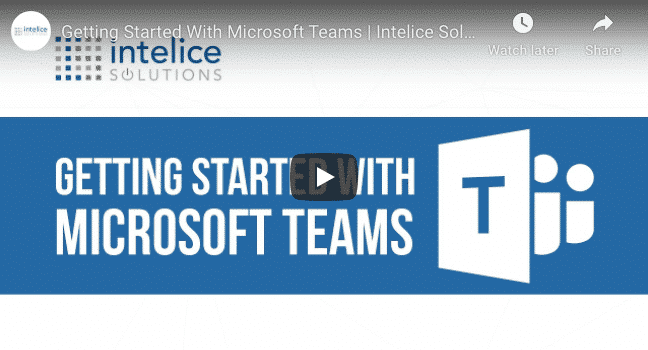 Microsoft Teams Training In Washington DC, Maryland and Virginia
Getting Started With Microsoft Teams
Technology is rapidly evolving and being integrated into the business environment. This integration has consequently made certain aspects of the workplace, such as office spaces, the 9-to-5 work schedule, and emails as the primary communication source, to slowly become extinct. With organizations adopting remote working due to the pandemic, demand for software that helps employees communicate and collaborate effectively has increased.
With so many options in the market, companies are torn between the various options. However, for organizations that have already settled into the Microsoft family of applications and services, the obvious contender is Microsoft Teams.
Check out our video on Microsoft Teams:
What Is Microsoft Teams?
Microsoft Teams is a chat-based collaboration tool that allows remote and dispersed teams to work together and share information.
Teams integrates a collection of Microsoft 365 online services such as Skype, Exchange, and SharePoint. Teams also offer a shared workspace for various Microsoft Office applications, including Word, PowerPoint, Excel, OneNote, and planner. These features make it possible for the organization members to talk face-to-face, hold virtual meetings, chat, share files, and collaborate on projects.
What Are Some of the Features of Microsoft Teams?
The following are the core components of Microsoft Teams
Teams: A team is a collection of people, content, and tools based on a specific group or project. Setting up Teams is easy and done in a few clicks, requiring a Team name and a description; this then allows team members to be added.
Channels: A Channel is the subsection of teams, and a General Channel will automatically be created. You can have multiple Channels within a Team. If a channel is in bold, this means that there has been some recent activity.
A Chat: This is where you can start a conversation with each other. All the conversations that occur here are outside Channels' context, which is associated with groups. The chat window has a simple message box with the option to format text, attach files, and add GIFs, emojis, and stickers. Chats are saved, and members can pick up where they left off at any time. The content of the conversations is also searchable.
Audio and Video Conferencing: You can directly make one-on-one or group calls to people in your organization directly from your chat list by clicking the audio or video call buttons. If your company has connected Teams to a phone system, you can also make calls to people outside your organization.
Conversations Within Channels and Teams: Conversations allow each team to have a centralized discussion that is saved and easily searchable. Conversations are the central component where all teamwork is recorded—from file sharing to video calls. The use of @mentions allows you to tag other members of the team or even whole teams. Users can easily see where they have been mentioned through the red @ symbol.
Files: In Teams, users have access to personal and shared cloud storage space. Every team that uses Microsoft Teams will have a site in SharePoint Online, which will contain a default document library folder. All files shared across all conversations will be automatically saved to this folder. The file storage area can also be customized to include third-party cloud storage services, such as Dropbox and Google Drive.
Online Meetings: Microsoft Teams supports audio, video, and screen sharing. This feature helps organizations to enhance communication. Anyone can start an instant meeting in a free or paid plan by going to the Calendar tab and clicking Join Now. You can also create an instant meeting within a channel by choosing the Meet Now icon on the Posts tab. In paid plans, you can schedule meetings from the Calendar tab or from within Outlook. Meetings can be one-time or recurring and can optionally be associated with a channel.  Effective collaboration is vital for the smooth running of any business. Microsoft Teams is a powerful tool that offers the collaboration you need. Increase your general productivity by integrating it into your organization.
Are You Looking for a Microsoft Solutions Provider?
At Intelice Solutions, we offer years of experience in providing Microsoft Office 365 solutions to businesses in Washington, DC.
Consult with us today, and let us help you configure Microsoft Office 365 solutions that work for your company.