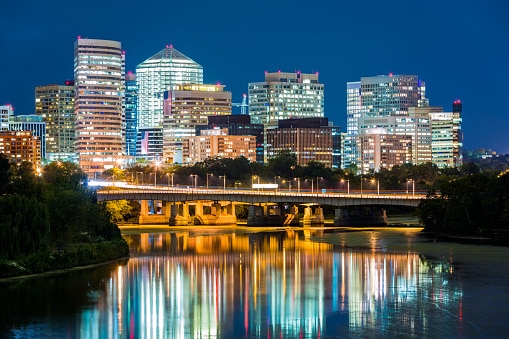 Smart Montgomery County, MD Business Owners Outsource to Managed IT Services Companies
If you are like a lot of business owners in the Montgomery County, Maryland area, you've been managing your IT needs in-house for a while now.   While you certainly can do this, it's not necessarily the way for you to make the most effective use of your time.
After all…
You know that many times trying to save a few dollars by trying to do all the work yourself ends up costing you more in the long run.
This is one of those times.
When one staff member becomes tasked with their work PLUS business technology maintenance, your business suffers in more ways than one.
Lately, you find yourself thinking that maybe it's time for outsourced managed IT services.
Finding the right managed IT services provider in Rockville, Bethesda, or Gaithersburg can be challenging. You want a team that has the same commitment to their values as you do; a team that will take the time to understand you and your goals to support your business moving forward.
You don't want to be another statistic to your managed IT services team.  Cookie cutter solutions just won't do.  If you're going to spend the money to partner with a top-quality IT firm, you want customized IT strategies from a team that places emphasis on relationships in business.
Five Reasons to Move to Managed IT Services in Montgomery County, MD
If your thinking about taking the plunge into managed IT services for your Rockville, Bethesda, or Gaithersburg business but aren't quite there yet, here are five reasons why smart business owners are outsourcing their managed IT services.
You're the expert in your field. Clients come to you because of your reputation for excellence.
While you are a leader in your field, you readily admit that you know very little about technology.
Just as your customers carefully vetted you before committing to your services, maybe it's time for you to do the same to find the best managed IT services company in Montgomery County, MD.
When you hire an expert to handle your IT needs, you give a gift to your business.  It's hard for some business owners to imagine how spending money on outsourced IT management will save them money, but it will.
The first thing your managed IT services team will do for you is to assess what you already have.  If you are like most businesses, you likely have more than one piece of IT equipment that isn't doing much more than collecting dust and using electricity. It costs you money, and it's taking up valuable real estate in your office.
Your managed IT services team will streamline and simplify your IT into one efficient and compact suite, freeing up valued space and putting money back in your pockets.
Most businesses don't need MORE technology. They need an expert eye to go over what they already have in place, eliminate things that just aren't being used, and optimize the assets that remain.  These steps provide your business with tremendous cost-savings.
The key to getting more done in the same amount of time is having the right tools for the job.
Your IT might be functioning decently for you, but are you getting the most out of it?  Sometimes, all it takes is a few simple tweaks to enhance your overall company efficiencies significantly.
Higher efficiency and productivity result in a healthier bottom line for your business. A managed IT services company, like Intelice Solutions, here in Montgomery, MD will help you gain these advantages.
Let's face it. — If you choose to handle your own IT needs internally, you're going to have to delegate it to a valued employee.
Sadly, technology can take up a lot of time, and you didn't hire your staff for their IT expertise. Simple jobs take longer to do because your employee must put aside critical work for your business to research IT problems that they don't know how to solve on their own.
If your going to do it right, handling your technology needs internally is a full-time job.  When you hand this critical component of your business to a staff member, you are essentially tasking them with two critical, time-consuming jobs.  As a result, both tasks suffer. No one has the time or the energy to give their best to two very demanding jobs.
Over time, your employee becomes frustrated and even burnt out.  Burnout is a genuine problem in business, and it costs companies money.
If your employee reaches the point of burnout, he's going to need some time off to recuperate.  What does this mean for you?  It means finding a substitute employee and spending additional funds to get that substitute up to speed.
When you outsource your managed IT services to a quality technology team, you give your employees the opportunity to focus on the jobs they were hired to and the thing that they are most passionate about. The office climate changes dramatically as morale is restored and IT frustrations drop. Though you do pay an affordable, flat-rate monthly fee, it is negligible compared to the costs you were incurring as a result of staff sick time, overtime hours, and staff turnover.
Consistent and singular IT monitoring and maintenance
Technology plays a vital role in your business.  In fact, you really can't function well without it. That's why outsourced IT services are so important. When you choose to partner with a team that understands your business needs, you gain access to people whose primary role is to keep your IT functioning optimally.  Their singularity of focus allows them to source and implement only the very best solutions. Your business becomes the very best version of itself.
Why just get by when you could excel? There is a reason why people want to partner with the best, and that's precisely what you get with managed IT services from Intelice Solutions.
Making use of an employee for your IT services only gives you access to the best resources Google has to offer.  While Google is great, it's not sufficient to help you design the IT infrastructure that will help your business to soar.  You can only gain that through a partnership with an IT professional.
Great Services You Can Gain from Outsourcing your Technology in Montgomery County, Maryland
Leading managed IT services providers not only deliver on what you need, but they are also able to prescribe new tools for even greater success.
A leading managed IT firm in Montgomery County, MD can offer you:
Business advisory services
Business intelligence
Financial systems
Web systems
Infrastructure services
Connectivity
Mobile solutions
Disaster recovery
Ready to learn more?  Check out more informative articles HERE.