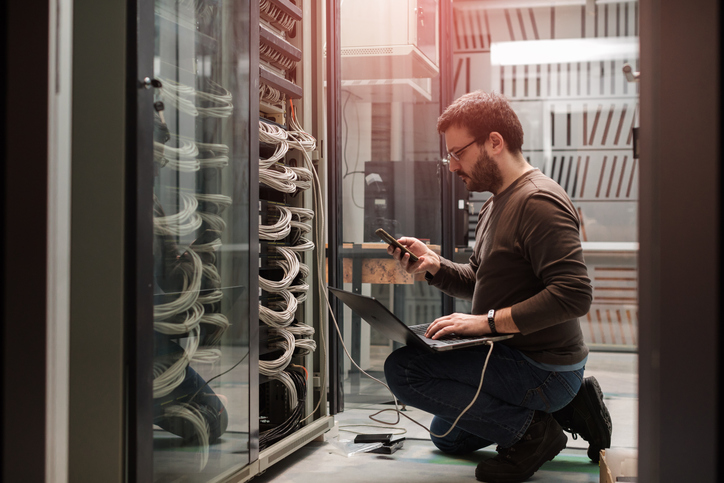 Network Solutions In Washington DC Metro Area
Network Solutions In Washington DC Metro Area
A network is a group of computers, devices such as printers, or resources connected to each other in some fashion and can exchange information. The devices within a network are also known as nodes. The prominent role of a network is to enable communication within member nodes. The network is the backbone of every organization, large or small. Depending on the size of the business, a network can contain as little as two devices or span the entire globe.
To remain competitive, businesses need reliable, high-speed networks with comprehensive security and support. And that's where network solutions come in. Network solutions offered by IT firms such as Intelice allow businesses to perform essential services, including — but not limited to — printing documents, email services, downloading files, and browsing the internet. Many organizations are finding these services essential to their operations.
Network Solutions for Small and Large Enterprises in the DC Metro Area
Are you looking for reliable network solutions in the Washington DC Metro area? Your search ends here. Intelice Solutions provides high-quality network solutions in Washington DC and surrounding areas, including Virginia and Maryland. Take advantage of our network support services to address all your IT concerns. Our network solutions are geared towards helping your network maintain peak performance without any issues at all times.
Intelice Network Solutions
Network solutions are vital for so many organizations today. The lack of reliable network support will leave your business lagging behind the competition. Intelice Solutions offers a wide range of networking services to help your organization with continuous technology challenges and manage the demands of a growing business. Our network solutions consist of various service level offerings ranging from network equipment to infrastructure support for your Microsoft-based network infrastructure.
Network Infrastructure Support
Your network provides the foundation for the applications your organization uses daily. Your network equipment, core infrastructure, routers, switches, wireless access points, etc., are the cornerstone of your entire business communications and need to be operational and available at all times. In the absence of a proper support system, you'll constantly experience issues such as loss of connectivity, leading to significant downtimes.
Intelice provides network infrastructure monitoring, maintenance, and support to help organizations overcome common network infrastructure obstacles such as duplicate data and lack of a centralized hub. Our network infrastructure support services can help you analyze and streamline your network infrastructure, implement best practices, and improve operational visibility at all levels of the organization.
Network Management
Network management refers to all the mechanisms put in place to monitor, control, and coordinate network activities within an organization. Network management is becoming increasingly complex as networks scale across wired, wireless, and virtual environments — especially during the Covid-19 pandemic. Network administrators need every help they can get to keep their systems secure and operating at peak performance.
That's how Intelice Solutions steps in. Intelice network management services use top-rated industry-recommended technologies to proactively identify faults and improve performance, reliability, and security. We can help you set up a resilient network that is well designed to minimize any disruptions. You can rely on reliable and affordable network management services from Intelice to keep your network and, by extension, your business healthy.
How Network Solutions Can Change Your Business for the Better
Network solutions can improve IT operations within your organization and change your business for the better. Networking support services will keep your systems operational and available so that you can focus on managing costs, increasing revenue, and growing your business. Large and small businesses alike can gain significantly from enlisting the help of a network services provider. Read on to learn how network solutions from Intelice can benefit your organization.
Reduce Costs 
Network services can help your business reduce daily operation, maintenance, and other related costs. A reliable network solutions provider can deliver all the services that your business needs to keep operating optimally at a predictable monthly fee, including costs for network infrastructure, software, and hardware. In addition, when something goes wrong, your network support provider will fix it and help you avoid unexpected network maintenance costs.
Keep Your Data Secure
Data breaches and cyberattacks are some of the biggest threats businesses are facing in the digital age. One thing about cybersecurity incidents is that they are expensive to remediate; only a few businesses are able to fully recover from a devastating attack. Therefore, prevention is your best defense, and network solutions can help. It's easier to keep your systems up to date and your data more secure when using reliable network support services.
Enhance Productivity and Improve Services
Having a productive workforce is essential for business success. However, your employees can't do their best work if network problems keep getting in the way. Network solutions can optimize systems for better performance, which will, in turn, improve efficiency and enhance productivity within your organization. Having reliable network solutions can also help organizations provide better products and services to their clients.
Networking solutions are essential for any organization that wants to stay competitive in today's cutthroat business environment. You need every edge you can get to excel in the modern business world. By lowering communication costs within your organization, networking services will keep your workforce connected, enhance productivity, improve efficiency, and help you develop better relationships with clients and customers.
Work With a Local Network Solutions Provider
Network solutions have become a necessity for any business that has set up a network system. Partnering with the right network solutions provider will help you provide the best possible services or products for your clients or customers. Reliable network services will also help your employees stay more productive, reduce operating costs, and prevent issues down the line. All these benefits can really take your business to the next level.
If you are in the market for an experienced, knowledgeable, and reliable network solutions provider in the DC Metro area, look no further. Intelice provides IT services and network solutions that can help your business optimize network infrastructure and enhance operations. We also serve businesses in the neighboring Virginia and Maryland areas. Call us today for reliable network solutions for your organization.