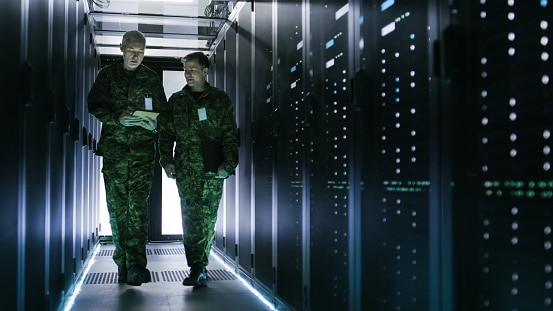 Who Offers Assistance With Microsoft Government Cloud Solutions In The DC Metro Area?
If you're a federal, state or local government entity or do extensive business with such entities, you understand the importance of keeping data protected and secured. Many government agencies and private companies are using Microsoft Cloud for Government solutions to maintain compliance and take advantage of its powerful features.
Knowing how to properly deploy the Microsoft Cloud for Government solution requires specific technical skills and expertise, leading many government entities to engage with Microsoft government cloud consultants. Intelice Solutions is one of the leading companies supporting Microsoft Government Cloud in the Washington DC metro area. Our consultants help evaluate compliance, learn about each client's unique needs and helps implement the solutions that ensure full compliance and improve employee productivity. Here's a closer look at Microsoft Cloud for Government.
What Is Microsoft Cloud for Government?
The Microsoft Cloud for Government is a comprehensive cloud solution is designed for federal, state and local governments and is built to meet stringent security and compliance regulations. The platform meets government standards for several regulations, including the Federal Risk and Authorization Management Program (FedRAMP), the Criminal Justice Information Services (CJIS) security policy and the Health Insurance Portability and Accountability Act (HIPAA).
The platform can be run in various cloud structures, including public, private and government clouds. Microsoft offers three grade of its product, including:
Government Community Cloud (GCC) for civilian, local and federal government agencies
GCC High for highly classified government entities and companies doing business with them
DoD Cloud for intelligence agencies
Why Is Microsoft Cloud for Government Necessary?
An organization providing services of any type to any government entity — federal, state or local — need to comply with guidelines issued by the National Institute of Standards and Technology (NIST). Those stringent standards mandate close controls of two critical components:
Customer Data, which includes all text, image, video or sound files that are provided by a customer to a government entity through the use of an online service.
Customer Content, which is a subset of Customer Data that includes content created by users, such as content stored in databases, personal contact information, and other confidential data that should not be shared online unless it's encrypted.
What Are the Component Applications of Microsoft Cloud for Government?
There are three core components to Microsoft Cloud for Government.
Microsoft Azure Government. This powerful cloud platform includes a directory of hundreds of tools that government agencies and contractors can use, including:
Databases
File storage
Virtual machines
Mobile and web apps and services
Azure for Government offers considerable cost savings for entities that previously had to host their own infrastructure and data centers, buy and maintain servers, and provide staff to maintain the technology.
By using the pooled computing resources, users can use Azure Government instead of running hardware, maintaining hardware and software, and managing a data center. Azure lets users build, test and deploy applications; create customized web experiences such as databases; use powerful analytics to understand and use data better; host email servers; create user directories; manage web servers, and use file storage servers.
Microsoft Office 365 for Government. The Office 465 suite includes the well-known apps used for communication and productivity. It also provides access to these tools to remote users on any device. The data in these tools is segregated from commercial data, stored in the United States, and restricted. Among the components are:
Business-class email and calendar applications using the familiar Outlook interface
Microsoft Office Online to create and use Word, OneNote, Excel and PowerPoint documents from any browser
Online conferencing
Voice calls, video calls and instant messaging with Skype
OneDrive file storage and sharing capabilities with at least 1 TB of storage per user. File sharing is simple with internal and external partners with access controls to manage who can see and edit files
Company-wide intranet and team sites
Mobility tools to sync information, access SharePoint sites and view or edit Office Online documents from Android, iOS and Windows Phone devices
An administrative portal for configuration and management of services
Active Directory for user credentialing, permissions and single sign-on
Microsoft Dynamics 365 for Government. This customer relationship management solution designed to help improve interactions with customers. Among the features are:
Storage and management of customer data, along with information on employees, competitors, shareholders and partners
Pre-built dashboards that provide high-level overviews of critical areas for executive decisions
A single, shared source of data
Assignment of tasks, appointments, to-dos, and phone calls
What Advantages Are There to Microsoft Cloud for Government?
In addition to being compliant with the federally issued guidelines, Microsoft Cloud for Government is an important tool for agencies and companies that do business with them. Among the advantages are:
Cost savings. Companies can eliminate infrastructure and maintenance costs , with predictable monthly costs for key IT functionality
Collaboration. The cloud solution is built with collaboration in mind, giving users access to documents, teams, and files; real-time collaboration tools; and video and audio conferencing
Modernization. With Microsoft Cloud for Government, users don't need to worry about installing software patches, firmware upgrades and server maintenance. All those functions are delivered directly.
Security. Government regulations are rightly stringent about the security requirements necessary for data and data sharing. With the Microsoft Cloud for Government solution, you can be confident that the top security solutions are in place and compliance is maintained.
If you're looking for companies supporting Microsoft Government Cloud in the DC metro area, turn to Intelice Solutions. Our consultants have extensive expertise with government agencies and contractors for assessing compliance and developing solutions. We can assist in the implementation and optimization of your Microsoft Cloud for Government solution. To learn more, contact us today.