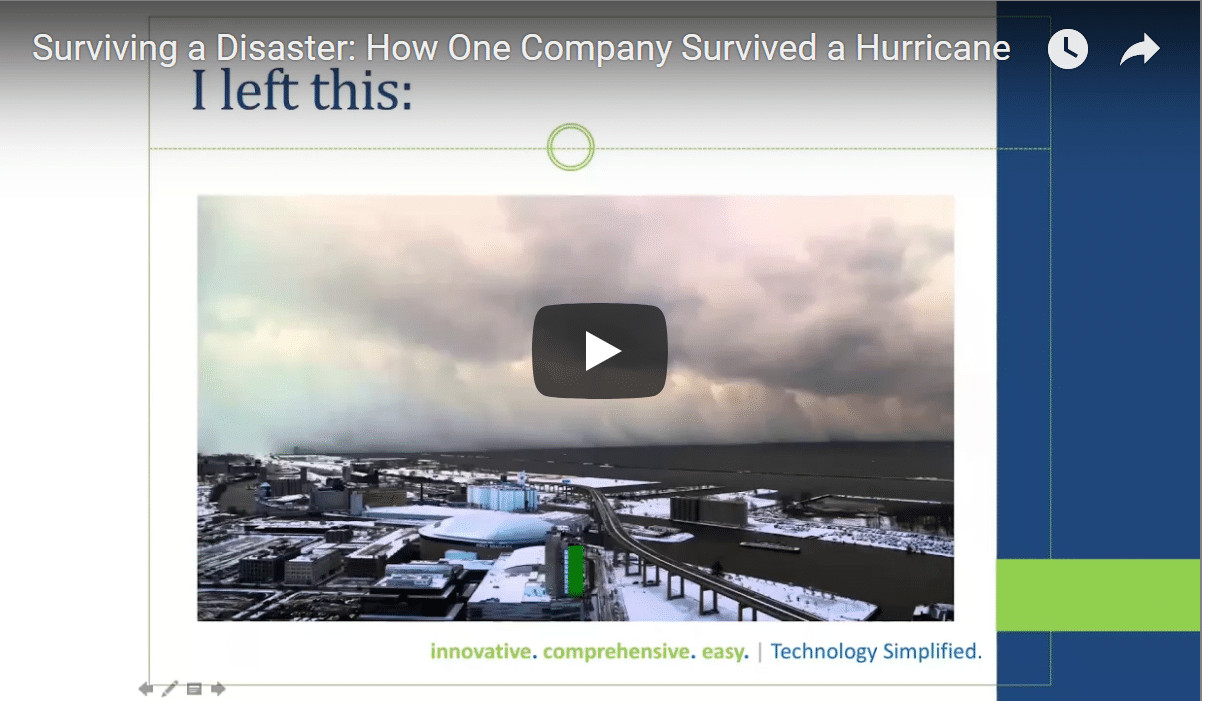 Surviving Hurricane Irma Stuart Crawford MSP Marketing Consultant from Ulistic
Ulistic has been operating for 8 years now, and we're happy to be assisting Intelice with their IT marketing efforts.  I ran an IT MSP myself years ago in Calgary Canada.  So, I know the technology business, and what's important to company's like yours in terms of secure and reliable technology.
Ulistic is now in Sebring, Florida.  We relocated there just a few weeks before Hurricane Irma hit.  We were barely settled in when we had to evacuate to Mobile, Alabama for over a week.  The eye of the hurricane when right over Sebring, so we made the right decision to leave. And, because we're experienced in IT business continuity and disaster planning, we were able to stay up and running.
How We Prepared:
We had a business continuity strategy drawn up months in advance for the "what-if" scenario.
We don't use onsite servers. Everything is in the cloud:

Microsoft Office 365
VoIP Phone Systems
Basecamp for our project management file storage

We had a failover strategy with our backup offices in Canada and Lakeland, Florida.
Our key personnel had evacuation plans.
We got everyone's cell phone numbers and used an SMS (text-messaging) strategy.
We used Zello for voice communications during the storm (a walkie-talkie app).
However, we did learn a few things:
We thought we were prepared.  But, as it turns out, we weren't as prepared as we thought. We didn't plan for:
A lack of gasoline.
Extended power and Internet outages.
A lack of cell coverage or oversubscribed mobile communications.
Employee hardship after the storm.
Flooded and impassable roads.
After Irma, we learned that we needed a more extensive business continuity plan.
With a hurricane, you have 5 or 6 days warning.  But what do you do when a tornado hits? Or, even when a water pipe breaks and floods your office?  Some disasters don't provide any notice:
Fire
Theft
Freak storms
Human error
Man-made issues
Power outages
Internet outages
Being newbies in Florida, we didn't know what we didn't know. So, now we're getting:
A generator that's powered by natural gas.
A backup Internet Satellite Service.
Fuel cans to fill before the next hurricane hits.
Where do you start?
Check out all the things that can go wrong in your area.  Are you near a railroad track?  (They carry hazardous cargo.  What would happen if a train derailed?)  Do some research online to see what the storm, earthquake, tornado, wildfire, etc., risks are for your area.  (Check with your state, municipality and the federal government for information about disaster preparedness planning.)
Ask your IT provider how you can prevent downtime.  How quickly do you need to be back up and running? Every minute of downtime costs money. And your customers won't tolerate any downtime from you.  They'll move on to your competitors.  Continuity solutions pay for themselves for three years with just one day of downtime.
Hold a "fire, flood, storm or earthquake drill in your office."  Tell your employees that the office is must be evacuated, now! How will you stay up and running?
Contact Intelice. They're the experts in the Metro DC area when it comes to business continuity. Ask them to visit your office to ensure you can stay up and run before the next storm or power outage hits.