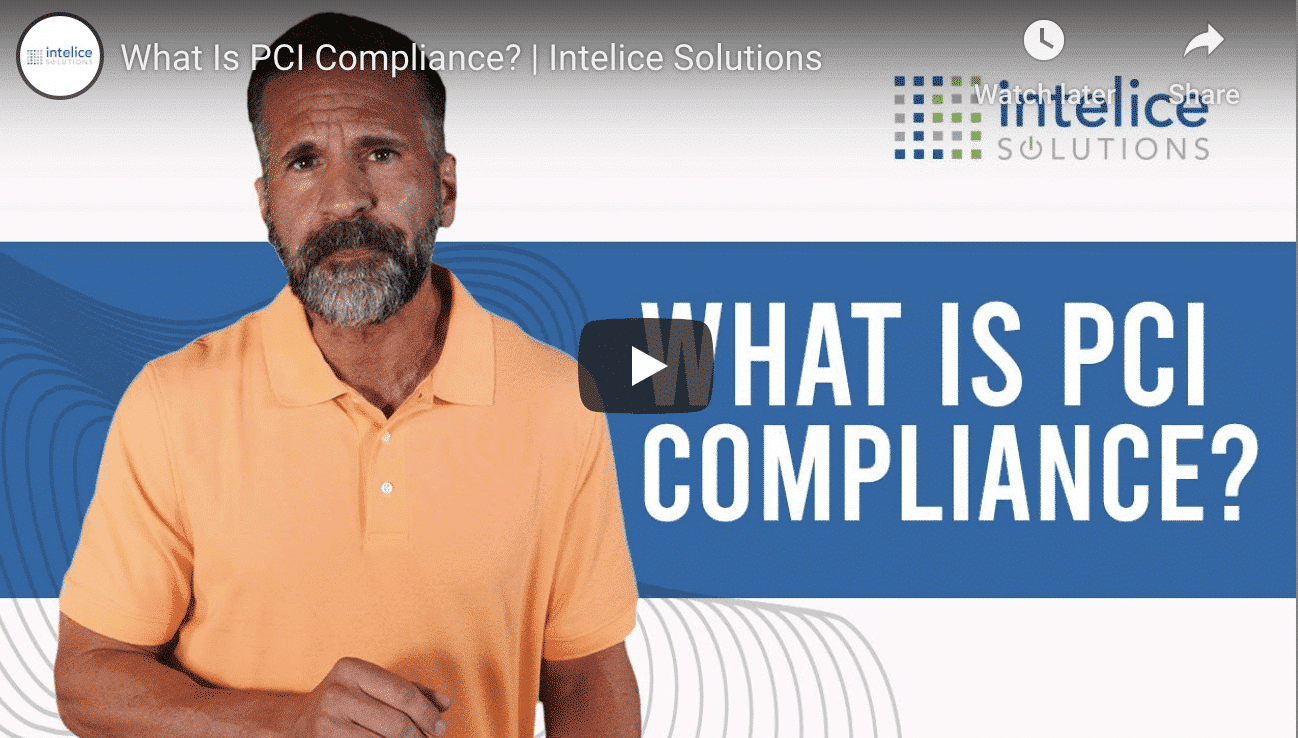 What Is PCI Compliance?
PCI is an information security standard for businesses that accept or handle card payments. It aims at safeguarding the integrity and privacy of cardholder information during processing, storage, and transmission.
The financial industry is one of the hardest-hit sectors by the global surge in cybercrime, with incidences of credit card fraud going up by more than 160%. This means that either cybersecurity stakeholders in this industry have let down their guards, or bad cyber actors are becoming more ferocious.
Whatever the case, urgent interventions are necessary to avert a potential cyber crisis. Today, we delve into PCI DSS compliance — what is it, and how can it help you beef up security for your customers' cardholder information? Intelice Solutions provides state-of-the-art IT support in Washington DC and North Virginia.
Let's get started with this short video:
Getting Started: What Are the Basics Of PCI DSS?
The Payment Card Industry Data Security Standards (PCI DSS) are cybersecurity best practices for businesses that handle credit card information. It was initiated by some of the major card payment brands — JCB, Express, MasterCard, Discover, Visa, American Express. In response to the rising credit card fraud cases, they jointly established the PCI Security Standards Council (PCI SSC) to design and manage security guidelines for merchants using their card payment services.
PCI is not a state or federal law to be enforced by the government. Its implementation is purely based on your SLA with the BankCard Group and acquiring bank.
How Can Your Washington DC Or North Virginia Business Stay PCI Compliant? PCI compliance is a vast concept with over 400+ test procedures, which we have summarized into five broad categories:
You should develop and maintain a secure network.
You should safeguard cardholder information.
Design, deploy and maintain proper network vulnerability management systems.
Continually monitor and regularly audit your systems for any threats.
You must document and maintain a precise information security policy.
The PCI DSS compliance requirements vary depending on your organization's size and the volume of card payment transactions it processes.
PCI requirements for small organizations using standalone bank card terminals provided by the BankCard Group:
Any User With Access to Cardholder Information Must Have a Unique ID — Besides preventing unauthorized access, unique IDs can help you track logins and identify threats.
All Systems/devices Storing or Processing Cardholder Data Must Have Robust Password Protection: Do not use generic passcodes from device vendors; they are weak and easy to circumvent. You should instead implement responsive password protection protocols and frequently test their efficiency.
Restrict Access to Cardholder Information to a Need-To-Know Basis Only: The Standard also requires you to have a system that records and maintains up-to-date inventories of all logins and access attempts. You must also clearly define and document all the roles for which users need access to cardholder data.
Write and Maintain Precise Data Security Policies on how your business handles cardholder information.
For larger organizations using third-party software or Point-of-Sales systems, you should implement the following additional information security measures:
You must encrypt all BankCard transaction details before transit.
Regularly conduct network threat assessment tests. You must also have your systems scanned quarterly by a PCI-certified company.
Deploy firewall protection and antivirus software for all devices holding cardholder information.
Why Should Your Washington DC Or North Virginia Business Stay PCI Compliant?
PCI DSS compliance violators are often met with stiff enforcement actions; the payment brands could even permanently ban your business from using their services. Besides, PCI non-compliance is often considered as a GDPR violation because the standard classifies cardholder information as PII. So, you could also face penalties of up to $23,400,000.
Why wait until you are faced with paying these hefty fines and tainting your reputation? And yet, Intelice Solutions can help you stay PCI compliant at just a fraction of your IT budget. Give us a call at (301) 664-6800, and we'll be glad to help you out.