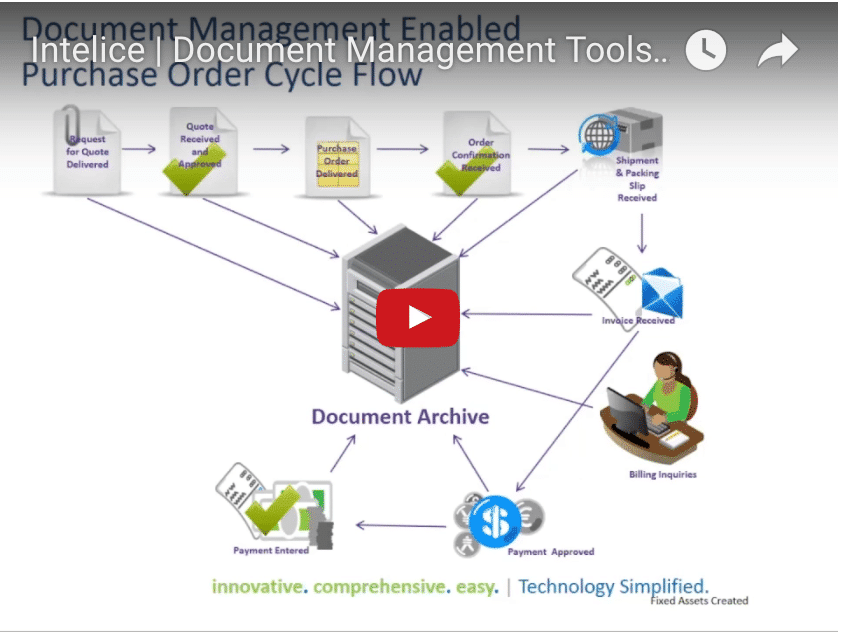 Paper Has Had Its Day. What to Look for in a Document Management Solution.
The Challenges with Paper-Based Systems
Does your staff have control over the paper in your business?  Are they struggling with filing, sorting and searching for these and other documents?
Customer Purchase Orders (PO)
Vendor Invoices
Quality Assurance Certificates
If so, this wastes hours of time and productivity—Not to mention, increasing frustrations for your staff.
The typical business spends a minimum of one hour a day just to file documents. It's a slow process—and costs you money.
When you can't retrieve your information, this can lead to delays in approving payments on purchases—Or discounts for early payments—This also costs you money.
Are you running out of physical space to store your paperwork? Some companies spend over $30,000 a year just on housing paper documents.
Plus, a paper-based system is insecure. In the event of a disaster like a fire or a flood, your documents can be destroyed.
With a system that relies on paper, the typical purchase-order cycle starts with an RFQ (Request for Quote) and leads to an order-confirmation document, and payment (W9's, packing slips, proof of receipt, invoices, etc.).  All these must be filed and stored to assure that goods and payments were received.*
How Document Management Tools Change Everything.
Electronic document management solutions help to eliminate time-consuming paper-based processes, provide cost savings, achieve faster response times to customers and suppliers, and reduce your carbon footprint.
They streamline the purchase order cycle and ensure your staff can retrieve documents quickly. With document management, you have:
Easy Access
Quick Search and Retrieval
Better Collaboration
Increased Security
Need for less Physical Space
Disaster Recovery 
When your staff has immediate access to documents, it will strengthen your customer relations.  They won't have to wait for someone to find a record to get service.
*Here's the same purchase order process using document management:
The RFQ is received by the finance team. It's sent to the vendor(s) who provide a quote. The relevant quote(s) is stored electronically with the purchase order. The PO is sent via email to the winning vendor. The email is automatically archived with the PO. The order confirmation, packing slip, invoice all arrive from the vendor and are stored with the PO.  
If there are any questions in the future, documents can be accessed via the central archive.  Your approvers will be able to access all these documents from just one place instantly.
With a document management solution, you can streamline: 
Sales Processes:
Electronic Invoicing
Proof of Delivery
Tracking
Collections Management
Customer Service
Compliance
Purchasing Processes:
Issuing Purchase Orders
Supplier Invoice Processing
Vendor Invoice Approval
Remittance Advice Notification
Expense Management
What to look for in a Document Management Solution.
File Structure: Juggling financial documents can quickly become problematic, especially for growing businesses.  The ability to find a particular document and file can become increasingly involved.
Searching:  This comes in handy and saves you lots of time in the long run. Choose a solution that filters information to make searching simple.
Ease of use: You need a solution that's easy to use. If it's too difficult, you won't get complete buy-in from your staff.  This is the most important thing to consider.
Anywhere access:  You want to make sure the information can be accessed from anywhere when staff is at home or traveling.
Permissions:  It can sometimes be difficult to keep security in check. With permissions, you can set who can view or edit documents.
Scanning:  Your solution must support scanning so you can capture documents and archive them electronically.
Invoice Processing:  Choose a solution that matches the way you process invoices. This way, all you need to do is pull up the relevant record, or drag and drop it into the system, and move it forward to a posted purchase invoice. Now, you can easily find invoices if you're ever audited.
Mistakes to Avoid
Not clearly defining goals:  Clearly, set your goals before you choose a document management solution so that you can have a successful implementation.
Focusing on one department or process:  Focus on the organization as a whole, not just one department. If you choose a solution for sales only, and your purchasing people want to use it, you must ensure your solution will work for them (and other departments).
Confusing document storage with document management: You may share files to a document storage folder, but your users have to browse the system to find them. Plus, they don't have any management capabilities. You must also consider user experience and how they will be accessing the system.
Not reviewing your storage requirements and updating them annually. You don't want your users exceeding their storage space.  If this happens, they won't be able to continue saving files. 
Tips for a Successful Implementation
Identify the type of document management system you're looking for. A properly planned system minimizes risks for interruptions. 
Which can departments benefit? Start with one office but make sure your solution will work for others. Focus on perfecting the process for just one department.  As you add others, it will get easier.
Determine who will need access to the system, and how will they be retrieving information? How many paper documents will you be scanning on a monthly basis?  And, determine where all the paper is that you'll be incorporating into the solution.  
Test, Test and Test again. You can't test enough.  Your document management solution must be vetted by selected users.
It's important to choose a document management solution that interfaces with Microsoft Dynamics NAV.
ZetaDocs Express is an excellent choice. With Microsoft Dynamics NAV and ZetaDocs Express you can easily automate document-management processes, increase your productivity, and save time and money without relying on paper files.
Get the return on your investment you deserve.  Look to Intelice Solutions to get Zetadocs Express installed on your system. 
Or, contact our Document Management and NAV Experts for more information, and help to decide what document management solution is best for your business. {phone} {email}