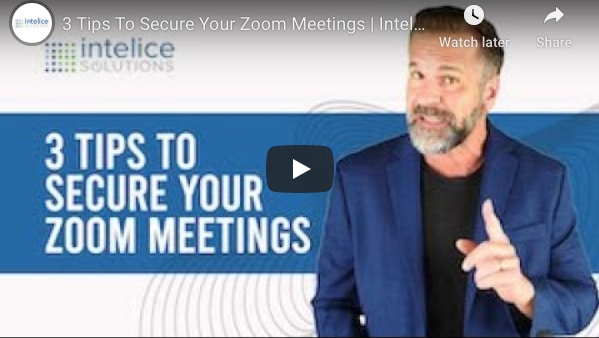 Zoom Vulnerability Puts Your Windows Login Credentials at Risk – What's the Best Alternative?
Zoom Vulnerability Puts Your Windows Login Credentials at Risk – What's the Best Alternative?
In the Midst of the Coronavirus Pandemic, Businesses Are Rushing to Find Solutions to Keep Operations Going from Home. Zoom, a Video Conferencing Tool, is More Widely Used Than Ever… But Is It Truly Safe? Or Is There a Better Alternative?
As coronavirus cases continue to rise around the world, many businesses are forced to shut down or transition to remote work to comply with shelter-in-place and social distancing requirements. Zoom, a video conferencing software, has seen a massive spike in users over the past few weeks as a result of the pandemic. But is it truly safe? Or is there a better, more secure alternative? First, let's take a look at how the video conferencing software works.
What is Zoom?
Zoom is a video conferencing software that allows up to 1,000 participants to get together virtually via video conferencing. Users can take advantage of tools like recordings meetings, screen sharing, and more. There are four price tiers available with varying call bandwidths, including a free version that offers up to 40-minutes of video conferencing meetings at a time. This limit, however, has been removed for schools during the pandemic.
Be Aware of This Zoom Vulnerability…
Zoom Client for Windows was recently found to have a critical vulnerability wherein hackers can steal login credentials. How? Zoom Client for Windows supports what's known as Universal Naming Convention (UNC) – a feature that converts URLs into hyperlinks when sent via chat or another method. Unfortunately, tools can be used to click on the URL and gain access to the user's login name and password hash.
In some cases, hackers have even been known to exploit UNC path injection to run arbitrary code on the machine being used. This results in the hacker having complete physical control over the desktop or laptop in question.
Why Intelice Knows That Microsoft Teams Is The Right Choice
Microsoft Teams is a leading chat-based workflow that offers the ability to video conference, chat, and collaborate. It's available via any appropriate Microsoft Office 365 license plan and can be implemented and configured within a matter of minutes. Plus, Microsoft offers full integration with:
Exchange
Word
Excel
SharePoint
Yammer
And much more
Besides, conversations and/or video chats are much more secure. By default, network communications are safe with:
OAuth, TLS, SRTP, and other industry-standard encryption techniques, including 256-bit advanced encryption standard (AES) encryption.
Multi-factor authentication (MFA) designed to protect identity and account information throughout the platform.
Participants within meetings can access their privacy notice directly, however, all participants are notified as soon as a recording begins and they're available only to those on the call or invited to the call. Permissions and encryption protect all meetings stored in a controlled repository.
Is Zoom Truly Safe? Or Is There a Better Alternative?
Zoom is a reasonably reliable choice for video conferencing amongst social groups during this difficult time. However, there are privacy and security concerns that shouldn't be overlooked. If you're using the video conferencing software for personal meetings, here are a few tips to protect your meetings:
Require a password for all meetings to prevent any attendees from entering without permission.
Use a unique ID rather than using a PMI (personal meeting ID) to ensure each meeting has its unique numeric code for joining.
Keep meeting announcements for attendees only rather than announcing meetings on social media or another public forum.
Always use a waiting room so attendees have to wait to be admitted by you – the host – rather than being admitted right away.
Don't allow attendees to screen share to avoid inappropriate content being displayed if an unauthorized user does join. Use the "only host can share" setting.
Intelice Solutions is a leading provider of Microsoft Solutions for businesses throughout the DC Metro Area. Since 1996, we've been focused on implementing and supporting innovative solutions across a range of industries. Naturally, we're a huge supporter of Microsoft Office 365, a subscription-based, cloud-enabled productivity suite.
Microsoft Office 365 includes Microsoft Teams, a chat-based workflow that's a secure alternative to Zoom and other video conferencing solutions. For those we serve, transitioning to a remote workforce was simple as they already had business contingency plans in place that include Microsoft Teams for video conferencing, chat, and other innovative capabilities.
Contact Intelice Solutions for Microsoft Teams Implementation, Configuration, and Support. We're Here for You During This Difficult Time.