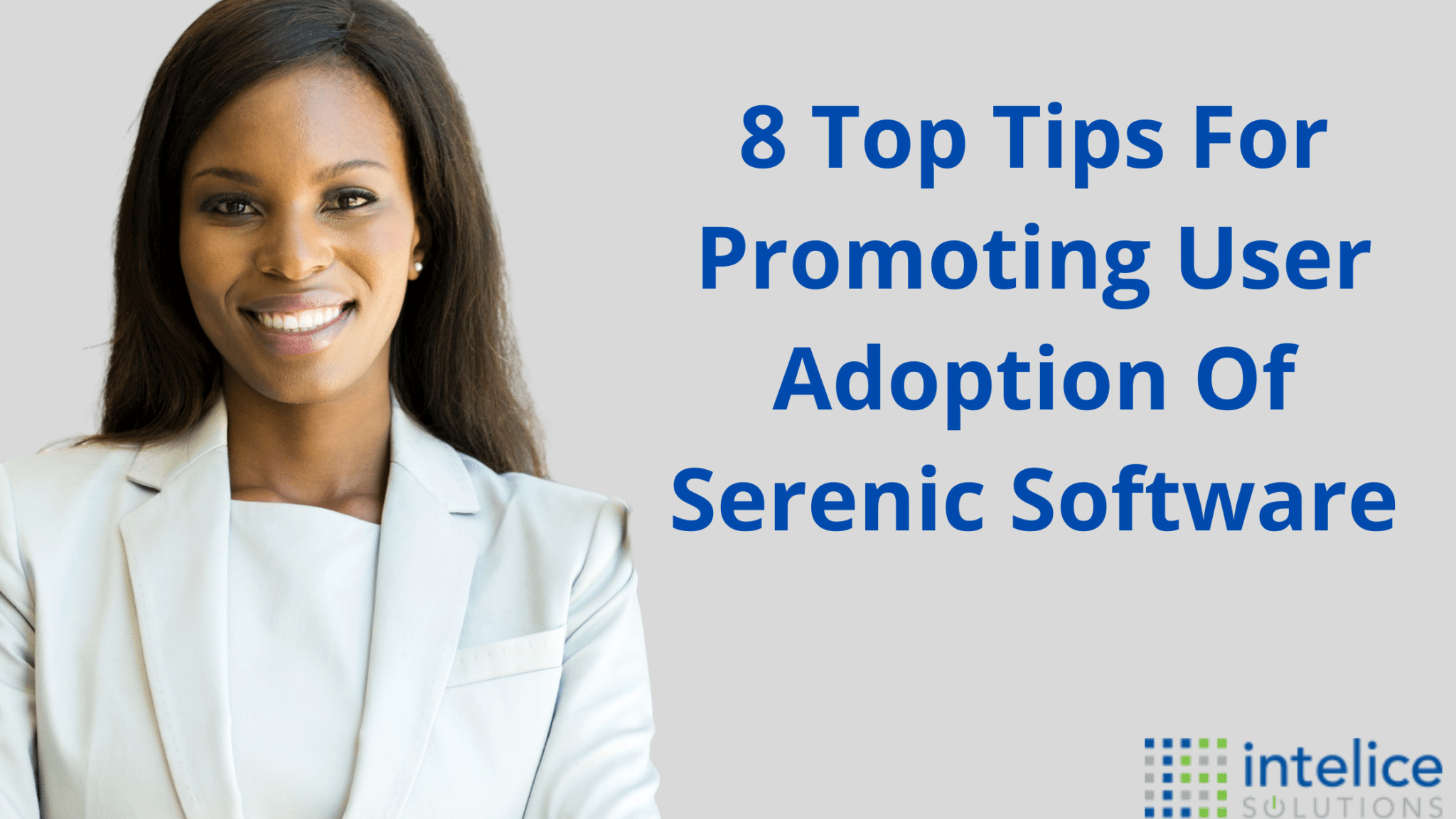 8 Top Tips For Promoting User Adoption Of Serenic Software
8 Top Tips For Promoting User Adoption Of Serenic Software
Worried your end users won't fully engage with the new Serenic software solution you plan to use? Follow these best practices to ensure they get the most out of it.
Getting a team to fully harness a new app or solution isn't always an easy process.
People are often stuck in their ways, preferring the familiarity of an out of date app over the potential of a new one. Making sure they know how to use it, and ensuring it actually meets their needs are critical factors in promoting the full adoption of a new solution.
8 Best Practices For Promoting User Adoption Of Serenic Software
It Starts At The Top: There's no point in trying to get those in the lower hierarchy to engage with a new app if they don't have an example to follow. Make sure that the executive or leadership level of the organization is on board and fully endorsing the new solution.
Bring Users In At The Beginning: Even before you select and deploy a new solution, make sure to solicit feedback from those that will actually use it. This will help you understand what they need, as well as make them feel a part of the process. Make sure that the user experience is prioritized. After all, if the users don't enjoy using it, they'll either find a way to circumvent it, or will put up with a low-quality experience, affecting the overall working culture of the organization.
Plan And Manage Your Adoption: If you want to ensure migration is smooth and adoption is fast, put together a team to manage the processes. This will help to limit downtime and allow your end-users to hit the ground running.
Keep Your Users Up To Date: Make sure everyone is kept abreast of the migration plan and timeline so that they know when scheduled downtime will occur, and when they'll be expected to start using the new solution.
Track Performance: Keeping an eye on performance, both before and after the migration, will provide invaluable insight as to the quality of the solution and all associated processes listed above. You'll understand how the new solution has affected performance, how migration processes can be improved, and more.
Test The Solution First: Don't bother with a company-wide rollout if you haven't tested the new software in a pilot program yet. Migrate just one team or section of the hierarchy and solicit their feedback, so you can improve the entire process when rolling out for the organization as a whole.
Identify And Reward Key Users: A great way to promote adoption is by keeping an eye out for users that learn to use the new solution quickly and understand what it has to offer. They can, in turn, help other users get up to speed and see why the new app is useful to them.
Never Stop Improving: Even after the rollout is complete and you've reached a similar level of performance to before the migration, you should always be soliciting feedback and looking for ways to improve. This will maximize the ROI for the new software, and help your end-users further optimize their experience.
Looking For Expert Assistance Rolling Out Serenic Software For Your End Users?
The Intelice Solutions team has extensive experience in supporting Serenic software adoption for our network of clients. We can help you set up your Serenic Navigator and show you how your organization can benefit from its many capabilities.