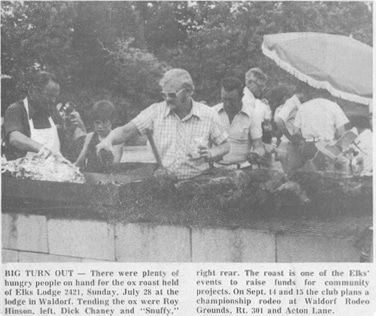 Intelice Solutions is Happy to Support Chaney Enterprises at their Annual Bull Roast Event!
October 17th 2016 – Intelice Solutions was thrilled to be involved in last weekends' Bull Roast, hosted by one of their very own clients, Chaney Enterprises. The annual event hosted hundreds of guests and served as a wonderful open to the Fall with fresh cooked ribs, sliced beef, home-style sides, great beverages, live music, pumpkin chunkin' and various games and prizes for the whole family. Most importantly, ticket sales from the event were donated to the American Cancer Society to help fund research and support cancer patient and their families nationwide.
Chaney Enterprises is a concrete manufacturer based in Gambrills, MD and one of Intelice Solutions newest clients. In the preceding weeks, Chaney Enterprises invited Intelice to participate by contributing a prize donation for their 2016 Bull Roast event. The entire Intelice team was immediately excited for an opportunity to collaborate with a client in a community event and give back to American's facing the devastating realities of a Cancer diagnosis. Intelice donated various items for the silent raffle auctions. A few members of the Intelice team attended and we're able to enjoy the spirit of the event firsthand.
Intelice Solutions COO, Brian Loughlin, is incredibly happy Chaney Enterprises reached out for their participation. "Any chance for us to work collaboratively with our clients is really what the Intelice mission is all about." Loughlin claims. "These opportunities are made even more special when the work we do together goes to support a greater cause like the American Cancer Society. Myself and the entire Intelice team look forward to engaging in more of these opportunities for involvement for many years to come."
Intelice constantly strives to be an active community partner that remains continually plugged in to opportunities for engagement and contributions. If you'd like more information regarding Intelice's commitment to community event sponsorship and contribution, please don't hesitate to contact Brian Loughlin for more information.
Brian Loughlin, COO – Intelice Solutions
(301)-664-6801 – Brian.Loughlin@intelice.com
www.intelice.com