Best Productivity Apps For Project Management
Productivity is key for any business in today's competitive market. Even the largest companies can fall victim to dips in productivity, and this can happen for many reasons. Whether there are distractions in the workplace, too much work to do with not enough employees, or simply a lack of effort from a few bad eggs, productivity loss is costing businesses…big time.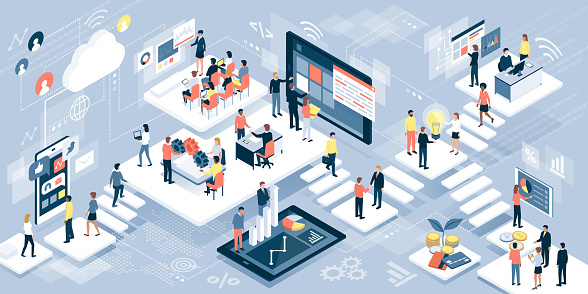 Businesses are looking to new, innovative ways to encourage and maintain optimal productivity, and much of this begins with communication. While email still reigns supreme for team communication, productivity apps are gaining traction, especially with the new and improved variations available today.
Project managers are faced with many tasks on a daily basis. From calls and meetings to daily project evaluation, there isn't always enough time in the day to complete everything efficiently. Productivity tools help cut down on some of the grunt work, making team communication and project management easier than ever before. Where some businesses may spend thousands, or even millions of dollars in search of tools to encourage productivity, many of today's free apps are just as effective. Apps like these can help your team with all types of projects and issues.
Accountability
In addition to streamlining communication across projects, productivity apps are also useful in maintaining accountability among team members. Assigning tasks for the whole team to see makes it easier to determine where the ball has dropped. This is particularly important when identifying opportunities.
Multi-Tasking
Given that the modern worker has become accustomed to multi-tasking, it's important to keep organized to reduce the chances of important files becoming lost or misplaced.
Easy Communication
With a growing number of remote workers now taking to the workforce, implementing simple methods of communication are important as ever. Today's productivity apps are helping businesses do more with less.
Productivity apps allow team members to communicate openly, with the ability to share files and other important documents in real time. They're one of the many tools businesses are using to keep employees focused on the tasks ahead. They can help to keep up with work easier, more balanced, and they can help employees maintain better control of their time.
Here are a few of today's most popular productivity apps:
Trello
Trello is one of the most popular productivity apps, and for good reason. There are seemingly endless possibilities when utilizing Trello for business. This free app is designed for both solo and group work, so whether you're a team of one or many, organization is well within reach.
Trello distinguishes itself from other apps in that it's centered around boards. By unloading your ideas in a uniform space, you can move on to priority tasks and tackle them individually. This makes it easier to visualize tasks and keep team members on the same page. It also offers users the ability to set clear deadlines for tasks, ensuring accountability. From creating to-do lists to tracking projects and managing editorial calendars, Trello is filled with a range of tools that makes it well worth the download.
Asana
Asana is one other productivity app businesses are flocking to for organization, and it's a quite effective one at that. Emailing between team members and searching for project materials internally can waste time and cause added stress for employees. Productivity apps like Asana let team members know who is doing what, with project deadlines and materials easily visible for optimal efficiency. Less visual than Trello, but still heavy on communication and organization, Asana is a way to break down large projects into small tasks. This has many benefits for big businesses with many departments, each responsible for their own unique work flow.
Basecamp
While many productivity apps are similar in function, their interfaces are what set them apart from others. Basecamp is a popular productivity app helping organizations work better together and is one of the easiest to use. Team members are able to view comments and discussions at a glance, which is extremely useful when there are multiple projects in the works. Streamlined communication can help minimize the need for meetings. Members are able to chime in on Basecamp discussions without missing a beat, and with real-time updates, accountability is easier than ever.
Zoho
Zoho does more than the typical productivity app, and while it may be more useful for larger businesses, small organizations can still find some use here with team collaboration and pipeline management. From performance analytics, to customizations, Zoho is built to help teams get it all done through one platform. Its team collaboration tools include things like a document library, calendar and feeds so employees are all on the same page.
Wrap Up
Productivity apps aren't just a means for improving your daily workload. They're a way to minimize the unnecessary stress that comes with managing and working on multiple projects. Businesses both big and small are reaping the benefits of productivity apps, and it's doing big things for their bottom line. Will your company be next?