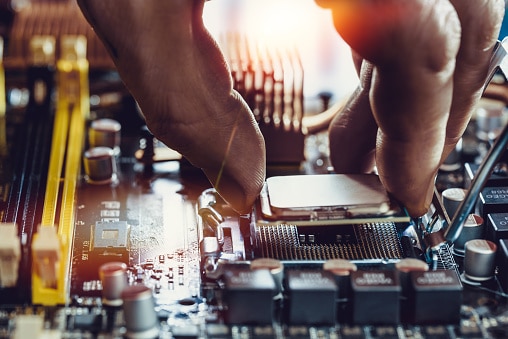 Why Frederick Companies Are Turning To Intelice For Technology Services
Companies looking for technology services in Frederick often turn to Intelice Solutions. Our expert consultants and engineers provide a full array of services for businesses looking to improve their technical infrastructure, security and use of new technologies that offer a competitive advantage.
If you're looking for technology solutions in Frederick, see what Intelice offers.
Why Should I Consider an IT Company?
Partnering with the right IT company helps your business in multiple ways. With the depth of services provided, your company can free up internal resources for other projects. Here are a few of the main reasons for choosing an IT partner:
Reducing costs. Companies invest a great deal on technology. Many services an IT provider offers are billed at a regular monthly rate, giving you more control of the tech budget. With preventative maintenance, upgrades and monitoring services in place, your company won't have as many needs for equipment repairs or out-of-commission equipment. Network optimization allows your employees, partners and customers to access data quickly, including video and images necessary for collaboration, presentations or sales calls.
Efficiency. Over time, disparate systems, tools and platforms end up installed without the integration that allows for data sharing or better functionality. Your IT services company can identify adjustments to your system configurations and processes that boost efficiency. Not only will your technologies work better together, but your staff will spend less time on manual, time-consuming work that takes them away from other, more critical tasks.
Focus on the core. With an IT provider by your side, your company's staff can focus on core business objectives. Let Intelice Solutions worry about data backups, system and data security, compliance issues and other technical issues while you concentrate on other aspects of your business.
What Business IT Services Are Available?
Intelice provides a range of services for Frederick customers. Our services run the gamut of IT needs and include:
Cloud services that harness the power and flexibility of virtual hosting. We partner with many leading cloud service providers, including Amazon, Google and Microsoft, to offer different public, private and hybrid solutions to fit your needs and budget. Host and back up your applications and data in the cloud. Cloud solutions allow for quick scalability, better security, and reduced costs for hosting, powering and cooling on-site data centers.
Mobile services that keep your workforce connected no matter where they're located or working. We build custom applications that allow our clients to meet specific business needs.
Software installation and optimization. Business software that's designed for general workplace productivity (Microsoft Office 365, Windows 10), business intelligence (Microsoft Dynamics 365) or industry-specific tasks needs to be installed, maintained and updated regularly. Intelice is a Microsoft-certified Gold Partner with experience on dozens of everyday software products.
What Consulting Services Are Offered?
Intelice provides consulting services that offer candid assessments, guidance and recommendations for technology improvements in the following areas:
Business advising. We give clients the knowledge and expertise to plan for future needs, including strategic technology planning, project management, data center planning, IT governance and policy development, vendor and product selection, and staffing and recruiting advice.
Business intelligence. Companies gain a competitive advantage through in-depth analysis of business results and data. Unfortunately, too often data are disconnected, making actionable analysis difficult. Our consultants help align your data with key performance indicators.
Infrastructure. Evaluating your system backbone is the first step in improving performance and reducing costs. We offer to consult for crucial infrastructure projects, including custom installations, move-related needs, power management, mobile messaging, security management and data storage.
Connectivity. Intelice helps connect employees and customers with solutions that are adaptive, reliable and suitable for today's business needs.
Compliance. Many Frederick companies need systems that are fully compliant with state, federal or industry guidelines. Intelice can assess systems for compliance and plan solutions and reporting that adhere to regulatory requirements.
What Security Solutions Are Provided?
Your company needs comprehensive security solutions that address all components of your network. Intelice offers complete security for your company, including:
Security assessments
Anti-spam, anti-virus and anti-phishing filters
Authentication, encryption and password policy development
Firewall and system perimeter security
Automated software and hardware patch management and updates
Mobile device and web gateway security
What Does Managed IT Services Include?
With managed IT services, Intelice takes on the responsibility of many day-to-day IT tasks, including remote help desk, cloud hosting, service checkups and vendor management.
With around-the-clock monitoring of your system, we can detect issues and resolve them before they cause significant problems. You need comprehensive support from experienced staff who can monitor, measure and maintain your system and keep users up and running.
Your company needs fast and responsive service for computers and networks and the users that rely on them. Intelice provides your business with what it needs with immediate, affordable and dependable IT solutions. Our consulting and technical support are unmatched in giving our clients answers that make them more productive and profitable. Contact us today to learn more.