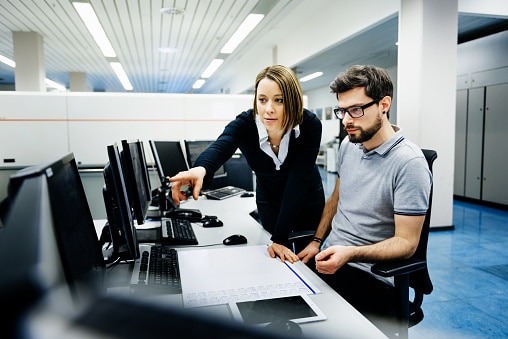 Is Your Washington DC IT Company Taking Ownership To Protect Your Data?
What are your obligations to protecting your company's data? Whether it's by mandate, industry standards of practice, customer expectations or societal obligation, every business needs to consider what steps it's taking to keep data secure.
Washington DC cybersecurity for businesses requires a comprehensive solution that will keep you protected from intentional and accidental intrusions that can disrupt your operations. Companies need the right tools — next-generation firewalls, automatically updated anti-virus protections and vigilant system monitoring — to be fully secure.
What Is the Extent Of Cyber Attacks?
Cyber attacks are on the rise dramatically. Cybersecurity Ventures projects that the global impact of cybercrime will reach $6 trillion annually by 2021, doubling the $3 trillion in costs in 2015. To put that number in further context, the worldwide economy is valued at $87 trillion today. That extraordinary projected rise in cybercrime demonstrates the opportunity and value cybercriminals see in attacking systems and making off with valued information.
Hacks can be debilitating to companies in the short and long term. Customer confidence can erode quickly when data is compromised, resulting in lost business and market share. Brand reputations can be irretrievably damaged by an attack. In the short term, companies can have their operations curtailed and systems hijacked until exorbitant ransoms are raised.
Every lost minute can cost a company dearly. An IBM analysis places the average cost for a data breach worldwide in 2018 at $3.86 million, a 6.4 percent increase over 2017 levels
According to one study, 72 percent of U.S. businesses report a cyber attack annually and nearly half of those businesses experience two or more attacks per year. For many, especially small companies. The damage cannot be undone and they go out of business.
What Is My Obligation to Data Security?
The internal needs for cybersecurity may seem obvious — preserving company data, maintaining operations and protecting brand reputation and business viability. There are other reasons why businesses are looking for cybersecurity companies in Washington DC to help develop robust protections. Here are a few:
Social Responsibility. Cybercrime is a global issue, involving bad actors across the world, including organized crime and nations intent on disrupting companies and destroying lives. Keeping data secure is a shared obligation that needs to be addressed worldwide, with each organization doing its part to make it more difficult and risky for criminals to engage in these activities.
Liability. The cost of data breaches can be enormous. One of the significant issues is liability exposure. If your company exposes customer or consumer information that is supposed to be protected, the liability can skyrocket. Class-action lawsuits, individual claims, and the costs of offering credit and Social Security monitoring can be exorbitant. Prevention pays off in the long run.
Regulatory Compliance. Many companies are bound by federal, state and local restrictions or industry norms that need to be met, documented and reported to various entities. That's even more true with the many federal contractors located in our area. Maintaining compliance means demonstrating specific controls, protocols, policies and timelines that are required for different agencies. In some cases, a company is bound by compliance issues from multiple agencies, each of which may require different reporting.
What Should My Company's IT Partner Provide?
Choosing the right cybersecurity company to assist with your technology is essential. You want to work with a partner that provides a complete blanket of protection on your systems, access points, devices and users. A comprehensive cybersecurity framework includes the following interrelated components:
Identify. The first step in any cybersecurity plan is an assessment. An objective evaluation of your company's existing security solution can provide you with an informed determination about where there are potential exposures, weaknesses and needs. This stage also involves the company and its IT partner to identify likely threats and determine solutions.
Protect. Building a security solution is critical. It usually includes three core areas of protection. The first is to the network perimeter, deploying next-generation firewalls. Device protection is the next layer, including anti-virus, anti-spam, anti-phishing and other software tools. Finally, each company should have a business continuity and disaster recovery plan that can be deployed in the event of an attack.
Detect. The safeguards put in place during the Protect phase should be complemented by monitoring solutions. Your IT provider should offer 24/7 monitoring of your network and its devices. If there is an attempted or successful intrusion, the monitoring tools will detect it and report the issue to a trained engineer to take action.
Respond. Those actions are the responses to a potential attack you have deployed. In most cases, the intrusion can be isolated, contained and eradicated before systems are damaged or data are stolen.
Recover. Each cyber attack is an opportunity to learn. Resilient organizations can understand each incident and return to the Identify stage to incorporate new solutions into the security plan.
What Standards Does My Company Have to Meet?
There are many regulatory requirements facing area companies: HIPAA (health information), PCI (payment card transactions) and GDPR (European data protection) are three of the most common issues requiring rigorous security.
For Defense Department contractors, NIST SP 800-171 comes into play. It's a set of guidelines that contractors must meet in 14 areas, from systems and communication protection to employee awareness training. Companies not in compliance must present a detailed remediation plan or risk becoming ineligible for doing business with the department.
Intelice helps companies make sense of their security needs. We offer end-to-end security protection that includes:
Security and compliance assessment
Anti-virus software
Policy development
Encryption and authentication tools
Web gateway, firewall and mobile device security
Backup services and business continuity planning
With Intelice as your trusted partner, your company will keep cybercriminals at bay. To learn more, contact us today.