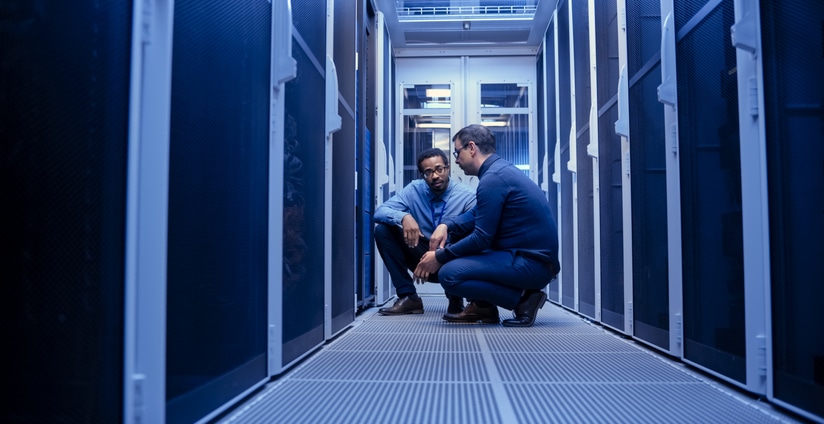 Improve Security and Transparency of Customer Data in Microsoft Azure
Corporations worldwide place a high value on security and compliance – two elements that either boost company success or lead to corporate disaster.
Microsoft Azure provides secure compliance attestations in multiple industries, companies, and organizations. Below, we take a closer look at Azure to give you some insight on how it can assist you in staying compliant and regulating your workload on the cloud platform.
Compliance Frameworks And Controls
One of the first steps to improving the security and transparency of customer data is to identify the Azure services that your company will utilize. Some services include:
VMs

Storage services
Azure SQL

HDInsight

Event Hubs
By utilizing Azure, you may depend on Azure to meet any compliance regulations that are associated with all elements. This gives you added command, but you are also more responsible for managing each asset.
You can manage Microsoft's Common Controls Hub to develop a compliance document and define the controls you are accountable for and which controls you will ask Microsoft with.
Minimize Azure's Services on Sensitive Data
Once you grasp how Microsoft Azure's services chart to compliance controls, you may discover methods that reduce the data while optimizing the advantage of utilizing those services based on the attestations Microsoft has obtained in advance.
Next, classify the compliance services and support from the remainder of the application and execute controls for those particular assets.
You may also implement performance-based access control and integrate more detailed access control strategies to these sources. By utilizing these measures, you can make sure that the configurations are protected from unforeseen developments and guarded if an individual's personal information is jeopardized.
Revisiting Your Results
By maximizing the capabilities and security of your cloud-based platform, you can concentrate on the outstanding conditions not in the cloud. This includes:
Corporate processes
Control implementation
Security resolutions
Auditing procedures & planning
These protect all environments and keep private information shielded. The cloud enables heightened security and allows users to view all activity within a given environment. For instance, Azure Activity Logs record API interactions to and from the Azure Resource Manager (ARM). You can observe every interaction and setup for your particular environment.
You can access various tools that allow you to monitor any environment and create alerts when variances occur. Below are some metrics or results you want to monitor.
How long it takes to finish an audit
Identifying a cyber attack or a security compromise
How long it takes to complete a data analysis
Determining if any internal data was reached
What Are the Benefits of the Azure Cloud Platform?
The Microsoft Azure Cloud platform can help your company in the following ways:
Lower IT expenditures
Increase corporate dexterity
Expand your scope and range
Reduce compliance costs
To optimize these benefits, you need to evaluate the cloud platform service provider attestations. You'll also need to review your security companies to gain more insight into what they are responsible for and what you need to handle.
Regardless of the benefits, you need to restrict the resources that can obtain any sensitive information that is isolated from the remainder of your environment. Once you identify the resources, eliminate access to the resources. You will also need to monitor, evaluate, and improve your security processes as you assess your metrics.
Making Sure That Customers Assert Compliance
While the transparency and security of data are of prime importance in Azure, you must also demonstrate that you are compliant. Microsoft can assist you through its Compliance Manager, as well as additional security measures. Azure Security and Compliance Blueprints can also assist you by providing solutions in actual compliance requirements scenarios.
The Compliance Manager
The Compliance Manager allows you to manage your organization's activities from a single location. The cloud assists you in understanding and managing the complex compliance field. You can also use it to engage in everyday risk assessment and observe actionable insights to protect data and simplify your security process. There are several tools that you can access to audit data at any given time.
Compliance Manager gives you three key capabilities:
Control mapping. GDPR, ISO 27001, and ISO 27018.
Facilitate collaboration. Assign, track, document record compliance-related activities.
Assessments and audits. Conduct pre-audits to prepare for real-world audits.
The Compliance Manager dashboard displays assessments that fall under Microsoft's responsibilities and your responsibilities. The Manager makes recommendations and the customer assesses and validates how effective the recommendations are in a given environment. Keep in mind that following the recommendations does not guarantee that any user is compliant. However, the recommendations help you gauge your actions to develop a strategy for compliance.
When using Microsoft Azure, you can achieve compliant workloads in the cloud platform regardless of whether you work in a restricted industry in any country or region. While this latest version of Azure is fully operational, Microsoft continues to assess Azure and adds features and documentation that ensure your success in mastering the program.