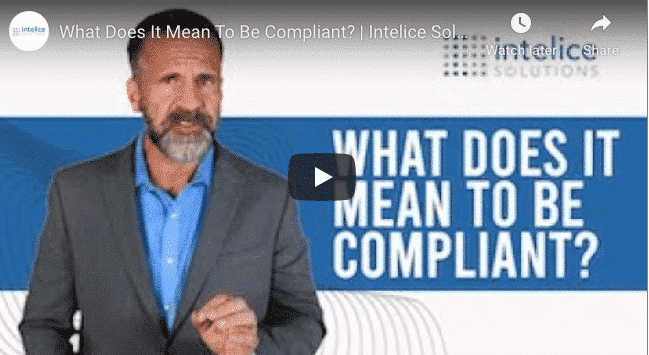 What Does It Mean to Be Compliant?
What Does It Mean to Be Compliant?
Compliance has become a growing concern for many organizations today. According to a GlobalSCAPE, Inc. and Ponemon Institute study, non-compliance expenses cost an average of $14 Million in 2017. This amount is paid to the government for regulatory compliance violations.
This number was more than five times the amount paid between 2010 and 2015. In 2018 alone, businesses in the U.S. spent, on average, $10,000 per employee on regulatory costs. Many companies have fallen victims to the law through fines, penalties, revocation of licenses, and operations' shut down due to non-compliance. What does it mean to be compliant?
Check out our latest video to get started on what it means to be compliant:
What Is Compliance?
Compliance refers to an organization's adherence to all of the regulations and laws that govern how they manage the business, their staff, their partners, and their conduct towards their customers and the general public. These regulations and laws will vary depending on the industry, location, structure of the businesses, and are determined by a governing body. Some rules are specific to companies, some to consumers, while others apply to both the company and the consumer. It is essential to get industry-specific compliance since risks can be very different.
Examples of these industry regulations include:
The Payment Card Industry Data Security Standard: This outlines the procedure all companies must follow when processing, transmitting and storing a consumer's debit or credit card information.
The Health Insurance Portability and Accountability Act (HIPAA): It prohibits the unveiling of sensitive patient health data without the knowledge or consent of the patient
The General Data Protection Regulation (GDPR): It gives users complete control over their data. Users can request access to it, withdraw consent to the data, and export it. This regulation applies to any company carrying out business in Europe.
The Family Educational Rights and Privacy Act: It safeguards the privacy of students' educational files. This regulation applies to all schools receiving funding from the United States Department of Education.
The Sarbanes-Oxley Act of 2002:  This act requires all companies trading publicly to implement and report internal accounting controls to the SEC for compliance.
What Are The Benefits of Ensuring You Stay Compliant As an organization: Meeting regulatory compliance requirements is essential for businesses in all sectors. By complying with regulations set out by regulatory bodies, organizations in different industries gain the following benefits:
Compliance Helps to Eliminate Risks: Compliant Organizations can quickly help identify, mitigate, and eliminate risks at all stages. This is because regulatory agencies spell out clear guidelines on identifying and reducing risks; these guidelines act as a ready reference for companies.
Compliance Helps to Save Costs: Although adherence is associated with high costs, non-compliance is a multifold higher.
Being Compliant Improves Your Business' Reputation: Building and maintaining a good reputation is crucial for companies. A good reputation opens up more business opportunities and improves your brand's image. Being compliant also gives your business a competitive advantage.
Being Compliant Helps Improve Your Business' Productivity: Corporate compliance helps improve productivity in a firm. Organizations that have complied with laws and regulations attract top employees who help to increase productivity.
Being Compliant Improves Business Efficiency: Being clear on regulations enables your company to complete tasks more quickly and deliver quality products and services. It also allows an organization to save itself from clients' unpleasant feedback and punitive actions from regulatory bodies.
Being Compliant Enhances Customer and Investor Confidence:  Complying with regulatory requirements is the highest guarantee and safeguard for your services' efficiency. Efficient services consequently attract customers and investors to your company and services.
Compliance regulations vary depending on the type of service you provide, your business's industry, location, and the governing body.  Compliance is vital to both the smooth running of your business operations and your clients' everyday lives. As a business, having the right compliance practices benefits your employees, clients, and business reputation.
Looking to Leverage the Services of a Reliable it Partner to Help You Stay Compliant and Avoid Hefty Fines?
A business should consult a compliance expert to ensure that you remain on the right side of the law.  At Intelice Solutions, we offer years of experience and expertise in providing compliance solutions to businesses in Washington, DC.
Call us now at (301) 664-6800, and let us help you keep your business compliant and guarantee it's smooth running.