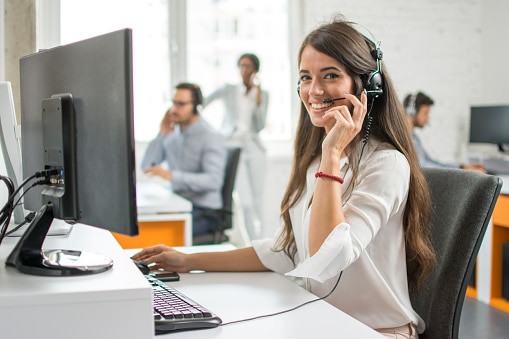 IT Managed Services in Washington DC (Questions and Answers)
Google shows thirty-one Managed IT Services companies in Washington DC.
Is there a difference?
How do you choose?
What do you look for?
In this article, we'll tackle these questions and more to give you, the searching executive, the answers you need to make an informed choice for your ongoing IT support.
What Do You Need to Know About IT Managed Services in Washington DC?
Picture this. You through the door to your office only to have your secretary tell you that the IT support company that your business has dealt with for years here in DC has gone under. The partners of the IT support firm had a falling out, and they are calling it quits.
What now?
Now you get on the internet and the telephone and try to fill that vacancy.
But you don't want to just replace the old guys; you want to step it up a notch. You want better for your company than the IT support that you had.
Why?
Because you know that technology is moving forward and you're aware that the growth and expansion plans that you have in mind can't be enacted without an IT services team you can trust and an IT environment that is secure, stable, and flexible.
So, we've written this article to give you a few pointers as you sift through the thirty-one IT Managed Service companies in Washington DC.
Why Are There So Many IT Support Companies Offering IT Managed Services in Washington DC?
We know that the executives that read our articles don't have to be told what Managed IT Services are. Undoubtedly, you've had holistic, continuous, subscription technology care for your company for years now.
You know all about the advantages of security, efficiency, mobility, cost savings, and productivity that Managed Services bring to a business.
But when you go to look for your next IT support company, you are puzzled to discover how many businesses here in DC offer Managed IT Services.
Why so many? – You likely already know the answer.
Like any thriving city center, Washington DC attracts businesses.
But it's more than that, isn't it?
Because of Federal Government purchasing and contracts, companies in DC have the money to spend on optimal IT support and the security requirements of many of their contracts require a level of ongoing IT security management.
What's the Difference?
With so many IT services companies to choose from, it's easy to get confused. Here are the basic differences to look for as you sort through your options.
Focus – Some IT Managed Services companies are entirely geared toward larger corporations, others put their energy into providing support to governmental agencies, and the third group of IT support companies thrive in the mid-size business market.
Maturity – A scan through the services that an IT support company offers should give you a fair understanding of their depth and maturity. You're not looking for the most services offered, but rather the comparative maturity of the services that are offered. The basics of a Managed IT Services offering include:

IT Security
Office 365 Support
Data Backup
Business Continuity
Mobile Device Management
Cloud Hosting
Virtualization
IT Consulting
As an IT Services company matures, it moves from advertising these particular services to advertising services that include these functions but focuses more on helping improve the business itself.
Another indicator of maturity in an IT support company is the products they sell and the vendors with whom they have built relationships.
Expertise – Experience matters…and expertise makes the difference. Just because an IT Managed Services company has been here in DC for a long time, doesn't mean that they have invested in upgrading and training to meet today's technology demands. Do your homework and make sure the company you choose has the expertise you need now and the capacity to handle your tech requirements as you scale.
What to Look For?
Personnel that displays professionalism and show respect to all of your employees.
A complete IT care package that fits within your budget.
A Service Level Agreement that meets your requirements for response times and acceptable downtime.
A Help Desk service that is available to your staff during their working hours and is staffed by local IT professionals – not outsourced.
Business Savvy – An understanding of how your business and your industry as a whole use technology to undergird your workflow.
How Do You Choose Between IT Managed Services Companies in Washington DC?
Location Matters – Given the traffic conditions that plague our city, look for a company that is within a reasonable driving distance – even at rush hour. You never know when you may need an emergency on-site visit. Travel time to your location is one of the determining factors in how long your downtime may be.
Reputation Matters – An IT technician has administrative access to your IT systems and is only clicks away from confidential or sensitive information about you, your company, and your clients. Make sure that references and online reviews are stellar.
Industry Experience Matters – If an IT Managed Services company supports a number of businesses within your industry already, that's a good thing. It means that they have already worked through the issues and the learning curve in supplying IT support to processes just like yours.
What Services Make the Most Impact?
Earlier, we talked about the services that are common to nearly every Managed Services company on the planet.
But what services make the most difference for a mature company like yours?
Security Services – Managed IT Security ensures that your systems are updated with the latest anti-intruder updates, configured with best-practice protocols, and monitored 24/7 for anomalies that may indicate a problem.
Disaster Recovery – DR strategies help companies get back on their feet quickly if their local infrastructure is negatively impacted by a localized disaster, hacker, or criminal act.
Business Intelligence – Every business creates thousands of data points per hour. By gathering, organizing, analyzing, and visualizing the data, business insight can be gleaned.
Business Advisory – Technology impacts nearly every aspect of a company and its pro-growth plans. By leveraging the technical expertise of an Executive IT Consultant, an executive can obtain the information he/she needs to make the consequential decisions.
Want to read more interesting articles? We think you may enjoy one of these:
How Will Trump's Tariffs On Chinese Goods Affect The Cost Of Technology?
Microsoft Azure Just Got Better