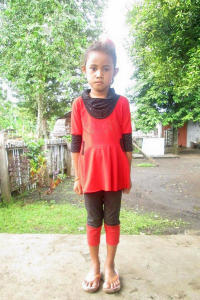 Name: Jenifer "Jeni" Asar
Age: 9
From: Leleoto, Indonesia
Jeni is from the coastal community of Leleoto which has approximately 3,400 residents. Leleoto is fortunate enough to have electricity and access to clean water, however malaria is still one of the most common health problems for the people of this community. Most adults in the area are farmers or fishermen and earn the equivalent of $45.00 USD per month and families live in cement block homes with tin roofs. Her community is lacking in schools and access to education for building income-generating skills.
Jeni is in the first grade and her favorite subject is art. When she is not in school she enjoys music, attending Sunday School, and helping her family around their home by cleaning. Jeni just celebrated her 9th birthday on June 2nd. We are so excited to have Jeni become a part of our Intelice family as our first child sponsor and look forward to communicating with her and seeing her grow!