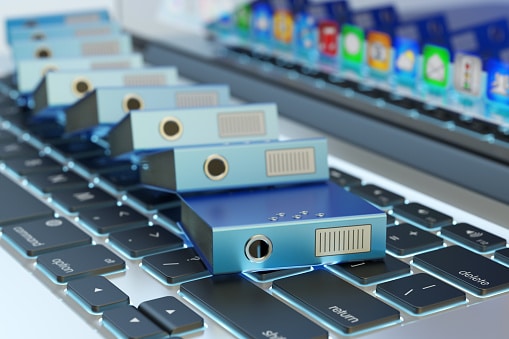 Microsoft Azure FileCloud (Review)
Is Your Business Considering A Migration to FileCloud on Azure?
Cloud-based solutions have been disrupting the IT market in recent years. Companies are turning to cloud-based solutions to take advantage of the benefits that cloud-based solutions offer: easier deployment, improved scalability, and reduced costs, just to name a few.
The study Diving into Cloud Services, conducted by Spiceworks in 2016, estimated that 93% of organizations are using at least one cloud service.  Web hosting is the most popular service, with 76% of organizations using it, followed by email hosting services with 56%, and organizations using cloud storage and file-sharing services standing at 53%.
Cloud storage and file sharing services is a great place for small businesses to enter the cloud because these services offer a series of benefits that can be easily realized in the day to day operations.  When it comes to file access and sharing services, there are multiple alternatives in the market, but one stands out among them: FileCloud.
FileCloud is an enterprise-grade file access, sync, and file sharing solution provider. FileCloud allows business to implement a powerful remote file sharing solution. You can implement FileCloud on your own servers, our you can take advantage of Microsoft Azure, the leading cloud platform utilized to deploy FileCloud.
In this article, we'll describe some of the most relevant features of FileCloud, the benefits that deploying FileCloud on Microsoft Azure can have for your business, and how the services of an experienced service provider like Intelice Solutions can help you implement, manage, and maintain your FileCloud instance to its greatest capacity.
FileCloud Features
Secure File Sharing
With FileCloud you can share your files easily and securely. You can transfer files or create a collaboration space where files are stored. FileCloud offers a set of features to help you protect your files. These security features include limiting the numbers of downloads, setting the time that files will be available for download, setting files as view only, restricting uploads, protecting download links with passwords, etc.
Remote Access and Sync
The big advantage of having a secure cloud storage solution like FileCloud is having access to your files from anywhere using any device, FileCloud offers you multiple alternatives to access your organization's files securely without a VPN. You can access your file via the web, a virtual drive, a mobile app, and browser add-ons.
Let's see how some of these options work:
FileCloud Sync App, allows users to synchronize files on their computers with files on FileCloud, a folder in your computer is set as the sync folder, adding files to this sync folder will automatically synchronize the file to your FileCloud folder, this means you can access it from any other device that has FileCloud installed. FileCloud Sync App can be installed on the Windows, Mac, and Linux operating systems.
FileCloud Drive is a desktop application that allows you to access all the files in your FileCloud server the same way you access files in your computer.  FileCloud Drive can be installed in Windows and Mac computers.
FileCloud App, allows you to take the power of FileCloud directly to your mobile device. This app can be installed on Apple devices, Androids, Windows Phones, and BlackBerry devices.
Why Migrate to FileCloud on Azure?
Reduced Cost:
With FileCloud you get increased functionally at a fraction of the cost of similar solutions. FileCloud retails at $2,500/year for 50 users, while, competitive solutions such as Dropbox and Box, could cost you up to $12,000 and $9,000 respectively. FileCloud also offers unlimited free accounts for users that have a limited (web-only) access to shared files.
When you implement FileCloud on Azure, you don't have to spend money on expensive hardware procurement.
Compared to the alternatives, FileCloud offers a better total cost of ownership. For a detailed comparison of pricing to competitive solutions you can visit: FileCloud vs Competitors.
Improved Security and Resilience:
FileCloud uses modern encryption (AES 256 bit) to protect the content of your files and supports SSL/TLS secure tunnels, the industry standard for securely transferring files.
FileCloud also supports a set of functionalities to keep your files safe.
Two-Factor Authentication
Anti-Virus Scanning
Ransomware Detection
Data Leak Prevention
Easy-To-Configure Security Policies
With FileCloud on Azure, you leverage Azure's highly-scalable, reliable, and low-latency infrastructure — so you don't have to worry about losing your files or slow response times.
FileCloud has features to help you with Data Loss Prevention (DLP), these features allow you to monitor, prevent, and remediate any data leakage, ensuring that corporate data is protected across all your devices. Remote block and data wipe (allows you to block or erase your data in case of a missing device) are supported in both mobile devices and computers.
Improved Efficiency and Collaboration:
FileCloud supports online document editing. As a result, users can edit supported files directly on the browser. Changes get saved automatically to FileCloud, so instead of saving, attaching, and sending the document to a colleague for feedback, FileCloud allows users to collaborate simultaneously on the same document.
FileCloud offers integration with Microsoft Office 365, the world's most popular office productivity suite. With this integration, FileCloud users can open, edit, and save any Microsoft Office files stored in FileCloud directly from their web browser
Integration with the most popular email clients such as Microsoft Outlook and Gmail is also available. This integration allows users to share a folder or file that resides on FileCloud directly from the email client. Users can also share files file through a link – eliminating the need to attach the file directly to the email.
Increased Scalability:
With FileCloud, you can add or delete users as your organization grows and pay only for what you need. You don't need to plan ahead with the purchase of expensive hardware to accommodate future users.
Why Intelice Solutions for your FileCloud Migration?
If you are looking to implement FileCloud on Microsoft Azure, Intelice Solutions is an official FileCloud Partner and can help you achieve a successful migration. Intelice Solutions has been helping small and medium business in the DC Metro Area for over 20 years. Intelice Solutions empowers companies like yours to grow, through the implementation of innovative solutions that help you improve the efficiency of your operations.
We're here to help you climb to the next plateau of your success.
Want to read more helpful articles? Check out these two.
We Handle AWS and Microsoft Azure Migrations, Service, and Support