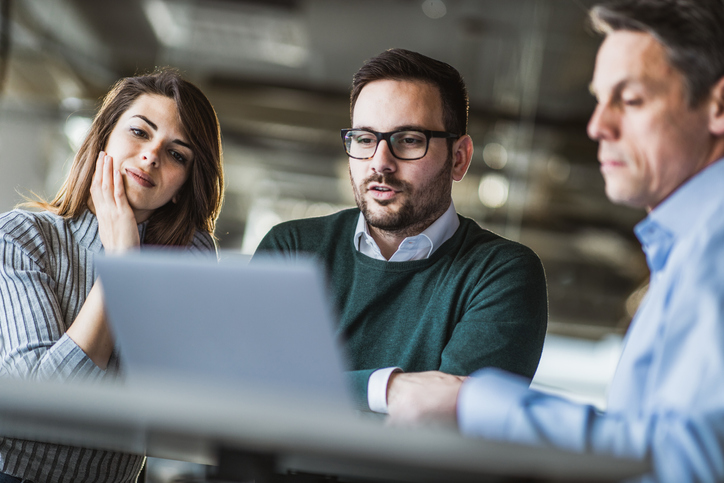 Migrations From GoDaddy or GMail To Microsoft Office 365
Migrations From GoDaddy or GMail To Microsoft Office 365
Many businesses seek to migrate from GoDaddy and Gmail to Microsoft Office 365.
The purpose of the migration is not just to get rid of GoDaddy's limited license options or because of the bare minimum technical support GoDaddy offers when a business faces an advanced technical issue.
While it would be efficient to get rid of those too, for the most part, businesses have simpler productivity goals such as:
Managing a large user base through a non-clanky admin portal when scaling up to larger companies
Experiencing the full ecosystem and flexibility of Office 365 that Gmail and GoDaddy don't offer
Avoiding GoDaddy's promotion of affordable introductory costs for their Microsoft 365 offering only to jump rates that force businesses to look for alternatives
Choosing a platform that users are more familiar with than the G Suite that Gmail offers
Intelice Solutions offers business professionals, seamless migration to Microsoft Office 365 so that they can be as productive as possible. We've helped hundreds of companies to migrate to Office 365. We can help you too.
We'll shoulder all the heavy-migration tasks for you.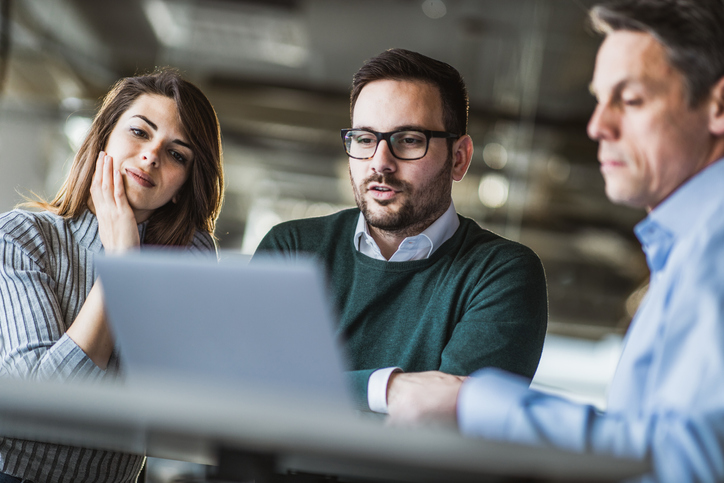 Why Do Businesses Migrate to Microsoft Office 365?
GoDaddy is a good option for many small businesses in the early stages.
The company offers businesses a platform to host websites, and when checking out, it presents the option to get Office 365. Since everyone loves every tool under one roof, many businesses go for GoDaddy's Office 365 option at first.
However, as your business starts growing — larger workforce, bigger client base, and more demands, your tech requirements increase significantly with a need for the following:
Video conferencing tools to host meetings
Business analytic tools
Outlook plugins for customer relationship management
The need to manage all devices
Like any other great COO or CEO, you can go to GoDaddy's Office 365 and try to buy add-ons to increase productivity, but you find you can't access plugins and Office 365 add-ons.
Then what happens? You're stuck.
You choose to go for Gmail, but then you realize the pricing isn't friendly for Business Users and only works best on the Chrome browser. Your next best shot is migrating to Office 365, which provides the following benefits to your business:
1. More License Options
Microsoft 365 pricing options are more diverse than what Gmail offers to businesses. With Gmail, you only have four Workspace plans:
Business starter
Business Standard
Business Plus
Enterprise plan
Microsoft will offer you over six license options, with multiple subdivisions depending on the type of the organization, and at an affordable price.
On the other hand, GoDaddy restricts your configuration options to only two out of the 393 options you'd get from buying directly from Microsoft. With the GoDaddy platform, you can only access:
Microsoft 365 Exchange Online
Microsoft 365 Business Standard
To make matters worse, you don't get advanced spam protection or email encryption. You'll need to use a separate provider, which further complicates the service they offer.
With a single direct purchase from Microsoft, your business would benefit more from flexible choice such as:
Sending emails
Managing calendars
Creating documents, presentations, and spreadsheets
Video conferencing
Executing file management
Team collaboration
Accessing a wide range of desktop applications
Direct Microsoft Office 365 opens a world of possibilities for your business.
2. Easy Business Scale Up
As your business grows, Office 365 will help you seamlessly scale up with its two in-built features:
Azure
Centralized Admin center
The two features make Microsoft 365 more efficient in scaling than Gmail, which lacks tools for scaling efficiency.
On GoDaddy, it's nearly impossible to manage a user base. The admin portal is clunky. What could have taken a few clicks will require more steps.
For a small organization — with up to five users — the clunkiness can be tolerable. However, when running a larger business, you'll find the managing process unnecessarily complicated and wasting a lot of time. You'll realize that the GoDaddy platform would translate management into hundreds of hours of time wastage that would cost expensive inefficiency.
Many businesses find GoDaddy's platform inappropriate for growth and seek migration to direct Office 365.
3. No Hidden Fees or Jump Rates
Getting Office 365 directly from Microsoft lets you access email solutions without hidden charges or extra fees after the introductory period.
Prices for Office 365 on GoDaddy are initially lower than buying directly from Microsoft. What isn't obvious for startups is that the renewal fees are way higher than what Microsoft could offer you.
After a few years, GoDaddy will hike the prices, prompting you to seek alternatives. The longer you use GoDaddy's Office 365, the more difficult it gets to migrate.
While Google G Suite prices don't jump, its high price for business users gives Office 365 a cost advantage. Microsoft gives you a spectrum pricing option with a richer feature set.
4. Get Direct Login Process
Logging directly into your Office 365 account gives you better control of your business's uptime.
When using GoDaddy's Office 365, the company handles authentication into your Microsoft 365. The log-in process might appear like a small issue on the surface, but it can cause issues.
For instance, if GoDaddy has a service issue, your staff will be unable to access their emails or the services from Office 365. Your business risks downtime.
What's more frustrating is that your business will not use its Microsoft identity login to other platforms. The GoDaddy interface allows only token-based authentication that conflicts with other Microsoft Office 365 services and applications.
Many businesses risk losing money and productivity when they don't have full control of the login process and seek to migrate.
5. Superior Technical Support
Office 365 offers superior desktop email support for employees when compared to Gmail.
Unlike Gmail, which works best on Chrome browsers and mobile apps, you'll access Exchange Online, which easily syncs with Outlook desktop clients. On the other hand, GoDaddy, offers the bare minimum support when your business faces an advanced technical issue.
The company is a web hosting and internet registrar, not a Microsoft 365 consultant. However, GoDaddy requires businesses to seek Microsoft 365 product support from them.
The lack of sufficient technical support when a business needs to streamline business operations with email services influences the shift to the real Microsoft 365.
An Office 365 Expert Will Help Migrate Your Business From GoDaddy or Gmail
Business owners quickly and painfully discover how different and limiting the GoDaddy platform is and opt to buy Microsoft Office 365 directly from Microsoft.
Don't let the frustration of GoDaddy's Office 365 and the price limitation of Gmail paralyze your business. Intelice Solutions will be your trusted partner to help you migrate from any other email provider to the Microsoft Office 365 platform.
Our consulting team has served many businesses in Rockville, MD, and we're ready to send an extraction team to help you. Our technicians will help your company run smooth and error-free Office 365 migrations.
No matter where your company is in the planning stages, we'll provide you with:
Flexible Office 365 option
Reliable and useful support
Scaling solutions to your company
Recommendation and offer straightforward pricing
Correct licenses
A direct link to Microsoft so that you can utilize a wide range of possibilities that Office 365 offers
Your business's uptime matters. You can't risk jeopardizing operations by leaving the migration task to inexperienced hands.
You need a team of experienced specialists who have handled hundreds of Office 365 migrations to retain uptime, connectivity, and important data and assets during the migration. Contact a specialist today to get Office 365 migration solutions.