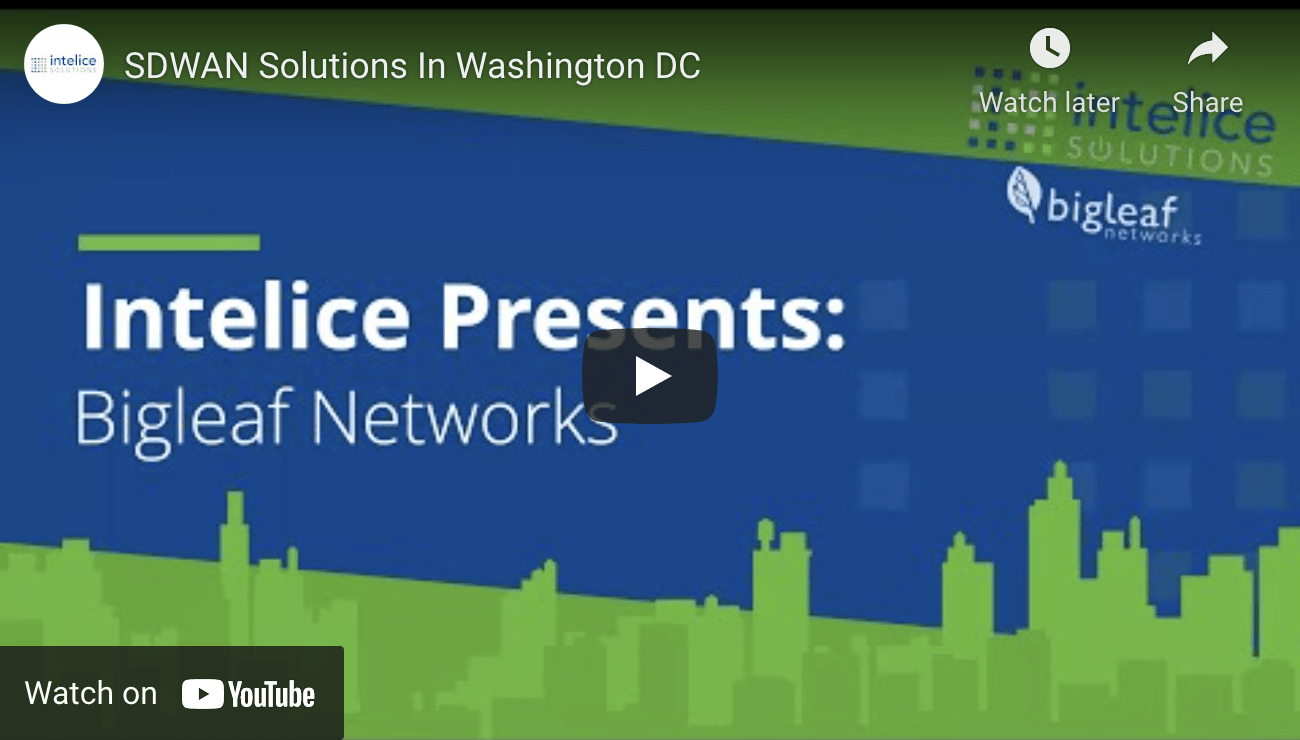 Intelice Solutions Offers SDWAN Services In Washington DC
Intelice Presents: Bigleaf Networks
In the modern era of remote work and hybrid workspaces, network performance has never been more important.
Businesses' staffs are decentralized and connect from a range of different types of remote workspaces, requiring networks to be more resilient and deliver greater bandwidth. Have you been having trouble establishing the network your business needs?
Discover everything you need to know about powerful and reliable SD-WAN solutions from Bigleaf Networks in our latest webinar:
The Need For More Resilient Networks
Connectivity and uptime are vital to a business' productivity, profitability, and quality of service.
Without a strong Internet connection, so many of the tools a business relies on every day will lag and waste company time. VoIP-based phone calls to important business contacts will cut in and out, time-sensitive emails will sit in the outbox waiting for the connection before they can send, and worse.
All of this taken together can result in unreliable and laggy networks. Issues often include:
Sluggish CRM/ERP
Unreliable VPN
Dropped Calls
Choppy Video
Devices that fail to function
These are just some of the issues with traditional WAN — insufficient bandwidth, and high-cost bandwidth severely limits the capabilities it can offer businesses. That's not to mention the fragmented security, limited app awareness, and lack of compatibility with new cloud platforms and solutions.
The Limitations Of The Internet
The fact is that the Internet wasn't designed for the way it's being used today. The demands of high-performance business technology, compounded by the distributed nature of the public internet, results in a series of problems for businesses like yours:
Random Packet loss
Random Latency
Random Jitter
Random Micro-outages
Random Major outages
Whether it's the growing number of users that are dependent on the networks, the ever-evolving type of technologies and applications needed to be used through the network, or the almost-daily rate of new security threats, traditional WAN is not prepared to deal with the modern world of business technology.
Ten or more years ago, it wasn't that big a deal to undergo some planned downtime to fix an issue here or there. Today, businesses need constant uptime to keep getting work done, regardless of the forces at play.
That's why SD-WAN has become so popular.
What Is SD-WAN?
In the simplest terms, SD-WAN is a style of cloud computing that can change the way you handle network management, configuration, and performance.
Instead of a more rigid WAN network, SD-WAN allows you to configure your network quickly from a centralized location, reducing the potential of human error that can bring your network to its knees and productivity to a screeching halt.
Using a cloud-based controller, an overlay network is created in order to build encrypted tunnels, define applications, determine where sites are, and more. This portal/controller is the critical lynchpin, as it's where you manage and operate the WAN from. This is an especially important capability when you consider how greatly the modern business world relies on the cloud.
Who Is Bigleaf Networks?
Intelice Solutions has partnered with Bigleaf Networks to provide clients with an industry-leading SD-WAN solution. Bigleaf Cloud-First SD-WAN optimizes the Internet to ensure a reliable experience for cloud applications and site-to-site VPN traffic.
They achieve this by utilizing multiple Internet Providers to build a higher-performance network for your applications and optimize the Internet to ensure a reliable experience for cloud applications and site-to-site VPN traffic.
Using their patented SD-WAN technology, Bigleaf harnesses Al capabilities to give Intelice clients the new networking foundation they need to deliver truly reliable performance over the entire public Internet. This arrangement ensures that productivity now runs through the cloud, which supports cloud and internet technologies and helps you improve productivity across your business, allowing you to provide service value and differentiation.
Bigleaf ensures that your IP block is consistent and reliable, no matter what, providing seamless failover capability. As requirements change, traffic is routed over the best possible path according to performance needs. AI helps your network instantly adapt to new technologies and events in real-time, prioritizing traffic and maintaining resilience.
Want A More Reliable Network For Your Remote And Hybrid Operations?
Bigleaf offers:
Resilient connectivity instead of outages and frustrations
Instant adaptability instead of constant policy building and testing
360° visibility & insights instead of waiting on hold with your ISP/carrier
Bigleaf provides seamless availability across the US and Europe, with Points of Presence from Seattle to Atlanta and London to Frankfurt. Our clients that have shifted to an SD-WAN model now enjoy a future-proof network, taking advantage of a flexible, scalable, and secure model that can grow with their business.
You can too — all you have to do is call our team to get started. Get in touch to learn more about Bigleaf Networks and what they offer your business.