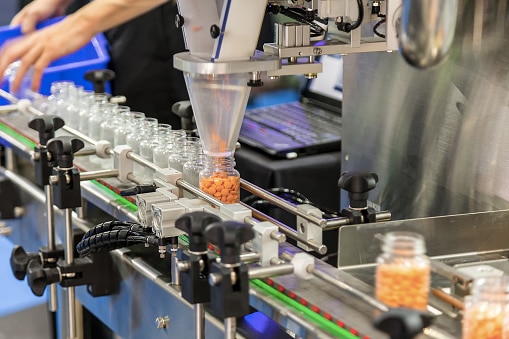 IT Services For Pharma Organizations In DC Don't Settle for Mediocre IT Support!
Your Pharma Organization doesn't run on good wishes and happy thoughts. Your internal processes run on hard data.
But what happens if your data isn't supported by a highly effective IT environment?
Without proper management, maintenance, and operational/security monitoring, the systems of a Washington DC pharmaceutical company like yours can become sluggish or even cause unexpected and unwanted costly downtime.
What's the solution?
Leverage Managed IT Services From A DC-Based IT Support Company Like Intelice.
Managed IT Services deliver the tailored, continuous IT support and services your organization needs to use your IT systems to get work done – instead of worrying about them and working on them. All of this is accomplished through a monthly subscription payment model backed by a Service Level Agreement.
The chances are that your pharmaceutical organization is already using an outsourced IT services company, and you are familiar with Managed IT Services.
Are You Happy With The Support And Service You Are Receiving From Your Current Outsourced IT Company?
Your time is valuable, so let's be direct.
You wouldn't be searching for other options if your current IT support guys were doing their job.
Happy customers aren't shopping around for better IT support partners.
You see, there are a lot of companies offering Managed IT Services here in Washington DC., but not all live up to the promises they make on their website.
What about our company culture makes Intelice different?
We could tell you all the same things that you're current Managed IT Services provider has said, "Honesty, Integrity, Technical Expertise, Etc."
But you know that anyone can hire a great writer to tell you what you want to hear.
Give us one meeting — just one hour of your time, and you'll see the difference for yourself.
We guarantee not to waste your time.
Need Some Help With Microsoft Products Like Azure, Office 365, Or Dynamics 365?
Azure allows an organization like yours to move from expensive, on-premise servers to either a hybrid cloud scenario or entirely to the cloud. Some of the outstanding benefits of Azure are:
The ability to facilitate compliance requirements
Speed and agility
An integrated development environment
Disaster recovery capabilities
Security in a cloud environment
Global reach
Flexible costs according to usage
Microsoft Office 365 Migrations
Office 365 has become the gold standard for office productivity worldwide. Microsoft's commitment to consistently increasing the functions available within the various applications as well as the way the applications collaborate has made their product extremely useful to organizations wanting to be efficient and mobile.
Intelice helps DC pharma organizations to migrate to Office 365 and leverage all the advantages this valuable collection of applications has to offer.
Microsoft Dynamics 365
Digital Transformation is more than a catchphrase with the powerhouse of Microsoft Dynamics 365 on your side. With it, you have the power to optimize operations, empower employees, engage customers, and capture new business.
How does it work?
Digital transformation is all about using data, synchronization, automation, and insights to your organization's advantage. Microsoft Dynamics 365 allows your CRM and ERP systems to work together along with Excel, Outlook, Advanced Analytics, Power BI, IOT, and other elements. Each of these operating within your company's ecosystem plays a role in giving you a purpose-built, productive, intelligent, and adaptable IT platform from which you can reach your next stage of growth.
Competent IT Services For Pharma Organizations In DC Know How To Handle Compliance Issues.
HIPAA – The set of laws known as the Health Insurance Portability and Accountability Act was put in place by US Congress in 1996. Along with other provisions, HIPAA was intended to ensure that private medical information used by medical professionals and businesses with access to Electronic Personal Health Information was confidentially utilized, stored, transferred, and secured.
Pharma organizations must ensure that they deal with any personal health information in accordance with the specifications laid out in the legislation — including data utilized in a study or trial in which Personally Identifiable Information is accessed, utilized, transferred, or stored.
Intelice technicians work with healthcare companies on a daily basis and understand the complexities of adhering to HIPAA requirements. We will ensure that your company is compliant with the Act and is able to undergo an HHS audit if necessary.
PCI DSS – The Payment Card Industry Data Security Standard is a set of rules ensuring that companies accepting credit card payments do so without compromising client information. In the beginning, credit card companies such as Visa, American Express, JCB, and Discover got together to set up an independent third party to build these rules and oversee their enforcement.
Today, any organization that has any access to the data of cardholders – pretty much every company that does business – is subject to PCI DSS compliance. The particulars of PCI DSS compliance are available on the website of the PCI Security Standards Council.
The level of scrutiny for your organization under PCI DSS is dependent upon the size of your organization and the dollar-value volume of credit card transactions accepted by your organization.
Intelice works with our clients to help them meet guidelines and validate, if required, annually.
GDPR – General Data Protection Regulation or GDPR applies to any organization doing business in or with people living in the European Union or Great Britain. This legislation was ratified in April of 2016 in the EU and covers:
Requirements to notify individuals that their information is being collected.
Requirements to obtain consent to the collection of information or the use of information.
Requirements to notify individuals if the information collected is breached.
Requirements to appoint data protection officers within the organization.
Requirements surrounding the right to be forgotten – data deletion.
Requirements surrounding data portability.
These six brief overview bullet points are only the tip of the GDPR iceberg. If your organization does business with or utilizes data originating in the EU, it's important that you meet the standard level of data protection imposed on EU companies by GDPR. Intelice technicians are intimately familiar with this process and can ensure that you are meeting the GDPR threshold to do business in the EU.
FINRA – FINRA isn't a government agency. Instead, the Financial Industry Regulatory Authority is a non-profit organization that Congress has authorized to set up rules that safeguard America's investors. Because pharma organizations in DC are often either publicly traded or accountable to private investors, it's essential that Intelice IT consultants do due diligence to ensure that the data protection provisions of FINRA are observed in the organization.
Want An IT Support Company That Is More About SHOWING You What They Can Do Than TELLING You How Wonderful They Are?
We're ready to help your Washington DC pharma organization meet compliance requirements and run efficiently. Set up a meeting with our team now. It won't take you long to happily discover that there is a difference that qualified professionals bring to the table.
Want to read more informative articles about Managed IT Services or industry standards/legislative compliance? We have some outstanding pieces for you HERE.