Your Step By Step Guide To Transitioning To VoIP
Get untangled from your landline, and let VoIP boost your business' efficiency, reliability, and quality.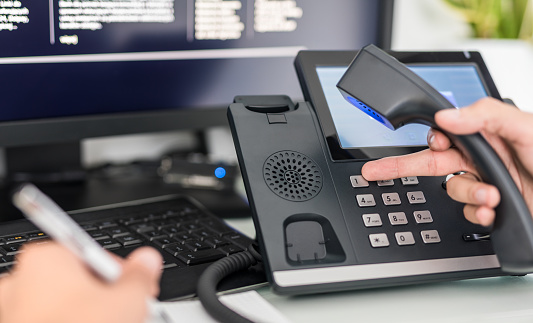 A recent study revealed that 94% of business' marketing budgets are spent trying to get consumers to call. If businesses are paying so much of their advertising and marketing budget on a communications system, shouldn't it be reliable and efficient?
This need for a more reliable form of communication is forcing many businesses to make the transition from the landline to the VoIP. However, this transition can be a scary process. How are you supposed to make this transition while running your business? A lapse in phone service means a loss of communication with your customers, which could mean a loss of profit.
Why Move To VoIP?
The move to VoIP offers your business improvements in efficiency, reliability, and quality, all at an affordable cost. Landline phones are becoming obsolete – by choosing to remain with a landline system, your business may become obsolete as well.
Efficiency
VoIP provides your business improved efficiency by limiting issues that come from having to replace or fix phones, as well as complicated management of adding and or removing employees. On traditional landline phone systems, you would have to wait lengthy periods of time for a phone to be replaced, or for a roll truck to fix issues. All this time spent waiting for a fix costs you money.
With a VoIP system, you don't have to deal with these issues, which means less downtime. VoIP also improves your business' efficiency by providing you with numerous options for routing and answering calls, without the expensive on-premises technology and staff.
Reliability
VoIP provides your business improved reliability by delivering a clear, seamless quality of phone service. This service can run on multiple internet connections, and can even extend to your smartphone. VoIP can work reliably through anything that mother nature may throw at you from hurricanes to snowstorms. Additionally, if you lose your business due to a fire, your VoIP phone service will still work. This is one of the main reasons why there are now over 288 million VoIP users.
Quality
VoIP provides your business improved quality through clarity of your calls. These calls come with a digital readout display, and the option to work without a headset. For those that still wish to use a headset, they can receive their calls through the use of a "softphone", which is software that allows users to make telephone calls through the internet on their computers.
Affordability
VoIP saves your business 40-80% compared to the cost of traditional landline phone service. Landlines now cost more than VoIP phone systems both in the initial setup, as well as in ongoing contracts. For example, landlines for five employees cost an average of $563/month, while VoIP services for the same amount of users costs only an average of $27.95/month.
Years ago, VoIP systems would cost $10-$50/month, after the cost of the headset (which usually cost $200 each). It's easy to see how quickly this can add up. Today, VoIP comes at affordable rates as low as $0. Phones will be set up ahead of time, that way there is no lapse in your communication with your clients. This saves your business money by limiting the loss of contact, during this time of transition. Secondly, there is a "Proof of Concept" (POC), which allows you to have your phones in place, and try them out before deciding whether they're right for your business.
Preparing For The Move
So how do you transition from traditional landline phones to VoIP, while at the same time shortening the loss of communication? Preparing for the move means you need to gather pertinent information such as how many employees you have, what your cabling needs are, what your current infrastructure is, and what are the nonnegotiable-features that you need from the new phone system.
Step By Step
You begin by evaluating your cost analysis. Fully understanding the budget upfront and ongoing ensures that you will be able to get the most out of this new program, without being oversold. After looking at the move from a financial standpoint, you are ready for your live demo. This provides you and your employees a chance not only to see all of the VoIP system's features but also to try them out, in a risk-free environment. Once you decide on which features you need, you are ready to decide which service provider best fits your company's needs. For 2017, the top three VoIP service providers were Ring Central, Vonage Business, and 8×8 Global Communications.
Once you have selected a plan and a service provider, you want to ensure that you have no network issues that could limit or infringe on the successful integration of your new VoIP system. From these network tests, you should make any adjustments or upgrades that you feel are necessary to ensure the best result for your business. Lastly, you will complete your trial period, or your Proof of Concept period, that allows you to see first-hand how the service works and if it meets your business needs. If so, then you move on to finalize the agreement, and select a "Go Live Date".
After your VoIP system is up and running, employees should be trained to use all the features that they provide. Some of these features include having a virtual receptionist, voicemail-to-email, automatic call forwarding, and three-digit dialing. Training and ongoing support are a crucial part of developing and maintaining your successful relationship with your VoIP.
Moving to VoIP does not have to be a cumbersome and time-consuming challenge. It could mean a more efficient, reliable, and qualitative business. With the new VoIP service, you would be able to rid yourself of the hassles of maintenance agreements, capital expenditure, truck rolls, and lengthy wait periods that traditional landline phones come with. Lastly, you will have access to excellent customer care support 24 hours a day, seven days a week, and 365 days a year. Don't let your phone system hold your business back from its full potential any longer. Disentangle yourself from your landlines' limitations and see what the freedom provided by a VoIP system can do for your company.