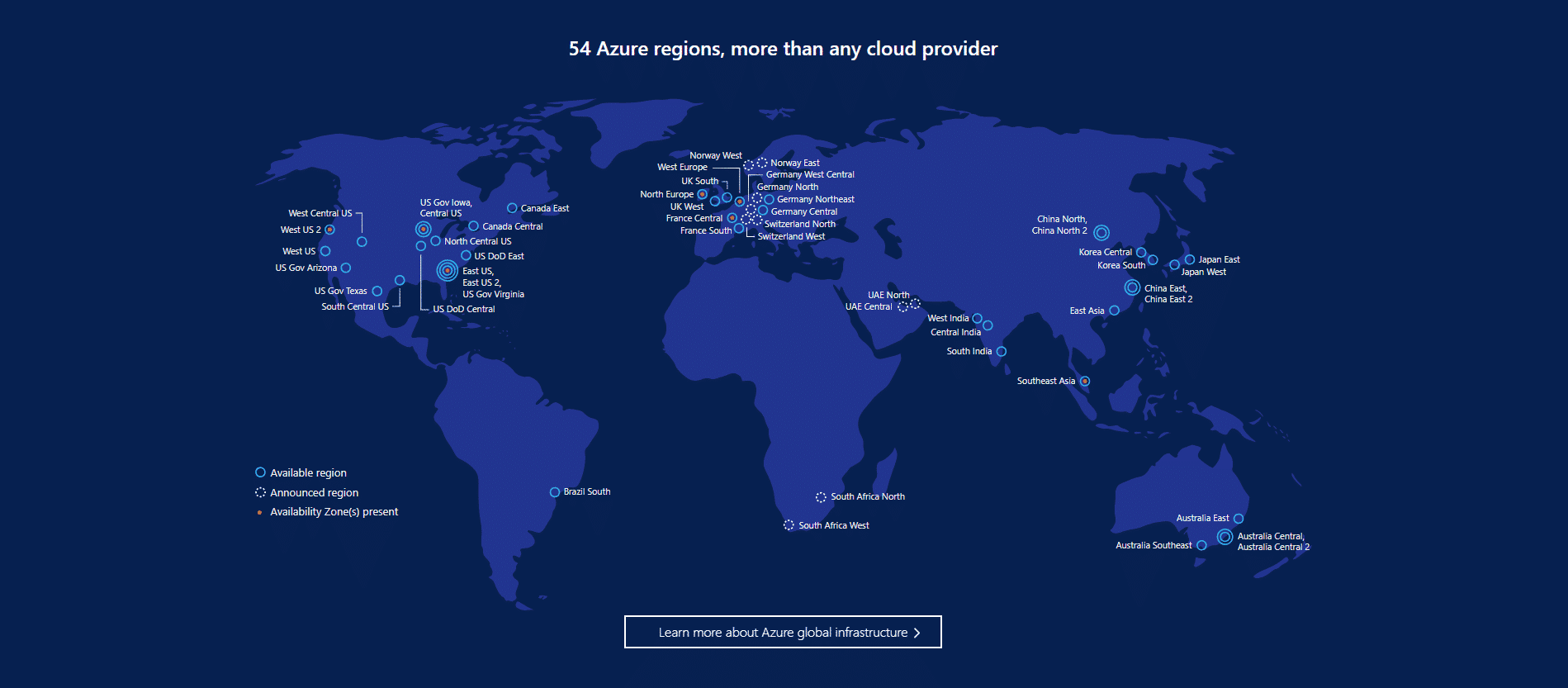 Do You Know Where Your Data Is?
Your data may be "in the cloud" – but do you know what that really means? Do you know why it's important to understand where your data is stored? How does data storage factor into security? Does this affect compliance?
Over the past decade, the cloud has rapidly become one of the most integral technologies in modern society. Both for private consumers and business purposes, the cloud has offered a range of benefits, from convenient access to data to cost-savings in hardware reduction.
Put simply – the cloud has changed the nature of IT, and business as a whole.
That's why it's a safe bet that you're already using it.
There are endless options when it comes to cloud solutions for your business. They're often easy to use and feature-rich. More likely than not, when you started looking for a cloud solution, you first and last question was, "how much will it cost?"
But that's not the only question you should be asking…
The one question no one asks about the cloud…
All of this is to say that, when you were researching cloud solutions, did you bother to ask where your data is going to be stored?
Even outside of your professional cloud needs, think about your personal cloud usage.
When you put some family photos on DropBox, do you know where those files are? East coast? West coast? Or even outside of the country?
You might scoff at the idea of doing this kind of in-depth research of a cloud solution. It's easy to think that the whole point of the cloud is that you can access your data from anywhere, and not worry about where it actually is.
However, the location of your stored data can have a number of implications on your business…
Why should you know where your data is?
Understanding where your cloud data is stored is useful information – it can help you make a better-informed decision about what cloud solution to choose based on data center features. Even more important, it can factor into professional concerns like compliance.
Here are 3 reasons why you should know where your data is stored:
Regional Characteristics

Consider a hypothetical: it's hurricane season and the latest tropical storm is headed to hit the east coast – what do you do?
Presumably, how you react would be based on where you are. Not on the east coast? Then you'll probably be fine. Right?
Not necessarily – what if your data is stored on the east coast? Do you know if your data has been properly backed up to a tertiary safe location?
This is just one reason – albeit, not the most pressing one — why it's important to know where your data is.
Data Loss Protection

Another key aspect of understanding where your data is stored is that it allows you to evaluate the level of security provided.
Many cloud service providers will be able to tell you exactly how your data is protected in their data centers. How do they protect against intruders, cybercrime, natural disasters, flooding etc.?
For example, you'll likely come across the term "Tier 3" data center, which is considered the gold standard for cloud storage these days. A Tier 3 (or Level 3) data center is a location with redundant and dual-powered servers, storage, network links, and other IT components. It is one of the most commonly used data center tiers, where IT components are powered with multiple, active and independent sources of power and cooling resources.
Compliance

Certain compliance regulations, such as the General Data Protection Regulation (GDPR), hold you responsible for the security of the data – even if you've outsourced its security to someone else.
That includes cloud storage. If you're supposed to stay compliant with GDPR and want to use the cloud, then you have to verify the security standards of the cloud service provider in question, and the data centers where your data is stored.
As you can see, selecting a cloud solution is about more than the monthly rates. If you don't do your homework, you may not really understand where your data is stored, or how it's being protected on your (and your clients') behalf.
Keep track of your data with Microsoft Azure
Depending on the cloud service provider you work with, tracking down your data and verifying its integrity and security can be relatively simple – especially when it comes to industry-leading brands like Microsoft Azure.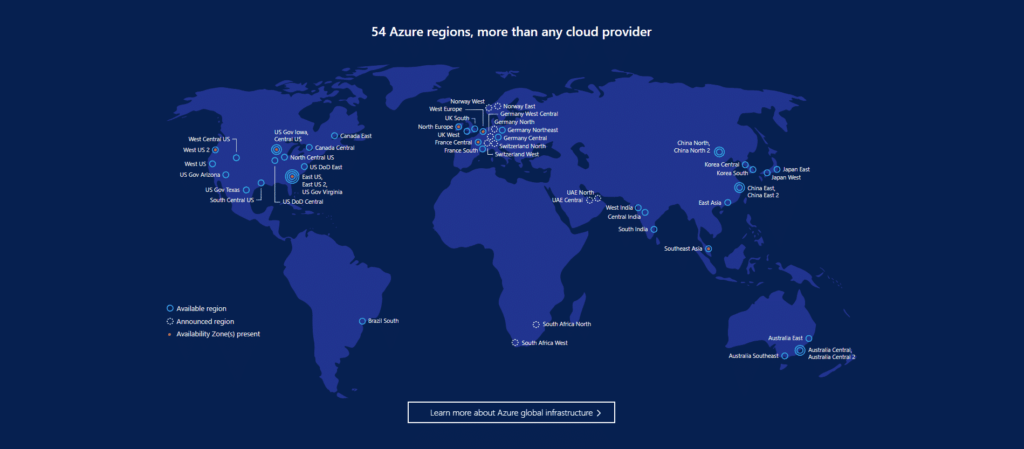 As you can see from this map, Microsoft Azure not only offers more regions than any other cloud service provider – it also makes it easy to know where your data is stored. Whether you need it stateside or elsewhere, Microsoft Azure gives you access to an unparalleled network of data centers, not to mention a number of other benefits:
Extensive scalability.

Whether you need to go global yesterday, or it's a distant goal for your startup, Microsoft Azure has the network and the resources to facilitate your business' growth around the world. With Microsoft Azure, your ability to deliver services isn't limited by your local infrastructure.
Maintain data security.

Microsoft Azure data is stored in data centers that offer an industry-leading combination of physical and logical safeguards, from high perimeter fencing and 24/7 surveillance to multi-factor biometric locks.
Go green.

Whether your business has a mandate to be as green as possible or not, you can do so with Microsoft Azure. After achieving carbon neutrality in 2014, Microsoft Azure set and has maintained their goal of averaging 1.125 power usage effectiveness (PUE) for each and every data center they open.
3 more reasons to choose Microsoft Azure
The cloud allows businesses to eliminate expensive onsite servers, and gain secure access to their data in and out of the office – but that's not all. Microsoft Azure provides a range of benefits to users, including:
Harness fully managed services.

Being free of onsite servers is just the beginning of the benefits offered by Azure. The serverless computing solutions offered by Azure equips you with the capability to take advantage of programming models that are offered nowhere else, helping to simplify event-driven computing.Managed services available on Azure involve data, messaging, and intelligence to create scalable, highly available applications. Give your team the toolset that they need to focus on identifying and developing solutions to real business problems.

Increase productivity with the end-to-end development experience.

Beyond the managed services, Azure has a range of further tools to help your team do what they do even better.This comprehensive set of development, deployment, and management tools includes local development and debugging via Visual Studio or the Azure CLI, continuous deployment with Azure DevOps tools, and live monitoring thanks to Application Insights.

Access and deploy your serverless solutions wherever you need to.

No matter what you need them for, Azure offers easy access to the solutions you use. Whether you're on-premises, working in a hybrid environment like Azure Stack, on IoT Edge devices, or in other clouds, you can access functions as need be.
Like this article? Check out How Advanced Data Governance Helps Manage Risk & Meet Compliance, Azure 101: An Easy Introduction To Microsoft Azure or Is Your Washington DC IT Company Taking Ownership To Protect Your Data?