Managed IT Services In Frederick, MD Vs. DC (Questions/Answers)
Why Should You Hire A Managed IT Services Company From Frederick, MD Instead Of A Company From DC?
 You may think choosing Managed IT Services from a major city provider like those in DC may be the right call – but think again. Selecting a local Frederick, MD IT company is the better option.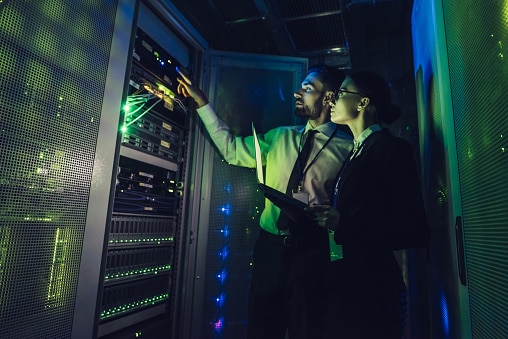 It can be easy to assume that services or products sold out of major city centers like Washington, DC are always the right choice. They're servicing a larger client base, dealing with higher revenue and larger scale solutions, so they must be the best choice, right?
Not necessarily.
Regardless of their revenue or number of clients, there are some things that a Managed IT Services provider from outside your area can't deliver, and if you don't know what these key factors are, you won't be able to confirm you're getting them before you sign on the dotted line.
What Are The Top 3 Factors Of Managed IT Services Quality?
Money and scale are not the be-all, end-all of Managed IT Services – you shouldn't discount the providers in the Frederick, MD area. They have a lot to offer that may not have occurred to you but can be absolutely crucial to the support of your IT systems and your bottom line. Consider these three key factors in developing high-quality services:
Local Expertise.


There are a number of technical realities specific to any given location – including Frederick, MD. Maybe it's the particulars of delivering high-speed Internet to businesses outside the city. Maybe it's the difficulty that comes with responding to support requests in the city during rush hour and other peak business periods.

Regardless of what it is, wouldn't it make sense that a Managed IT Services Provider in Frederick, MD would know the city better than those in DC?

That's why it can be so beneficial to invest in local support – they know what your area is like, and you can trust that they're nearby to help you when you need it. Response times for IT emergencies won't be based on how quickly they can get from one city to the next, or hire out a third-party technician and roll a truck. All it takes is getting from their office to yours, both of which are right in the Frederick, MD area.

Knowledge of proven technologies.

It sounds simple, right? Knowing what the client actually wants out of their service should be the first step to delivering those services, but often, the opposite is true.

It can be easy to think that whatever services being offered are everything that a client could need. But the truth is that often a given client is really interested in one specific service or solution – an answer to their problem that got them looking for a new IT support provider in the first place.

This is all to say that the first step in finding your local IT services company should be a conversation about needs and expectations. Once established, a good move is to follow that up with a detailed analysis of the existing IT environment on premises, an examination of how it is used, what it is expected to do, and how it can be improved.

You don't want to miss out on the latest and greatest in IT innovations. The right computer services company will be able to give you the advantages that come with the most recent applications of the solutions you already rely on. Specific applications and services, when properly implemented and supported, will allow you to do what you need to in a more productive and efficient manner.

It seems obvious, but it's crucially important to good service: once you know what's needed, you can ensure it's provided.

Understanding the client.

Lastly, for long-term success in service, you'll want to know where the client is headed – or, at least, where they're trying to get to. After all, no business can get stagnant. It's vital that they continue to grow and improve, and their IT environment is a big part of that.

In your preliminary discussions with you potential IT services company, you want to be sure to that they know what your plans are for the next year, the next five years, and so on, and what role their technology could play in that plan.
The fact is that there's a huge difference between standard, one-size-fits-all services, and service that really understands the city you work in and the work you do every day – be sure to only invest in the latter.
Like this article?
Check out Microsoft Launches $4 Million Global Competition For Female Founders, Cloud Migration in the Financial Services Sector (Research/Information), or Early August Azure Outage A Headache For Impacted Users to learn more.