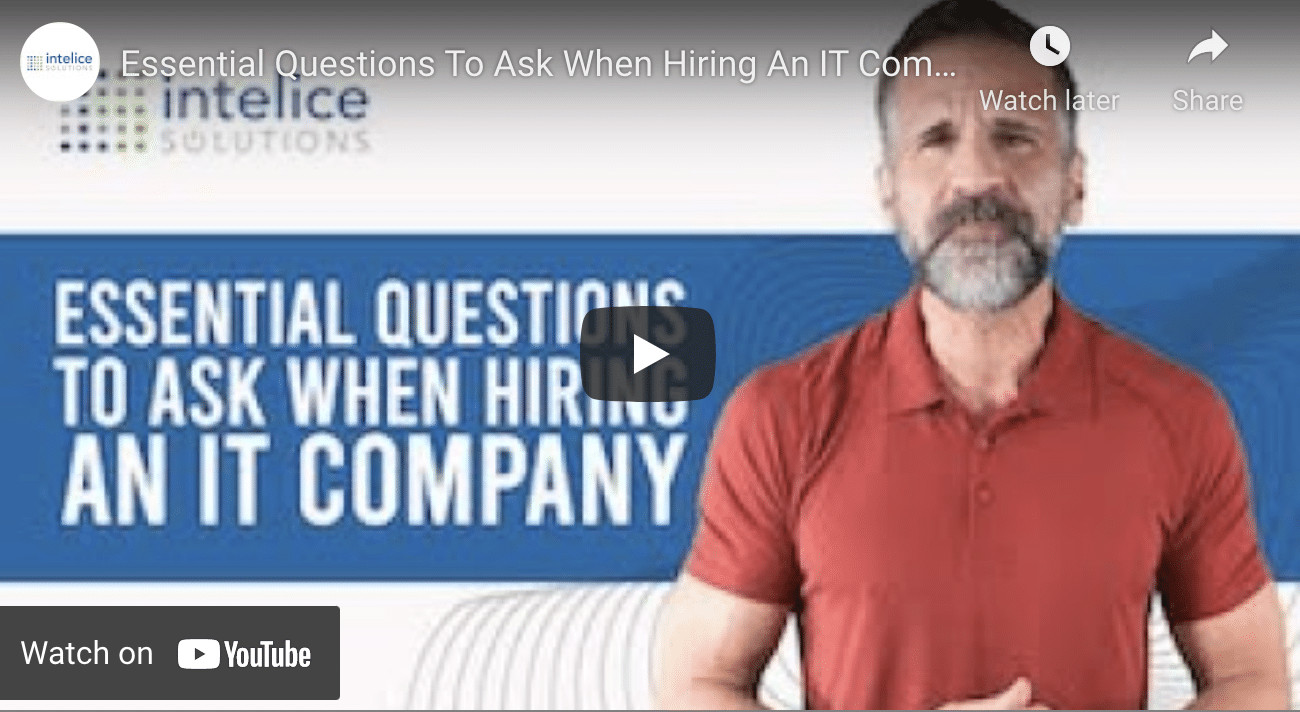 Questions to Ask A Potential Third Party IT Company
Questions to Ask A Potential Third-Party IT Company
A lot of people believe that our success is dependent on the people we work with. While that sounds like a sweeping generalization, it does hold some truth to it. After all, if we do surround ourselves with people who are gunning for excellence then we can see ourselves aiming for that goal as well. Rising to the top is also easier when you have people who raise you up instead of pulling you down.
This is similar in business. If you are working with teams or 3rd-party providers who are out there to help you succeed then the road to your success is much easier to traverse.
But how can you possibly pick out the right people to work with? From suppliers and service providers, you have tons of people you work with. Well, it's always better to start with the people who are essential in putting your business in a position to succeed – like a third-party IT company.
How Important is a Good Third-Party IT Company?
"They are all doing the same thing so why don't you just get the cheapest one out there?"
A lot of business owners misunderstand the role of an IT company. Most believe it's a passive role where they just arrive on-site when something bad happens. Not all IT companies are created equal. A good IT company is more than just a team that repairs your workstations or power cycles your routers. When you are working with a dependable IT support team, you are basically provided the best possible IT tools within your budget to get ahead of the competition.
Sure, you've been using this one tool for the longest time, but is it really the best for you? A competent IT team will not hesitate to check your current IT assets and to help create a plan for your business that will propel you forward. Basically, by picking the right IT company to work with, you are picking a key asset that will help your company prosper. Here are few ways an IT team can help you.
What To Ask Before Hiring an IT Company
There's simply no reason for any business not to hire an IT company. The only concern is, how do you know if they are the right ones?
Good thing you've got us by your side.
We've compiled the top questions you need to ask before hiring an IT company. We've compiled this list with the hope that after hearing their answers, it will give you a good idea of whether or not they are a perfect fit for your business. Shall we start?
What kind of services do you provide? 
Before hiring an IT company, you need to know first what kind of services they are providing. For a lot of first-timers, this is very important. You need to know what things can be of help to you and your organization. Can they help with the overall maintenance of hardware? How about your network security? You need to know what they are capable of so you can gauge whether or not they have everything you need from an IT partner.
But as a guide, you should be looking for an IT company who at the very least offers the following services:
Managed IT services
Cybersecurity
Business/Strategic IT consulting
Business/Workspace Software consulting
These 4 services are the major services that a growing business may need help on. You may not need all four of them right away but it will always be good to know that your IT partner can help you scale IT-wise when the time comes.
How does your pricing work?
Pricing is always a source of friction during initial interviews. But this only happens when an IT company does not have a clear and transparent pricing plan. If what they show you is a confusing table of different prices and random charges then that's definitely a red flag. If they find it hard to explain their pricing then you better move to the next company.
For starters, you can look for IT companies that offer a simple and straightforward pricing plan. Some follow a per-user pricing structure. Not only is this easy for you to understand, but it also helps you in your budgeting. With a per-user pricing structure, you can produce your monthly IT spending and let you create more accurate financial forecasts.
Sadly, this kind of pricing is not for all kinds of businesses. There's no real "one-size-fits-all" approach to pricing in the IT world. But look for one that won't end up with you getting phantom bills at the end of the month.
Who are your typical clients?
When you are looking for an IT company, it's better to pick someone who's not in their first rodeo. For small and medium-sized businesses, small mistakes can mean the difference between hitting the quarterly target and laying off half your workforce. In order to minimize these mistakes, you need to work with somebody who is familiar with your industry.
The IT company you are looking for should have had the chance to work with a business in a similar industry and if possible, of similar size as well. This way, they already know your needs and possible roadblocks. They may also have existing solutions for known industry issues you may face in the future.
How soon can you attend to issues/tickets?
For some businesses, a few hours of downtime can translate to hundreds if not thousands of dollars worth of lost income. Your IT partner should be able to provide you with support as soon as possible in order to mitigate future losses due to IT problems.
While you do need somebody who can respond to help tickets or concerns right away, you also need to consider the physical limitations. If you hire a company located in a city 5 hours away that means the response might be 5 hours or more. That is why if you are looking for a quick response, you need to hire an IT company that is located near your physical office. If they are within the same city, they can respond to the problems within minutes.
These are just some of the many questions you can ask a prospective IT company. Asking as many questions as you can make sense as long as it helps you make a better decision.
If you are a business located in Washington, Columbia, or Maryland, you might want to check out Intelice Solutions for all your Managed IT Service needs. Intelice is a full-service IT support company that has helped Washington-based businesses with all their IT needs from Microsoft 365 consultations to cybersecurity solutions. Contact Intelice today and ask about how they can help you and your business rise above the competition.